- ECONOMIC IMPACT -
There is a real risk of a return to the 'stagflation' that characterised the 1970s. The World Bank has lowered its global growth forecast for 2022 from 4.1% to 2.9%, with a warning that many countries may see recessions.
Against this backdrop, GlobalData forecasts the world economy will grow by 3.3% in 2022, following 5.9% growth in 2021. At the same time, the global inflation rate is projected to rise to 7% in 2022 from 3.5% in the previous year.
Global geopolitical tension is increasing the risks involved with investment and trade, as well as causing fluctuations in consumer demand. An ongoing conflict between Russia and Ukraine will continue to impact global growth in terms of production, trade and employment. Major economies will continue to adopt tighter monetary policies to tame inflationary pressures amid rising oil and natural gas prices.
GlobalData anticipates the Middle East and north Africa (MENA) will be the fastest-growing region in 2022, with its real GDP growth rate forecast to hit 4.7%, followed by Asia-Pacific (3.9%), Africa (3.4%), western Europe (2.9%), North America (2.8%), Latin America (2.1%) – while eastern Europe is predicted to see its real GDP fall by 3.3%.
More than four in ten employees report an increase in productivity while they've been working from home, according to a GlobalData survey.
The percentage of employees still working at home on a full-time basis, GlobalData research shows. Some 27% of survey respondents said they are now working at the office all week.
All major economies are expected to bounce back in 2021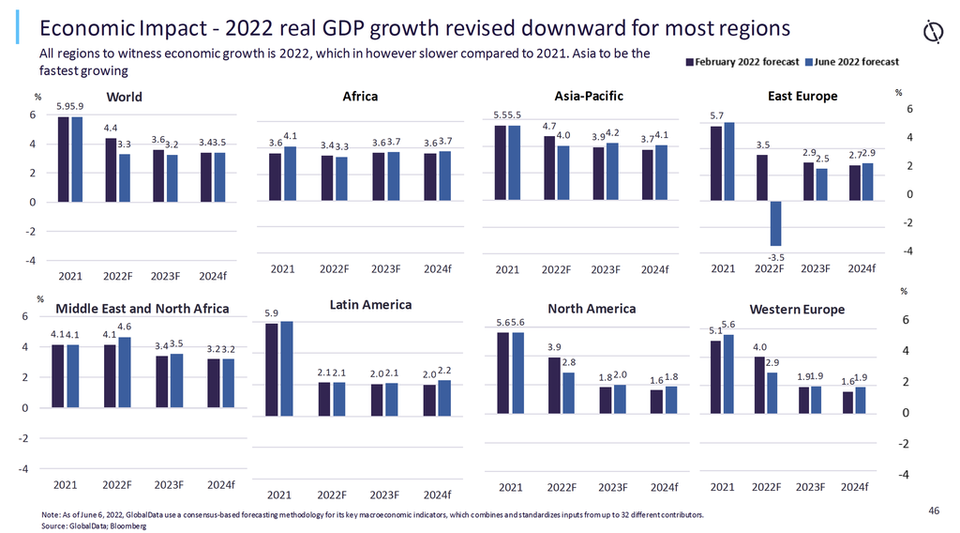 Agriculture and agri-business impact assessment
Ukraine could harvest close to 50 million tons of grain and 16 million tons of oilseeds this autumn. The planted sunflower area fell quite dramatically compared to last year (-29%) due to significant growth areas being in high-risk regions.
However, despite early planting forecasts being pessimistic, the planted area of spring wheat has increased versus 2021 by 2%. Nonetheless, yields will inevitably fall due to the lack of fertiliser and other inputs.
Transport logistics remain a serious issue when tackling exports. Of the few ports that are operational, storage and capacity are low, making it difficult for large volumes to be exported. Storage is also becoming problematic as elevator and silo capacity is already high, with the issue only being exacerbated as the harvest season approaches for both sunflower and wheat.
Exports are not expected to be as unsettled next year; assuming transport logistics have improved, coupled with high ending stocks this year, exports should be relatively on-trend. Alternative trade routes are now being utilised, with grain transported by rail through Poland, the Balkans, and Baltics – although different rail gauges are a problem.
There have been repeated claims that Russian forces have stolen grain and farm equipment, with rumours now circulating that entire farms have been expropriated in Russian-occupied zones. This may limit harvests further as the time the world usually accesses Ukrainian grain – from September – is fast approaching.
Source: LMC International, part of GlobalData
Packaged food and foodservice