Hemp: the next big thing for dairy alternatives?
Driven by consumer interest in a 'flexitarian' diet, the dairy-alternatives market is booming – and it's crowded. No longer the upstarts competing with soy, the likes of almond and oat are now well-established. Is there room for other ingredients to carve out a foothold? Dean Best looks at the prospects for hemp.
At face value, hemp appears to have a lot to offer to a consumer looking for alternatives to traditional dairy.
Good Hemp, the largest hemp-milk brand in the UK, describes hemp milk as being "low in saturated fats" and "free from cholesterol".
Sojade, the French brand that's home to soya, rice and hemp-based products, points to the "nutritional treasure" of omega 3 contained in hemp seeds, the base of dairy alternatives made from the ingredient.
As for the environment, hemp's "sustainability credentials" are "enviable", Good Hemp claims, saying the ingredient "grows naturally without the use of herbicides or pesticides and with very little water".
Other ingredients have their benefits. Soy has a higher amount of protein. There's an absence of saturated fat in oat and almond. But each of those ingredients attract scrutiny for other reasons, from the sugar levels in oat, to the ways soy and almond are cultivated.
With the markets for daily alternatives now mainstream in countries such as the US, the UK, Germany and Australia, consumers – and investors – are starting to ask more questions about each of the ingredients on offer.
Hemp remains a small niche in the growing market for plant-based alternatives to dairy. Even in the milk segment, by far the largest for plant-based dairy alternatives, one can count the number of significant, established brands in the grocery retail channel on a single hand in North America and Europe combined.
Has CBD hampered Hemp's potential?
Why does hemp remain a small part of the overall dairy-alternatives category? How can that niche grow? And what are the prospects for hemp as both an alternative to milk and other dairy products?
Confusion among consumers between hemp, cannabidiol (better known as CBD, a non-psychoactive compound found in the leaves of the hemp – or cannabis sativa – plant) and the high-inducing marijuana is widely seen as a key reason why hemp is not yet a mainstream dairy-alternative ingredient.
That confusion has no doubt been exacerbated by the rapid rise of CBD consumables, particularly in the US – and then further compounded by the current regulatory uncertainty over the use of CBD in food in the country, which is the largest market for hemp milks, the segment where the ingredient has made the furthest inroads so far.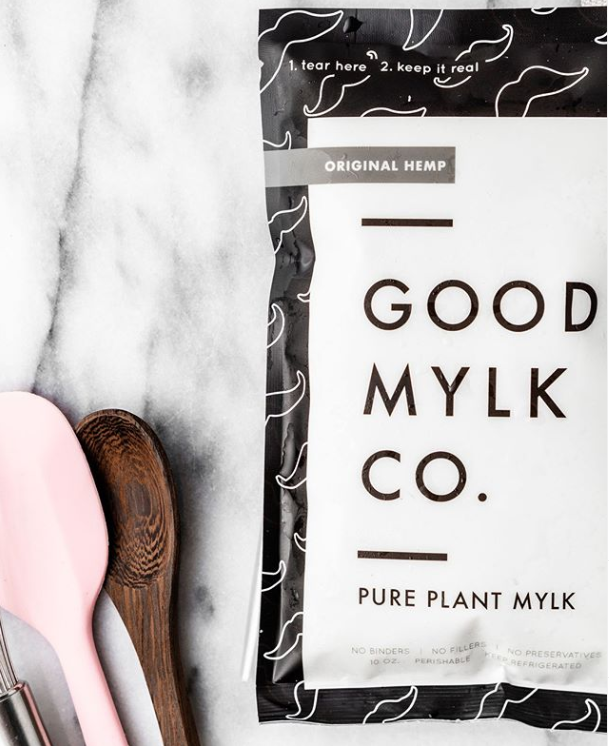 "We've been told a few times with different expos or trade shows that we can't bring our hemp milk because hemp isn't allowed. There's this lack of understanding that hemp milk is made from hemp seeds that are completely different from CBD or cannabis," explains Brooke Harris, the founder and CEO of fledgling US plant-based dairy firm – and hemp "mylk" seller – Goodmylk Co. "I see consumers who are normally very educated super-confused on what hemp milk is because there's all these beverages that have CBD added to them and [companies] are calling it hemp. There still is a lot of confusion around the category."
Good Hemp echoes Harris' point on the uncertainty among consumers between hemp and its cannabis cousins.
"Hemp wrongly has got associations with another part of the cannabis family. That's been a barrier," David Shaw, the managing director at Braham & Murray, the owner of the Good Hemp brand, says. "We've got to help people understand that there is a material difference between the two. They're related in name only and that's about it."
Making hemp milk is not easy
In autumn 2019, Good Hemp launched a plant-based, CBD-infused milk in the UK, another market alongside the US, where interest in the compound is growing. Wouldn't that add to the confusion among consumers?
"Fundamentally we believe in the benefits of CBD. We're also very aware that it's quite early in its scientific research and we had a concern that, for CBD and hemp to be represented in the right way, it was right for the most trusted and biggest brand in the UK to at least have a position and try and become the spokesperson, both for the trade and into the consumer on CBD," Shaw explains. "There are some wild statements being made about CBD that we would never advocate."
On hemp, Shaw puts forward a fundamental reason why there may not be the number of hemp milks on the market compared to, say, soy, oat or almond. "Making hemp milk is not easy," Shaw insists.
Asked to expand further, he adds that "lots of that is wrapped up in our IP. We take hemp seed, we take the shell off the hemp seed and then we put it through an aqueous extraction process. That's not the same as taking an oat syrup or something and adding water to it."
Others suggest taste is an issue. "It does have a very distinct flavour," Goodmylk Co.'s Harris says. "It's a kind of a polarising taste. You either love it or really dislike it because it has that grassiness to it."
Making hemp stand out from the rest
All of these factors, then, have contributed to hemp's pretty minor position – at present – in the market for dairy alternatives. How can the segment hope to grow? Susie Fogelson, the founder and CEO of US brands consultancy F&Co., concurs the confusion between hemp and CBD has held back the use of the ingredient but adds: "CBD as a topic is so popular now and that could be a benefit. There's obviously a lot of proclaimed health benefits to CBD and indisputable health benefits to hemp milk. It's a good time, I think, to be marketing this product."
But, Fogelson continues, therein lies the challenge – marketing. She suggests brand owners need to think about how they can "talk about the benefits of hemp milk – because they are there from a health perspective – but put it in its own class, if you will".
That, Fogelson says, will take investment. "It is a crowded category. Where it is available, you do see it in a sea of [alternate] milk, which is a good and a bad thing, right? It's a hot topic. There is an opportunity to take share.
"What it comes down to is doing some market segmentation. You really need to figure out who the consumer is. You don't need everybody. You just need to get the right people first talking about it. Once consumers love something, they talk about it and, using a targeted audience, you can then create evangelists. It checks a lot of boxes that would make people excited about alternate dairy. So I think it's investment, greater distribution, demystifying and it's promoting. It is a challenge but it has so much to offer in the way of alternate dairy."

At Goodmylk Co., Harris outlines the three types of typical consumer the US firm has found from its research. "The first is someone who has a nut sensitivity or a nut allergy. Next, is the more educated consumer that understands the nutritional value of hemp and really loves the sustainability factors of hemp. And the third I would say is the foodies. We sell hemp barista blends in a handful of cafes and, when you taste the hemp milk with coffee, it's an amazing experience."
Good Hemp's Shaw says consumer "education" is key in trying to build the niche – and education going back to the ingredient. "We've got to get that hemp education right with that core group of consumers, those people that really understand the food, that care about animal welfare, care about the environment. We know the influence they have on the concentric circle consumer groups," he explains. "So it's really about that – and it's about trial with consumers, because I think hemp is such a universally acceptable and pleasant taste, if you get your execution right."
In a crowded category, there are those that see other ingredients as beating hemp on taste, even if those in the hemp niche would argue the ingredient wins on other attributes.
"It's a personal view but the tech around oats and how we refine, powder and blend it has come further and faster," Hamish Renton, managing director at UK food and drink consultancy HRA Global, says. "Those products are more creamy, smoother and the mouthfeel is better. Hemp is a little bit behind that, so it needs more cash to up its R&D game, not only for new platforms but to improve the organoleptic quality of what is already mixed into."
Potential outside the faux-milk arena
The niche for hemp-based dairy alternatives is largely in alternatives to milk. There are, however, other products that have been launched albeit, again, not at the same kind of rate as for other ingredients. Sojade offers hemp yogurts and desserts.
In the US, plant-based food and beverage group Elmhurst 1925 counts a hemp creamer in its range. In the UK, Froneri, one of the world's largest ice-cream players, has launched a range of plant-based products – one of which contains hemp seeds.
Braham & Murray is also a supplier of hemp as an ingredient to food and drink manufacturers, including for cooking creams and ice cream. "Hemp cream is out there. Hemp yogurt is out there. You name it, there's beginning to be a hemp product in that area," Shaw says.
Looking ahead, Renton suggests the expansion of hemp into other segments could be held back by production capacity. "The expertise making dairy-free yogurt lies with the yogurt makers. They know all this stuff but they are the pretty least likely to be interested in dairy alternatives because they're digging their own graves. The people who are most likely, the upcoming brands, the trouble is that they don't know anything about the boring stuff," he asserts.
You name it, there's beginning to be a hemp product in that area.
"There is a play. There is a big dairy-free play but it'll be led by capacity and hemp will need its own unique process kit. I think it will happen but logically it will only happen when the existing hemp players get their current ready-to-drink game into the major league."
Overall, there is agreement over the health and environmental credentials of hemp and, therefore, why, in theory, it should be a notable player in the market for dairy alternatives. There is also agreement that there is still significant work to be done to drive this niche forward.
"If you look at things like Google Search indexes, you will see the momentum behind hemp in terms of that interest really beginning to grow," Shaw says.
"Looking at the heat in the market in America, we know that's going to flood over here. We've just got to make sure we're in the right place, we're doing the right things and, not just for our business, but frankly for the planet and population."
But can hemp dairy gain ground in even its largest market of the US? Goodmylk Co.'s Harris sees the niche growing. "I think we're probably about two years out from it," she says. "You know, oat milk has been the new milk product here in the US and, I think once people realise that oat milk is not all of all of the things that they want it to be – it's really high in carbs, it's highly processed, most of them have canola oil or sunflower seed oil – they'll be looking for the next best thing. I'm a big believer in hemp. It's just a matter of time but we are probably still a little ways away."