- ECONOMIC IMPACT -
Latest update: 16 June 2020
Fitch revised its 2020 forecast for world economic growth to -4.6% from -3.9%. Its forecast for emerging economies (ex. China) dropped to -4.5% from -1.9%.
According to the International Labor Organization (ILO), more than one in six young people worldwide have stopped working since the COVID-19 outbreak.
Global foreign direct investment flows are forecast to fall by up to 40% in 2020, from a value of $1.54 trillion in 2019, according to UNCTAD.
Global economic output will fall by $8.5 trillion over next 2 years, according to the UN's World Economic Situation and Prospects report
Impact of Covid-19 on asset prices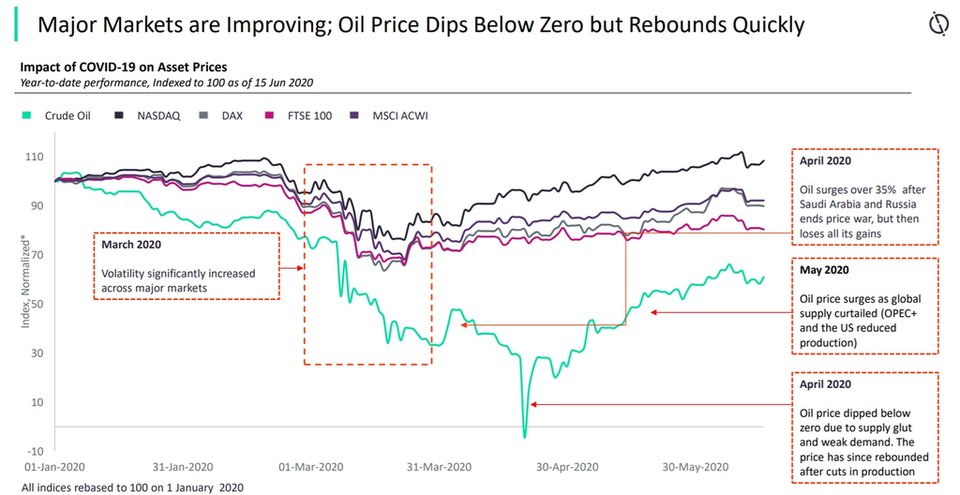 - SECTOR IMPACT: Consumer & Foodservice -
Latest update: 5 June 2020
Demand for online delivery is high during lockdowns. Retailers are adapting to demand through click and collect as well as increased home delivery services by partnering with existing delivery platforms.
Several supermarkets have unveiled new ways to shop in-store, using their own proprietary apps. They are also implementing new social distancing measures in-store with clear screens and easy store check-outs to avoid potential spread.

GlobalData's latest forecasts show a decline of 3.9% in consumer products for 2020 compared to baseline predictions, equivalent to $360.9bn in lost revenue.
A positive valuation outlook is evident for long-life products such as canned foods, and pasta & noodles. In contrast, consumer spending in savory & deli, ice cream, and fish & seafood has fallen in 2020. Overall the food sector will see a slight increase vs 2020 baseline predictions by +3.4%.
Global logistics have been disrupted by the availability of staff, ingredients and materials. While some firms, both large and small, are switching production to alternative categories, others struggle to keep up with demand or the altered types of demand, such as altered consumer preferences and retail stocking policies, in particular the reduction in SKUs.
Social and corporate responsibility continues to be spotlighted, with recent studies highlighting that large majorities of consumers believe brands should help consumers in their daily lives and not exploit the present situation. Involving and engaging consumers with this process is a key mechanism to achieve this.
Foodservice market impact
GlobalData's latest forecasts show a decline of -29.3% in profit sector operator sales for 2020 relative to the 2020 baseline forecast, equivalent to $1tn in lost revenue
GlobalData's week ten consumer survey found that 33% of respondents are ordering food deliveries/takeaways from restaurants more often. Foodservice is expected to become more automated with the use of robotics and automated systems. Furthermore, contactless delivery operations will become the norm as consumers continue to selfisolate and perform social distancing.
A survey has found that the US restaurant industry has lost eight million employees, approximately two-thirds of the total workforce, due to the socio-economic impacts of Covid-19. The UK ONS reported that the accommodation and foodservice sector in the UK had the second-highest closure of all sectors, with 82% of respondents claiming that they had temporarily closed.