- ECONOMIC IMPACT -
Latest update: 15 September
The unemployment rate in OECD nations stood at 6.2% in July 2021, down only slightly from 6.4% in June 2021. Among members of the G7 nations, the unemployment rate remained unchanged in July compared to the previous month, still standing at 5.5%.
After economic downturns for several months, positive GDP growth is forecast in all countries, according to GlobalData's research. The 2021 consensus forecast for global GDP growth is currently 6%.
Three in ten staff say they will prefer to visit their office daily after the pandemic, according to a GlobalData survey.
Most offices will return to at least 50% capacity in the next six months, respondents also told GlobalData.
All major economies are expected to bounce back in 2021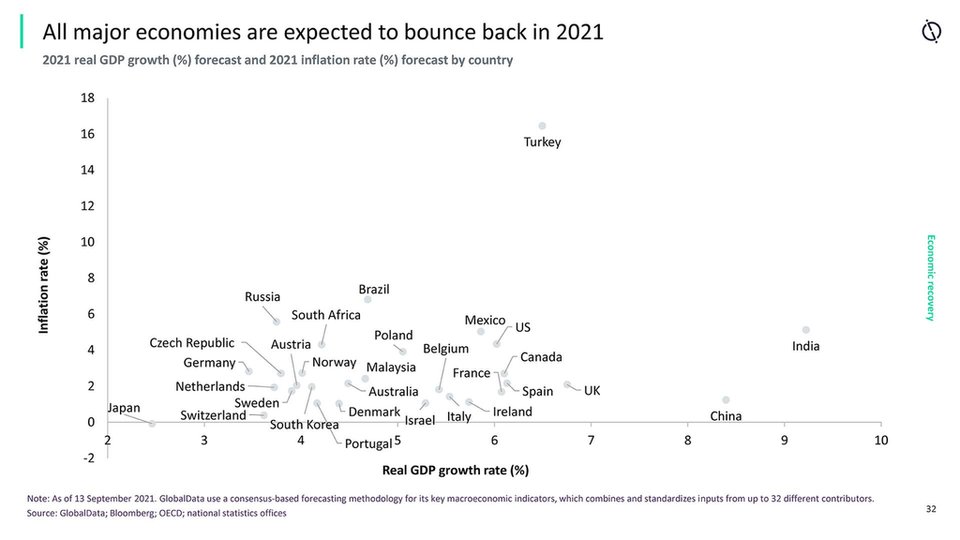 - SECTOR IMPACT: FOOD -
Latest update: 3 September
value chain impact (mid-term)
Consumer goods companies are likely to be forced to analyse their sourcing strategies.

Product development will be hampered by disruption from Covid-19. The sales mix is likely to change favourably for some, though others will struggle.

Online retailers will become increasingly important sales avenues for consumer goods manufacturers.

As events, schools and business catering begin to get back to normal, cost-sector providers will see revenues grow.

There will likely be an increased uptake of online delivery in the foodservice market, sparked by demand during lockdowns, as consumers repeat their use of the services.

FOOD SECTOR TRENDS TO WATCH