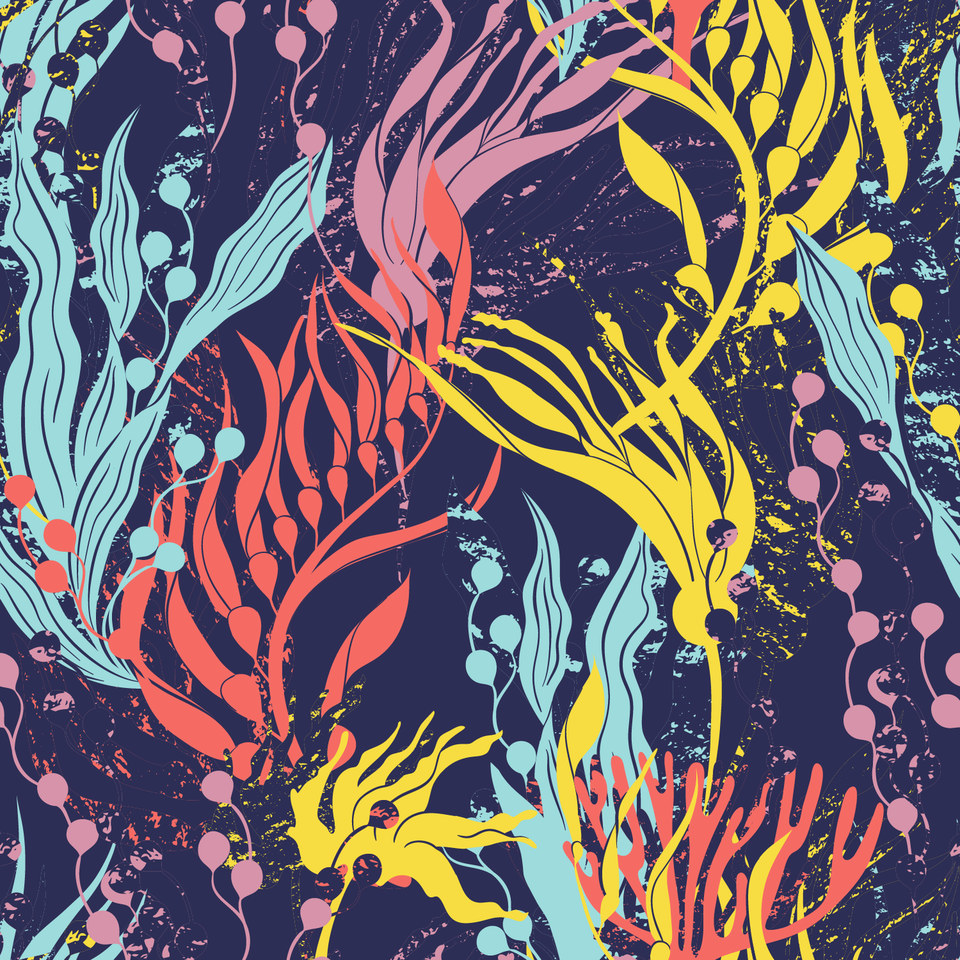 Seaweed's health credentials making waves outside Asia
Popular in Asia, seaweed is taking root in western markets as shoppers show interest in its health benefits. Simon Harvey looks into the opportunities for ingredient suppliers and consumer-facing companies.
S
eaweed might be highly consumed in Asia as a healthy snack or as an ingredient added to a dish, but it's not so prevalent in the western world.

However, appetite is starting to grow outside of Asia as health and wellness concerns come to the fore, spurred in part by the Covid-19 pandemic, which has given added impetus to the interest among food manufacturers and consumers in products offering benefits for the human body.
Seaweed is among the several groups of multi-cellular algae touted by some as a 'superfood'. Proponents say the food offers health benefits from a host of vitamins such as K and B12, while it's also a source of folic acid and iodine, which helps with thyroid function.

Seaweed, which numbers in the region of 10,000 or so species, is an antioxidant and contains minerals such as zinc, iron, calcium, potassium, phosphorous, and magnesium – the content of which differs depending on the variety.
The reasons why the demand for seafood products hasn't taken off in the Western world as it has in Asia, where children are exposed to it from an early age as a snack or in food, are hard to pinpoint. But it would seem to stem from a lack of awareness or education regarding its health credentials.
Perhaps consumers are put off from those childhood experiences foraging on a beach and encountering the slimy texture of seaweed, or the umami taste it exudes that is unfamiliar to Western palates. Or, it might be linked to concerns about what seaweed might absorb from the natural environment.
One downside is the potential presence of heavy metals such as cadmium, aluminium, lead, and arsenic. Nonetheless, seaweed contains the molecule fucoidan, which is said to contribute to life expectancy, immunity, and cardiovascular function.
It is also said to help in lowering blood pressure, as well as being a source of protein and fibre, depending on the colour type.
And seaweed ticks sustainability boxes as well, being naturally-occurring algae requiring virtually zero human input to cultivate other than harvesting and processing into an ingredient or foodstuff, without the need for fertilisers, land, or soil.
A turning point for western markets
Rhianna Rees, who based her university thesis around seaweed before joining seasonings maker Mara Seaweed in Edinburgh, says seaweed has declined from around 200 years ago, when cultivation was prevalent in the Outer Hebrides and the Orkney Islands, but the landscape is starting to change.
Eventually, Rees and Mara see seaweed becoming a staple food cupboard seasoning. She points out that it is increasingly being used in plant-based meats as an algae protein and as a polymer to make alternative plastics.
Rees, who oversees the science and sales aspects for seaweed at Mara, says the most popular varieties are dulce – a red seaweed with the most nutrients compared to the green and brown types – kombu, long kelp used widely in Asian cooking, and alaria, or wing or sugar kelp.
"Seaweed is getting into this kind of area where it was this food eaten in times of desperation because it was free and it was readily available, to where now this food is lauded as a superfood," she explains. "And in the east, with Japan and China, it was always a much sought-after food source.
"Now it's people acknowledging that they need iodine, that it has all these superfood qualities, that it helps you beat obesity, that people are actually starting to pay attention over here."
Rees touches on an important consideration – using seaweed as an alternative to salt in plant-based meat products, a contentious area because some products on the market have been criticised as being overly high in salt or sodium. But manufacturers argue salt is there to improve taste, which is where seaweed could come in with the added benefit of umami flavours.
A key ingredient for the plant-based sector
Marc Coloma, the founder and CEO of Barcelona-based meat-free business Heura Foods, says his company has been looking at seaweed as a potential replacement for salt.
Speaking to Just Food earlier this year, Coloma said that reducing sodium levels had been a long-term challenge for the food industry in general, and even more of a challenge in the alternatives market because of considerations around taste.
Today, Coloma tells Just Food: "Boosting the umami taste from the products while reducing salt content is 100% one of the challenges that we are facing now. Seaweed is one of the different routes that Heura's R&D department is exploring, among others such as fermentation and other ingredients."
However, he notes that it may take time before seaweed is widely used as an ingredient, as the plant-based category continues to develop and expand.

Red seaweed varieties are a 'complete source of protein'.
Vivera, another meat-free business in the Netherlands, recently acquired by meat giant JBS in Brazil, is also exploring seaweed. Chief executive Willem van Weede says: "We have applied various different solutions and keep testing new solutions to give products a salty and umami flavour without using, or while reducing, actual salt.
"We are very aware of new developments in the area of seaweed and will apply [the ingredient] as long as overall taste profiles are positively influenced and nutritionals supported. We consider this one of the continuing ways forward."
And for vegans, seaweed can be an ideal source of iodine most commonly found in dairy and seafood products.
Kerry Torrens, a UK-based registered nutritionist with the British Association for Nutrition and Lifestyle Medicine, says the problem with using seaweed as an alternative is it's not so effective as a preservative and is not as cheap as salt.
However, she says the red seaweed varieties are a "complete source of protein" and are comparable to soya – another widely used ingredient in plant-based foods, which has been criticised for being heavily GMO or for having its own negative impacts on the environment in parts of the world.
A two-sided nutritional picture
Torrens says that the human body doesn't digest seaweed proteins as easily as those derived from soya or eggs, although she points out there are benefits, especially around gut health, where fermented products such as kefir and kimchi are gaining in popularity in the West.
She paints a two-sided picture: "The non-digestible starchy components or polysaccharides in seaweed are actually really beneficial for our gut health. There's huge interest in the microbiota and the influence of all these little beneficial bacteria that live inside our gut on our overall health."
"And this is partly where the immune system comes in because these gut bacteria help to regulate our immune responses, help improve our defences and also obviously keeps our justice system healthy.
"On the other hand, they're very high in some nutrients like iodine, and there have been some studies to say, if you ate a reasonable portion of seaweed more than twice a week, you'd be consuming too much iodine.
"And one particular study looked at post-menopausal Japanese women, and they found that they were more at risk of thyroid cancer. So as with everything, there's pluses and minuses but the nutrient content is great in terms of iodine, iron, B12, and antioxidants."
Addressing the issue around the potential presence of toxic metals, Torrens says much depends on where the seaweed is sourced, and at the end of the day "you gain in one hand and you lose in the other".
"I think overall, it's a really natural product. Sadly, we've polluted our world, which has caused problems and it's the same with oily fish, we've polluted our seas and caused problems there. As long as seaweed is consumed as part of a well-balanced diet, I think it makes a valuable contribution in a number of ways, nutritionally and for the gut."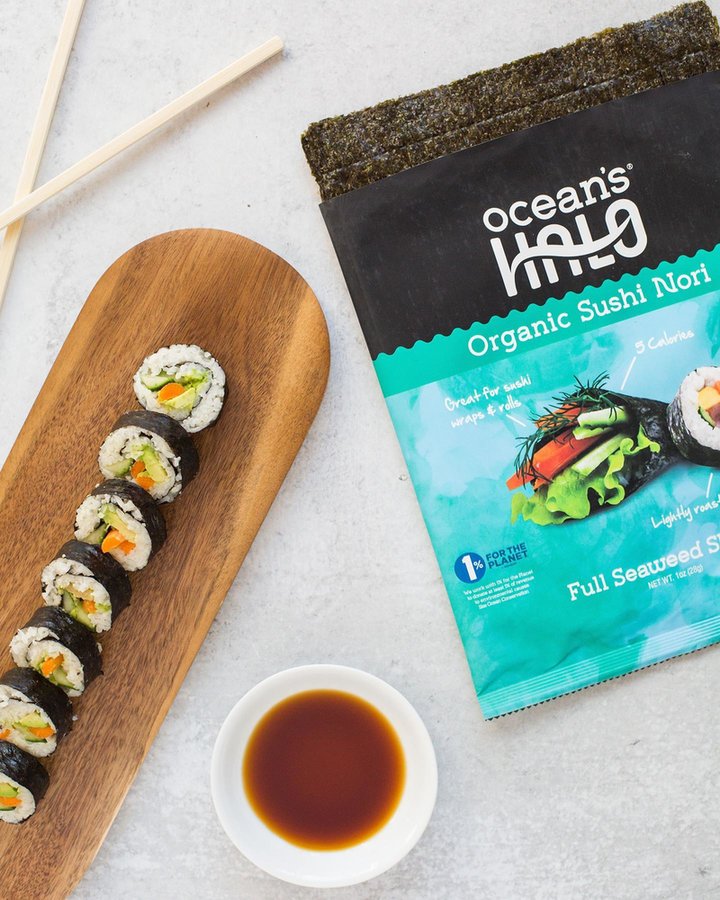 Ocean's Halo is available in major retailers. Credit: Ocean's Halo
In the US, Robert Mock, the co-founder and CEO of New Frontier Foods, says seaweed was already catching on Stateside and in the UK even before the pandemic increased demand for health-inducive foods, depicting Covid-19 as "adding rocket fuel to the equation".
"I think anybody who's gone to the beach, taken a swim and either stepped on seaweed or got seaweed on their hands or a mouthful of seawater is going to be hesitant to pick up seaweed as a snack over a potato chip. And I think that's why branding and marketing is so important to the equation," Mock explains.
The company is best known for its flagship brand Ocean's Halo, encompassing snacks, sauces and seasonings, noodle bowls, and sushi nori, the dried seaweed used in Japanese cuisine, all containing an element of seaweed kelp as the nutritional ingredient.
Winning mainstream shelf-space
New Frontier also produces seaweed salt as a condiment, but it is added to products as well to reduce sodium.
Ocean's Halo has listings with major retailers including Walmart and Kroger, while the brand is also available in Tesco stores in the UK. Sales of sushi nori keep increasing and Mock says the fact that seaweed products are winning shelf space in mainstream grocery stores is testament to the newfound interest once dominated by health food shops.
"There's a lot of adoption, a fast adoption rate, and we think that it is taking off," Mock says. "The brand and the design are very approachable and meant to break down that barrier for mainstream consumers – people who didn't grow up on seaweed."
Keith Paterson, the joint managing director at Shore – The Scottish Seaweed Co. in Wick, Scotland, which makes seaweed pesto and snacks, says many seaweed products imported from Asia tend to have strong fishy flavours that are off-putting for western consumers, making seaweed the equivalent of Marmite spread, where you either love it or loath it.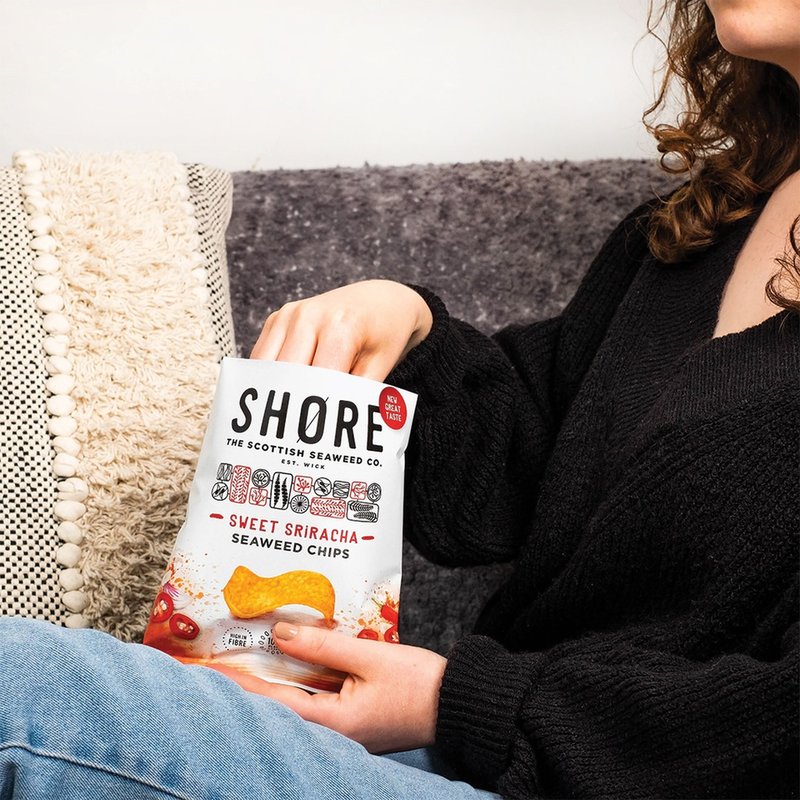 Shore seaweed crisps have a 'love it or loathe it' strong flavour. Credit: The Scottish Seaweed Co.
Paterson explains that 100kg of freshly harvested seaweed becomes 10kg when dried, leaving a product that's "packed with nutrition", which, he says, is why companies manufacturing functional ingredients are starting to experiment with it.
"I think people in the industry should recognise that it's not going to be an overnight success. There's a lot of work, and I think there's a lot of university-type work to unlock some of the more advanced nutritional aspects of seaweed. There's going to be gradual growth I would imagine, rather than a sudden boom.
"But, if you think about superfoods, they tend to come from South America or Africa. We've got this on our doorstep, a great resource and it's completely sustainable. We've got to look at ways of getting it in the diet."
Dr Craig Rose, a marine biologist, founder and managing director of Seaweed & Co. in Scotland, explains that the seaweed used in the firm's products is ascophyllum nodosum – or egg wrack – which is not "crazily" high in iodine like some other types of kelp. He also addresses how seaweed can help with iodine deficiency, which he suggests is prevalent in the UK and elsewhere in the West.
"If you're a vegan, forget it. If you're not having any sort of supplementation, you're not getting anywhere near sufficient iodine. Seaweed is actually the only plant-based, natural source of iodine.
"The other side to that sword is, if you are going for some of the kelps that are very high [in iodine], you could have too much, but honestly all the data pretty much shows that if you look at places where they consume a lot of seaweed, there isn't anywhere near the issues of too much iodine. Because it's in a natural form, because it's bounded in the fibres, a lot of it will pass through," Rose says.
A healthy position for seaweed suppliments
Seaweed & Co supplies seaweed as a health-and-nutrition ingredient to food manufacturers, nutraceutical, and beverages businesses, and also has the Weed & Wonderful consumer brand, which is now focused on supplements after also branching out into cooking oils.

The company gained listings for the oils at UK supermarket Sainsbury's and kitchenware store chain Lakeland. Rose says the products were "great and people loved them", insisting the "repurchase rate" at Sainsbury's "was actually really good".

However, the onset of Covid-19 affected the budding oils business. The category review at Sainsbury's, set for April last year, clashed with UK grocers focusing on core SKUs, while the pandemic saw Lakeland have to close its stores.

In the meantime, Seaweed & Co.'s supplements sales grew rapidly, leading sales from the company's consumer-facing arm to surpass those from its B2B operation.

Rose says the focus of the firm's consumer business is squarely on supplements. "Our nutritional supplements were flying. We're in Boots and Holland and Barrett with those. QVC has been a fantastic market for us, especially with people that are at home more," he says.

Seaweed has a really positive space in the market as an ingredient to offer this natural source of iodine, which is an essential nutrient.
"We do get a lot of interest [in our oils] from overseas predominantly. The concept definitely we could bring back but I guess we'd probably react to the opportunity as opposed to pushing it ourselves."
Nevertheless, Rose says Covid-19 has solidified the interest in health foods and seaweed demand is likely to grow on the back of it. The company's B2B customers include PepsiCo and, even if Covid-19 delayed projects with other clients, Rose says "interest is still there".
"They're giving us a huge lag time across all categories," he adds. "We're starting to see the inquiries and the projects reignite in the food space in the last month or so."
Rose says his confidence in the development of a market for packaged foods containing seaweed as an ingredient is undimmed. "I'd say I was even more confident because of the rise in awareness and interest in health and wellness among a much broader sector of the population," he says.
"Seaweed is not a silver bullet for everything – nothing is. But it addresses some very clear needs – iodine is a key one. Even if you're not fully vegan, people are going more flexitarian, so seaweed has a really positive space in the market as an ingredient to offer this natural source of iodine, which is an essential nutrient. You have to get it in in your diet."
He adds: "People have become more aware of their health, not just specifically immunity, but the wider wellness which then supports your immunity. I think it's only going one way."