Deals activity by geography
Food industry deals, as captured by GlobalData's Consumer Intelligence Centre, are down year-on-year (YoY) across all regions.
North America and Asia-Pacific are leading in terms of deal value, but also recorded a decrease in YoY growth in deals volume, at -12.28% and -8.71% respectively. South and Central America has suffered the biggest YoY change, with a decrease in deal volume of -29.27%. In terms of deals value, the Middle East and Africa, down -15.79% YoY in volume of deals, comes last. The volume of deals recorded by GlobalData also decreased YoY in Europe by 11.5% .

Deals activity by type
| | | | |
| --- | --- | --- | --- |
| Deal Type | Total Deal Value ($m) | Total Deal Count | YoY Change(Volume %) |
| Acquisition | 1,106,204 | 7,425 | -18.72 |
| Asset Transaction | 294,459 | 2,672 | -26.26 |
| Venture Financing | 34,204 | 1,579 | 75.13 |
| Equity Offering | 137,495 | 1,189 | 59.06 |
| Partnership | 1,106 | 975 | 245.4 |
| Private Equity | 195,542 | 968 | 332.13 |
| Debt Offering | 388,585 | 846 | -30.85 |
| Merger | 65,992 | 162 | -86.96 |
A breakdown of deals by type and volume shows mixed trends, with mergers down -86.96% and asset transactions down -26.26% YoY. Venture financing is up 75.13% and acquisitions are down -18.72%. Debt offering deals have similarly decreased by -30.85% YoY. However, equity offering deals have seen an increase of 59.06% and private equity offering deals are up a massive 322.13% YoY.
Deals activity by theme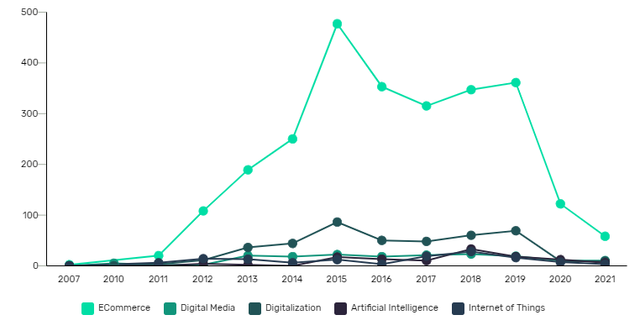 The most notable development apparent in GlobalData's analysis of food industry deals by sector is the decrease of deals across all themes. Ecommerce leads the way by volume after several strong years and remains relatively stable. Deals surrounding digitial media, digitalisation, AI, and IoT trail significantly behind.
Note: All numbers as of July 2021. Deals captured by GlobalData cover M&As, strategic alliances, various types of financing and contract service agreements.
For more insight and data, visit GlobalData's Consumer Intelligence Centre.
Latest deals in brief
Mondelez International to acquire Chipita
Mondelez International, a confectionery, food, holding, and beverage and snack food company, has announced an agreement to acquire Chipita S.A, a producer of salty and sweet snacks.
Mondelez International plans to fund the purchase price of approximately $2bn, which is subject to certain closing purchase price adjustments, through a combination of new debt issuance and existing cash.
KPS Capital Partners to acquire stake in Almidones Mexicanos and DuPont Tate & Lyle Bio-Products from of Tate & Lyle
KPS Capital Partners LP, a US-based private equity firm that provides investment and management advisory services, has announced plans to acquire stake in Almidones Mexicanos, S.A. de C.V., a Mexico-based company that manufactures dried and dehydrated maize and starch products.

It has also announced plans to axquire DuPont Tate & Lyle Bio Products Company LLC, US-based company that provides naturally-derived and renewably sourced ingredients that enhance product performance from Tate & Lyle PLC, a UK-based provider of food and beverage solutions and ingredients. The combined enterprise value of both acquisitions is $1.7bn.
Danone raises $1.2bn in offering of bonds
Danone SA, a France-based global food and beverage company, has raised €1bn ($1.2bn) in offering of bonds. The bond will mature after 4.5 years.
Indofood Cbp Sukses to raise $1.15bn in offering of 3.398% bonds due 2031

Indofood Cbp Sukses Makmur Tbk PT, an Indonesia-based provider of packaged food products, has agreed to raise $1.15bn in offering of bonds due 2031. The bonds will carry a coupon rate of 3.398% per annum and will mature after 10 years.
Mondelez International prices $998.2m in secondary offering of shares
Mondelez International, a US-based confectionery, beverage, and snack food holding company, has priced its $998.2m secondary offering of 28 million shares at a price of $35.65 per share. Goldman Sachs & Co LLC is acting as financial advisor to Mondelez.
Rhizen signs oncology drug development deal with Curon
Swiss biopharma company Rhizen Pharmaceuticals has signed an exclusive licensing agreement with Curon Biopharmaceutical to develop and commercialise Tenalisib for oncology in the Greater China region. Tenalisib, a highly selective dual PI3K delta and gamma inhibitor, is currently in Phase II clinical development for haematological malignancies. The US FDA granted fast track and orphan drug designations for the drug candidate Tenalisib as a treatment for relapsed/refractory peripheral T-cell lymphoma and cutaneous T-cell lymphoma.