Sponsored by Faravelli Group
FARAVELLI The Best ingredient
Faravelli is an international distributor of raw material ingredients for the food, nutraceutical, pharmaceutical, chemical, and cosmetic industries. Started almost a century ago as a small local business, today it is a globally recognized group. What is behind its story? A range of great raw materials and first-class service.
Faravelli: behind great satisfaction are always great raw materials and first-class service
E
stablished in Italy in 1926, Faravelli is a globally renowned group with a steady presence also in Germany, Spain, Czech and Slovak Rep, USA, and China.
The company distributes ingredients and raw materials to the food processing, pet food, nutraceutical, pharmaceutical, fine chemical and cosmetic industries.
The group aims at offering an integrated approach to distribution that is made of extensive commercial and technical support and a large range of complementary services (e.g., just-in-time delivery, product mixing, formulation, repackaging, market intelligence support and much more) specifically meant to bring more synergies to customers' advantage.
Also, Faravelli success in the distribution and marketing of raw materials is based on a peculiar and very efficient step-by-step process, starting from a selective choice of their suppliers.
Since the very beginning the company has worked to build strong and valuable partnerships, based on mutual confidence and mutual satisfaction: all our partners are market leaders with a global reputation, to guarantee outstanding quality, innovation and flexibility.
Among the sectors served, food is one of the most important and long-established.
Faravelli food raw materials and ingredients include a broad range of sugars, intensive sweeteners, hydrocolloids, fibers, antioxidants, vitamins, proteins, stabilizers, thickeners, preservatives, antimicrobials, inactive yeasts and extracted yeasts, leavening agents, flavours and functional systems.
First-class service: R&D
Faravelli aims at being a strategic partner able to support customers in every aspect of the business make them more successful.

The company has developed a range of complementary services specifically meant to help customers in their business, such as the in-house Application labs.

They support customers and principals in the development of new recipes/formulations, studying ad hoc formulations, and proposing a practical example of the result.

Faravelli in-house Food Application Lab is a highly innovative research centre completely dedicated to providing a stronger and technical support to food industry operators.

It is the place where recipes, prototypes and formulations are developed in strict collaboration with the customers' R&D teams, a crucial prerequisite for the success of a project.

The Lab is a sort of modern atelier where new ideas and concepts are studied, and the place where ideas are brought to life. The workstation features high-tech machines performing according to cutting-edge technology processes.

The Lab is also the place where Faravelli develops its food functional systems, proposed on the market under the brand FARA®.
FARA® Functional Systems
Faravelli is also a producer of functional systems and stabilizer blends. Based on hydrocolloids, FARA®Functional Systems are conceived to meet customers specific requirements in terms of texture and stability.
Functionaly systems for Plant-Based Nutrition
The plant-based meat substitutes category is growing rapidly and responding to the new needs and sensitivities of a growing segment of customers.
The global meat substitutes industry is worth $20.7bn and is set to grow to $23.2bn by 2024, according to Euromonitor.
Within the plant-based diet, the 'meat-no-meat' category is growing just as fast and responds to the new needs and sensitivities of a growing consumer segment.
Plant-based meat is produced directly from plants. Like animal meat, it is composed of proteins, fats, vitamins, minerals and water.
The new generation of plant-based meat looks, cooks and tastes just like conventional meat.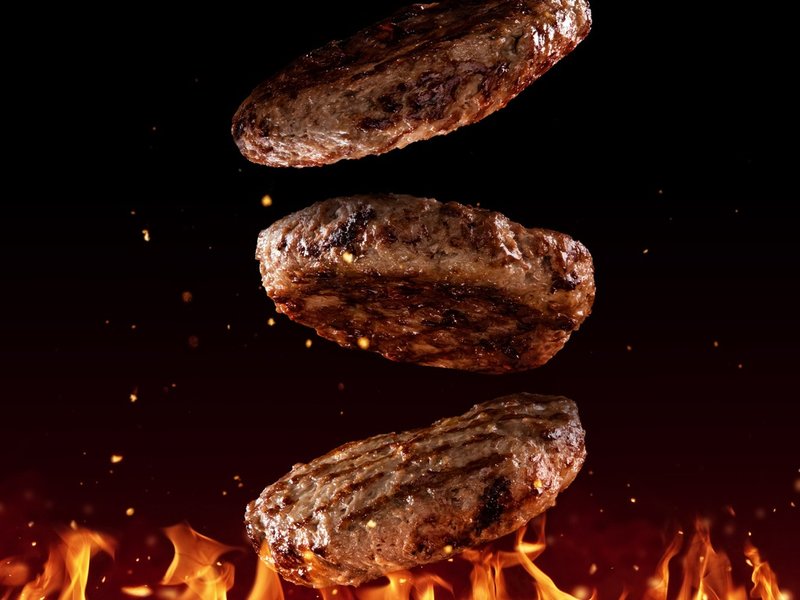 Juicy, meaty, 100% vegetable: it's FARAburger
FARAMIX HH105 is a functional system produced by Faravelli to obtain a 'meat-no-meat' product (hamburgers, meatballs, sausages) with visual characteristics and compactness identical to classic ones, meaty, juicy and pleasant to the palate.
Characteristics of the final product with FARAMIX HH105:
very juicy, despite the absence of fats
neutral taste (soya is not perceived at all), no flavouring, therefore very adaptable to the taste.
structure identical to the classic meat burger, without syneresis.
very versatile, as it can be adapted to the most diverse recipe and format requirements while maintaining its juiciness and fat-free characteristics.
It is a product so juicy and meaty that it is hard to believe it is made of plants.

FARAMIX HH105 is therefore an excellent functional system for obtaining a "meat-not-meat" product with visual characteristics and compactness to the touch completely similar to traditional meat

A food that is not only good and high in protein, but also an ally of environmental sustainability (less greenhouse gas emissions, less impact on land use, less energy and water consumption)
For any info, please contact fara@faravelli.it