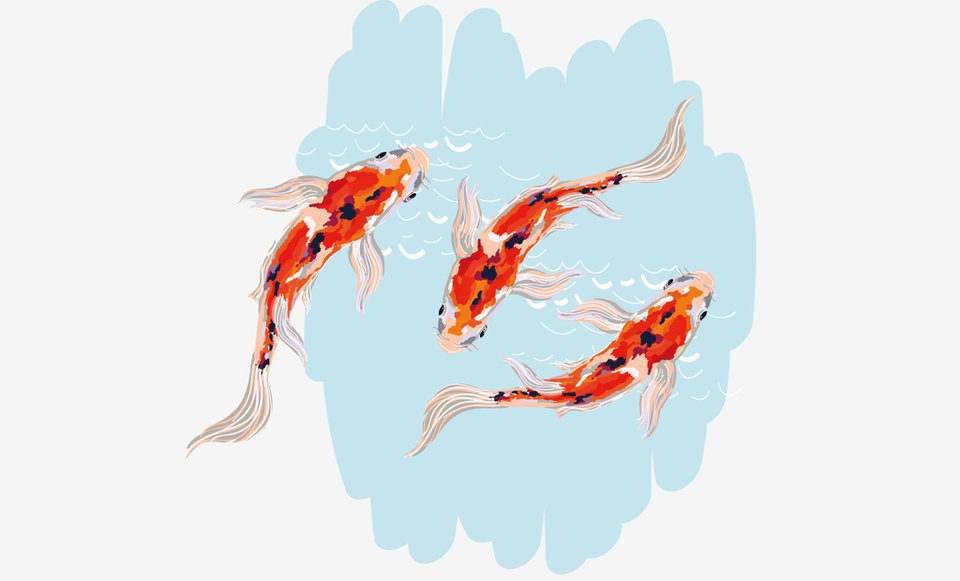 A bigger fish: alternative seafood in Asia
A huge market for seafood, Asia appears a potentially lucrative opportunity for companies manufacturing plant-based alternatives. Challenges face the companies looking to reel in consumers and the market remains in its early stages, but as Dean Best reports, there is confidence the region won't be a plant-based minnow for long.
P
lant-based seafood has become a fixture – albeit still a small one – on supermarket shelves in North America and western Europe. Asia, with its long and deep tradition of seafood consumption, has not seen the same activity – but it appears the situation is changing.
Similar to the 'mock meat' that's been on offer in a number of Asian markets for decades, some countries in the region have a heritage of vegetarian seafood options, but the kind of plant-based concepts more common in the west have yet to have been launched in any noteworthy fashion.
There are very few of the new plant-based seafood products on sale in Asia but entrepreneurs are eyeing what they believe is a significant opportunity for alternatives to conventional seafood due to the sheer size of the market for traditional products, as well as concerns over sustainability and food-safety issues.
Industry advocates are keen to talk up the promise they believe Asia holds for the emerging sector.
Investors eyeing up the market
"So far, Europe has been leading Asia in terms of retail launches and product expansions of plant-based seafood, but given that China, Japan, and other Asian countries have higher per-capita consumption rates of conventional seafood, there is a huge opportunity for companies to siphon off some of those consumers with compelling plant-based options," Elaine Siu, the managing director of the Asia Pacific operations of The Good Food Institute, a non-profit that promotes the alternative-protein sector, says.
The investment community is also testing the waters, with more money being placed on fledgeling companies that have either developed and launched products, or which are working on R&D with an eye on hitting the market in the coming months.
Set up in 1989, Singapore's Growthwell Group specialises in vegetarian food, acting as a co-manufacturer, as well as a producer and marketer of its own meat and seafood alternatives. Growthwell's origins are in meat substitutes but the firm broadened its business into seafood alternatives to the extent that its sales are now split half and half between the two.
Justin Chou, Growthwell's executive director, says the firm has been making seafood alternatives for a decade but wants to strengthen its product range through the use of different ingredients.
Given that China, Japan, and other Asian countries have higher per-capita consumption rates of conventional seafood, there is a huge opportunity for companies to siphon off some of those consumers with compelling plant-based options.
Growthwell's seafood alternatives are on sale in Singapore's foodservice channel and, later this year, the company is set to launch these new "Generation 1.5" products into retailers. "In south-east Asia, we are one of the earliest and most recognised companies doing seafood alternatives," Chou tells just-food.
"Seafood alternatives is the second opportunity we see in the alternative space. We've been doing our shrimp-related products and we're going into different alternatives, using konjac as one of the key base ingredients. We're adding in novel proteins like chickpea because of our investment in ChickP."
Last spring, Growthwell received investment from Singapore state fund Temasek and itself invested in Israeli start-up ChickP, which has developed a "90% chickpea protein isolate" for use in alternative-protein products. Using chickpea protein can, Chou says, "enhance the nutrition aspects" of its alternative-protein range.
Growthwell wants to expand geographically and has China among its target markets. China is another Asian market where 'mock' seafood has been on sale for years but start-ups are starting to emerge, offering new versions of products that executives say are closer to the real thing.
New iterations on an old staple
One such firm is Tianjin-based New Singularity, which has developed seafood alternatives based on a fungus protein and which last year launched products including a plant-based shrimp on a test basis in deli shops in the northern Chinese city. In September, the business attracted investment from Lever VC, an investor in start-ups offering alternatives to meat, dairy and seafood protein.
Gao Li, the founder and head of New Singularity, says the reaction to the company's test launch was positive – she says the company has, ahead of Chinese New Year, received bigger repeat orders from clients. The fledgeling firm is, as is common with most, if not all, businesses selling plant-based meat and seafood worldwide, targeting consumers that eat conventional seafood, rather than vegetarians specifically.
Crucially, while Gao Li, who worked in ocean protection before starting New Singularity, says environmental awareness is growing among Chinese consumers, other criteria are more important to them.
"For Chinese consumers, the most important thing when it comes to food would be taste," she says. "If the product is tasty enough, then they will think about nutrition and health. The fact people's environmental protection awareness is increasing doesn't necessarily mean they will choose plant-based seafood over real seafood. The main things are still the texture, taste and also the price. It's about if a product is tasty enough, if the texture is really similar to real seafood, and if the price is reasonable enough for consumers to accept."
New Singularity says the fungus protein it uses costs, on average, half the price of soy, while, the company, which presently uses a co-manufacturer, is looking to increase its production, which may help its economies of scale still further. The business is looking to broaden its product range by adding alternatives to salmon and tuna to its range, while still focusing on its home market of Tianjin.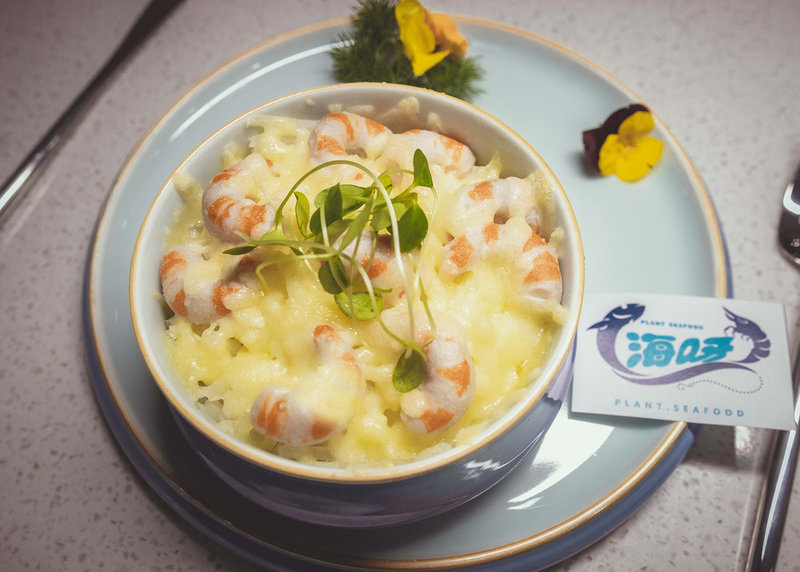 New Singularity's shrimp style plant-based seafood. Credit: New Singularity
Further south in Shanghai is a plant-based meat start-up eyeing seafood. Hero Protein, which has developed chicken and beef alternatives using soy and pea proteins – with production starting this month and foods being launched into foodservice – wants to add a pork substitute to its range this year, as well as a seafood product. "We've started with two categories and we'd like to have two more in 2021. Pork is a must and one fish or seafood is also a must," Ludovic Shum, the former Carrefour executive who joined Hero Protein in November, tells just-food.
Coco Tse, Hero Protein's VP for strategy and operations, joined Hero Protein from BNP Paribas in December. She's also vegan and underlines the paucity of what she deems to be good-quality, plant-based seafood products available in China. "I've not been able to find anything, if at all," she says.
"We see some start-ups starting to work on plant-based seafood but we haven't really seen much out in the market. The most you would find [is] something we say is more the sub-optimal, from the old days, where really traditional domestic Chinese brands do some sort of mock shrimps but it really tastes kind of spongy.
"It's not really the plant-based meat as we know it right now, to really mimic real shrimp or real seafood. That's why we see particularly a big potential there, there's no one really using advanced technology in developing plant-based seafood at the moment."
Hero Protein is another Chinese start-up to have attracted investment from Lever VC, which is among the early investors in a business that, Tse says, recently completed a pre-seed round worth $850,000. The firm is hoping to launch its next round of fundraising by the end of the second quarter to help support its R&D, production and further pushes into foodservice and also retail.
Start-ups across the continent
China, with its huge population (and seafood consumption) and, in Asian terms, strong purchasing power, is an obvious location for entrepreneurs and destination for investor cash. However, there are other markets in Asia where start-ups are emerging in plant-based protein that also have conventional seafood in their sights. It's important to state these are fledgeling firms and how early-stage alternative seafood is across the region but it's also worth highlighting these businesses are coming to market.
Travel more than 1,000 miles south from Shanghai, over Taiwan and into the Philippines and one such company is WTH Foods, set up in late 2019 but which already markets plant-based meat products, included ground meat and an alternative to canned corned beef, in retail stores. The Manila-based firm has received investment from Big Idea Ventures, the part venture-capital fund, part accelerator investing in alternatives to meat, seafood, and dairy.
Stephen Michael Co, WTH Foods' co-founder and CEO, says the firm's NPD plans include seafood, with the company "experimenting with micro-algae, spirulina, in creating fish balls."
Interestingly, Co believes WTH Foods' potential move into plant-based seafood could make the business an appealing prospect for more investment. "I'm still raising my seed round of $500-750,000. We've got $125,000 from Big Idea Ventures and, bootstrapping-wise, that can last us technically, while we build traction and growth. I guess if I could pitch more of the micro-algae, seafood-tech perspective, that would give investors more compelling reasons to invest."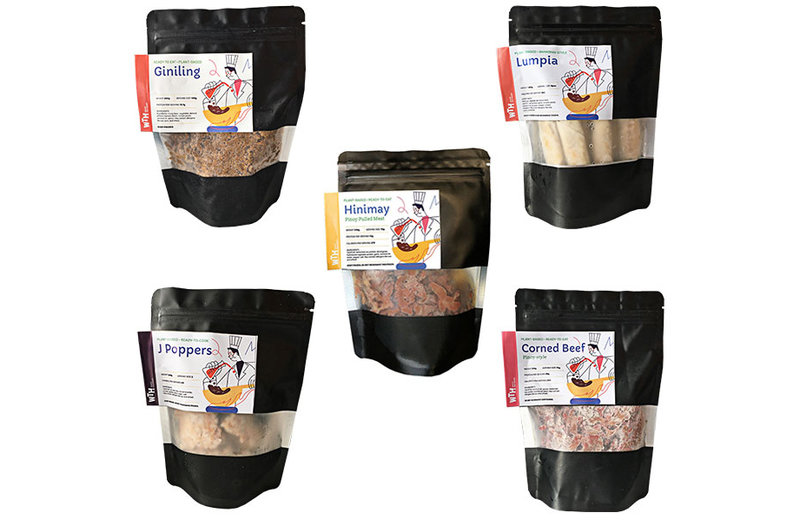 WTH Foods already have a range of products on the market but are aiming to add a seafood alternative as well. Credit: WTH Foods
The Philippines has yet to see modern plant-based seafood products launched but Co is confident there is a market ready for the foods. "We eat a tonne of processed seafood. Street food, there's lots of squid balls, fish balls or lobster balls in dim sums in south-east Asian and Chinese cuisine, so the market is definitely there," he says.
Co is hoping to have developed plant-based seafood products in WTH Foods' commercial kitchen, and have larger-scale co-manufacturing lined up for both the firm's meat and seafood alternatives, by the end of the year. Covid-19, he says, has hampered the firm's ability to have secured a larger manufacturing partner overseas.
"Normally I could like fly to Singapore, or Thailand, or Malaysia in a day," Co says. "The products are either chilled or frozen – and, oh my God, the bureaucracy of sending it via DHL or through the post is just crazy. We've resorted to keeping samples for ourselves and tasting it together [online]."
It all comes down to taste

Taste will be vital in any attempts to get seafood lovers to try out alternatives on a sustained basis. "Many of the [traditional] seafood alternatives in Asia don't really taste as good because they used to only serve the vegetarians," Growthwell's Chou says.
"For us, right now, with our own R&D, we are working with the right flavours and the right technology to enhance the experience and create a seafood alternative that really tastes like salmon or like shrimp. Because of the improvements in technology, you can actually enhance the experience and, honestly, when you bake it with breadcrumbs and coat it, it's tastes really very good. We recently just launched with one of the major sushi chains in Singapore called Sushi Tei and [the product] was very, very popular and we're very positive.
The Good Food Institute's Siu says success for plant-based seafood will depend on similar factors other alternative proteins have faced. "Taste is the single most important factor, followed by price and availability. Increasing interest in sustainability and ocean health, especially among young consumers, will drive more trials and hopefully, repeat purchases."
For now, taste is the biggest hurdle. "So far I have yet to see any next-generation plant-based seafood product out there that is convincingly tasty and appealing to China's mainstream consumers or a genuine product approach that could go in that direction," Tao Zhang, the founder and MD of impact investor Dao Ventures and an investor in alternative-protein start-ups in China, says.
However, the potential in Asia means start-ups are emerging, there are signs of demand for modern-style seafood alternatives and investors are placing bets accordingly. And plant-based seafood companies that have built a presence in North America and Europe but have yet to launch in Asia are watching closely.
"Plant-based seafood in Asia is a quickly-emerging category, which already shows important gains in momentum. We look forward to establishing the Good Catch brand in Asia as a key pillar in our international development plan," Christine Mei, the CEO of Gathered Foods, the US business behind the Good Catch plant-seafood brand, says. "Asia is most definitely an important region for us."