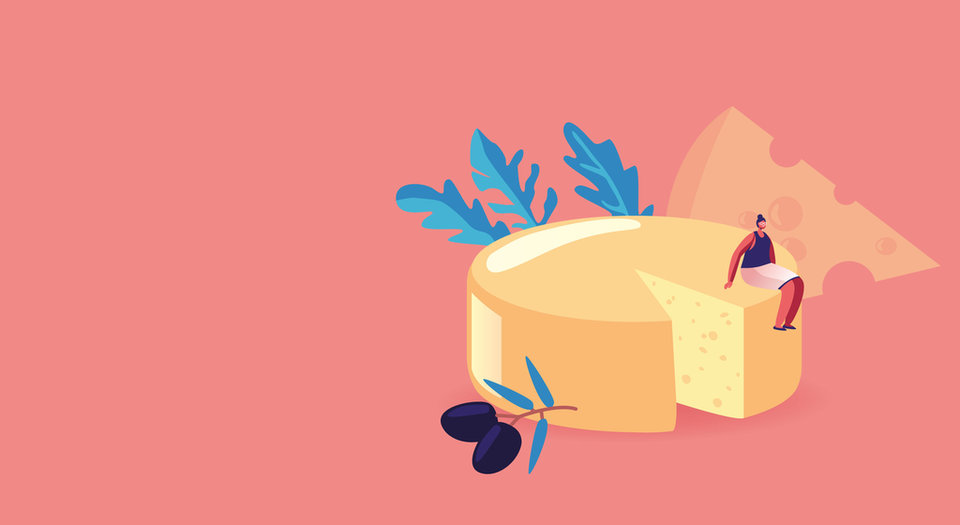 Can plant-based cheese come of age?
Concerns about quality and taste have held back the market for plant-based cheese. Lucy Britner looks at how manufacturers are trying to improve their product development, while at the same time offering a viable alternative to what can be one of the most commoditised and price-driven areas of dairy.
C
oncerns for the environment, the health and welfare of animals, and consumers' preoccupations with their own health has caused an explosion in plant-based products. Meat alternatives have dominated the area, but the plant-based cheese market is growing rapidly.
According to Research & Markets, the global vegan cheese market is expected to grow at a CAGR of 8.91% to reach a total market size of $4.578bn by 2025, increasing from $2.743bn in 2019.
While specialists have so far dominated the emerging space, we can expect to see more plant-based cheese moves from mainstream dairy players as the category gathers momentum.
For example, in the last quarter of 2020, Bel Group, one of the world's largest makers of conventional cheese, laid out plans to tackle "the new plant-based challenge". The France-based company aims to provide a plant-based option for each of its core brands and already sells a plant-based version of Boursin in the US, via Amazon Fresh.
While 2021 promises an array of new dairy alternatives, plant-based cheese producers will have to work hard to get the quality and pricing right. When just-food explored the topic in 2020, concerns centred around the standard of what was on offer, with one start-up, Sorosh Tavakoli, CEO of Sweden's Noquo Foods, calling the quality of alternatives available at the time "absolutely terrible".
Quality gaps
A year later, and Tavakoli highlights the plethora of new products from existing incumbents and new companies.
"From our perspective, nobody has been able to take a clear leadership position and accelerate ahead," he says. "Our view is that the products still very much lack the quality to compete with dairy cheese and the ambitions have not been big enough."
Noquo is on the cusp of launching its first product, a fermented cheese using fava beans and pea, designed to be used as a feta-style cheese, though it has its "own distinct flavour".
"We are hoping to launch in Q2 towards foodservice first and then retail, initially focused on our home market, Sweden," Tavakoli explains. "We are also developing a broader range of products to follow the initial launch in 2021 and beyond. Our ambition is to take that [top] spot, even if it's very early days for us."
Products still very much lack the quality to compete with dairy cheese and the ambitions have not been big enough.
In Canada, Patrick Morris, CEO of Eat Beyond – the investment issuer behind Canada-based Nabati Cheeze – also emphasises quality gaps. "Something that we have heard from so many of the successful entrepreneurs in this space is that if you really want people to switch to plant-based foods, you need to make something that is as good or better than the legacy product," he says.
Nabati Cheeze has recently launched an industrial sales arm, which will enable third-party CPGs to use the firm's cheese alternative as an ingredient.
"We created these products to bridge the gap between plant-based cheese and dairy cheese; we weren't happy with what was already available in the market because it felt like a compromise," says Ahmad Yehya, CEO of Nabati.
"It is designed to melt and feel the same, and we even made the packaging consistent with dairy cheese, offering a 320g package rather than a 200g package that we see other plant-based cheese brands offering."
New product development
There are two production methods for plant-based cheese – cultured and uncultured. Luke Abbott, CEO of Vdriven Consulting, a US-based vegan and natural food specialist, has said cultured products, which use more traditional cheese-making methods, are more akin to dairy cheese.
He champions new entrants in this space and singles out Tofurky, a long-standing player in the wider US plant-protein market, which launched its product, Moocho, in 2020. "The line is unique in its use of fermented ingredients, which have live microorganisms that drive healthy digestion," he says.

In terms of upping the quality on offer, Abbott points to California-based Parmela Creamery. He says the company "continues to lead the pack in continuous improvement", adding: "The current iteration of their product line, which is made from cultured and aged cashew milk, has no sacrifice relative to traditional cows' milk cheeses."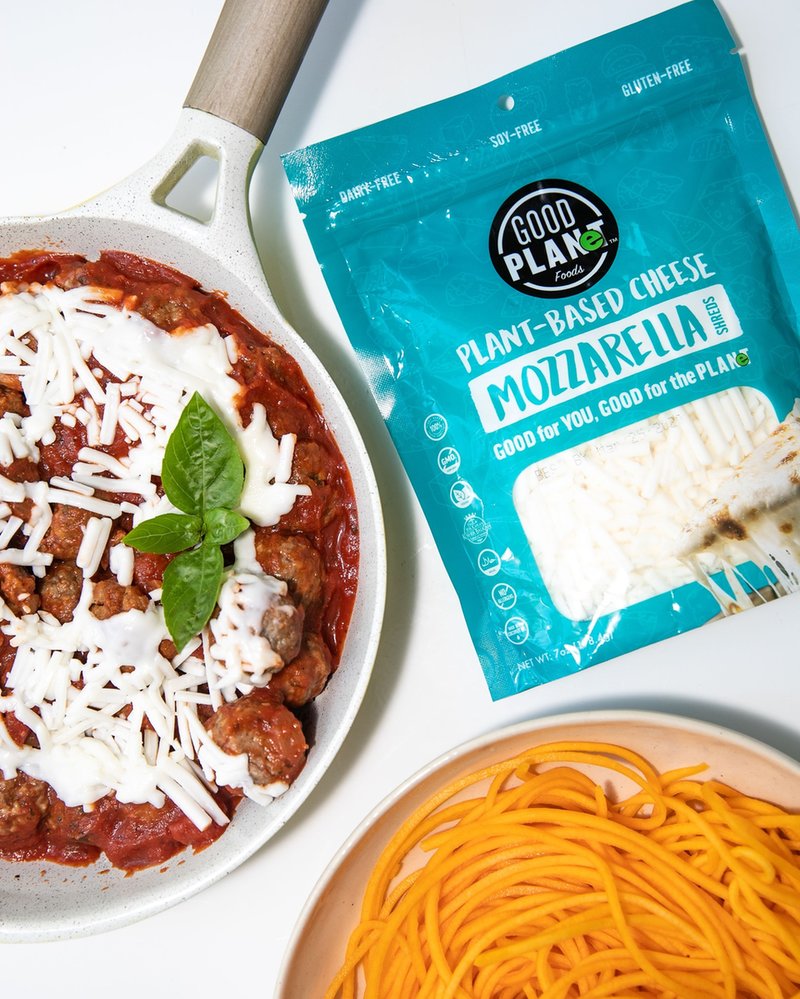 Good Planet Foods are experimenting with cultured options. Credit: Good Planet Foods
Also in the US, Good Planet Foods, which makes a range of uncultured cheeses using coconut oil, is experimenting with cultured options. Founder David Israel says that launches are expected later this year or into 2022.
He says the popularity of the plant-based category means new ingredients are coming to the fore all the time. In terms of NPD, he says: "Being patient and getting the formula right, without disrupting the texture and melt-ability, is important."
And when it comes to production, Rob Leibowitz, CEO of US firm Kite Hill, which produces cream-cheese alternatives, highlights some of the challenges. "Achieving the standards we have set for taste, texture and colour is very difficult as the art and science of converting various plant bases into great tasting foods is still emerging and relatively new to the world."
He says the focus at Kite Hill – which attracted investment from US food giant General Mills in 2017 – is on having the right, proprietary, internal manufacturing conditions and equipment, with the vast majority of its products made within its own factories.
"Additionally, we place a high value on partnering with R&D scientists who are not only technically astute, but also foodies," he adds. "And we continue to work with our founder who is an experienced chef throughout the process of our NPD."
Kite Hill expects to launch a plant-based queso (melted cheese dip) and a spreadable cheese this year. "Each new offering will address a different consumer need state and product category in which consumers are seeking more dairy-free options that don't sacrifice on eating experience (taste, texture or colour)."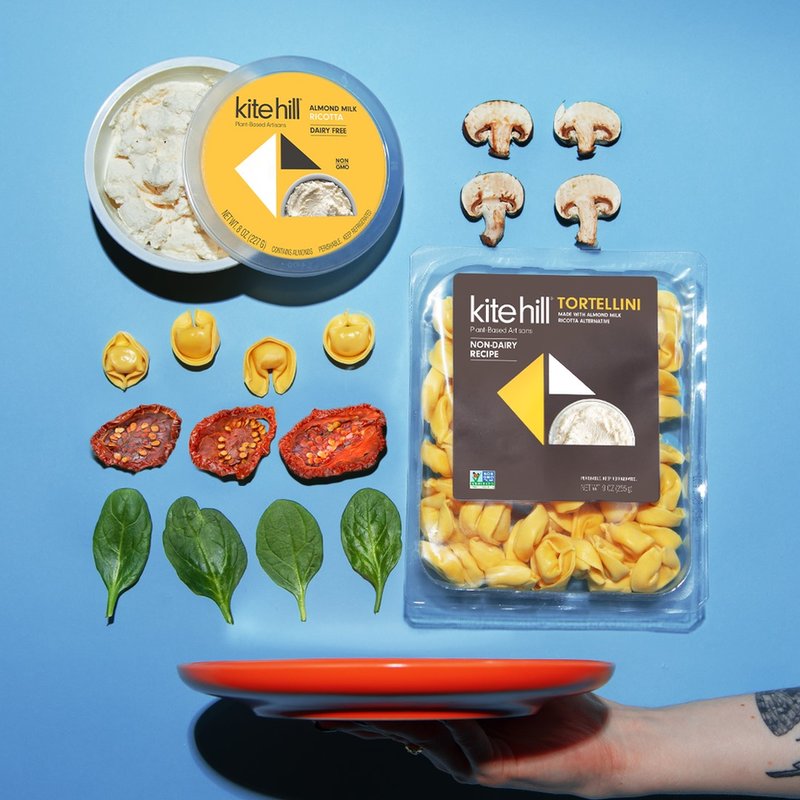 Kite Hill has already attracted investment from US food giant General Mills. Credit: Kite Hill
Price promises
In terms of pricing, constant R&D doesn't come cheap and for some brands, price is secondary, while for others, creating a mainstream proposition is top of the agenda.
"While price is a very important part of a food value proposition, we think the most important
attributes in our categories are included in the total user eating experience (taste, texture, colour, packaging), which we deliver exceptionally well against every day," says Kite Hill's Leibowitz. "We would rather be a slight premium in quality and price as consumers seem to be very willing to pay a reasonable premium for great eating experiences."
In Europe, Violife – which makes its products primarily from coconut oil – rolled out the Epic Mature Cheddar Flavour range last year.

Simon Orchard, UK country manager for Violife, says that the company's brand mission is to create "great-tasting food that can be enjoyed by everyone". Therefore, he says it is key for their products to be at an accessible price for consumers. "Violife's range is stocked at mainstream supermarkets across the country, as well as selected health stores, helping to make vegan options affordable and easy to find for everyone."

According to Orchard, Violife, which was acquired in 2019 by plant-based spreads business Upfield Group – itself created by the sale of Unilever's spreads arm to private-equity giant KKR a year earlier – accounted for 68% of the category growth seen in the UK in the last year.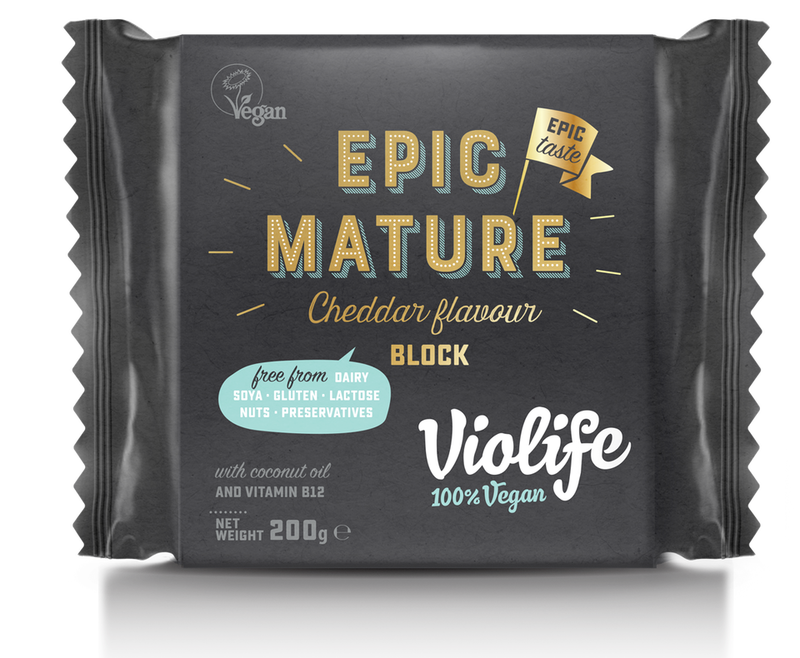 Violife's new Epic Mature Cheddar range was launched last year. Credit: Violife
In the US, Good Planet's Israel says price points are "basically the same" between cultured and uncultured products. He stresses his company wants to create a product that consumers enjoy and is accessible and therefore raising prices is not on the agenda. "Retailers are also still working out how to sell it," he adds.
Vdriven's Abbott describes pricing as "absolutely crucial" if companies hope for plant-based cheeses to become a staple. "As volumes grow, we can reasonably expect economies of scale to support improved retail pricing," he says.
Looking forward, Israel believes we will see "a lot of new and brilliant plant-based products, including cheeses, because the opportunity is there and the demand is huge."
And as new formulas and ingredients come to the fore, perhaps there will soon be a plant-based proposition for every taste and every pocket – just like dairy cheese.