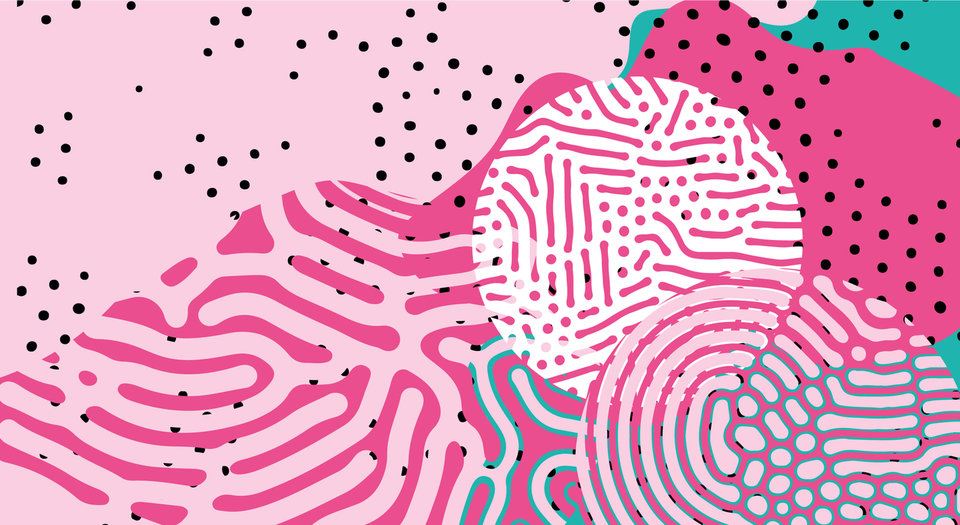 The fermentation flurry in plant-based food
With plants and cells grabbing the headlines as the market for meat alternatives takes hold, could a new generation of meat-alternative products made using cutting-edge fermentation processes start to simmer as investment dollars enter the nascent area? Simon Creasey investigates.
F
ermentation has been used in food production for hundreds of years. Historically, the technique has been used to preserve food and improve its nutritional value.
It is also increasingly being employed to produce alternative proteins in three primary ways, according to US non-profit The Good Food Institute (GFI).
"In the alternative protein industry, 'fermentation' refers to cultivating microbial organisms for the purpose of processing a foodstuff; obtaining more of the organism itself as a primary source of protein; or deriving specialised ingredients, such as flavourings, enzymes, and fats, for incorporation into plant-based products or cultivated meat," GFI, which advocates for plant-based alternatives to meat, dairy, and eggs, said in a recent report.
Finding fermentation methods that work for future food
GFI outlines three primary ways that the alternative protein industry uses fermentation. One, traditional fermentation, "uses intact live microorganisms to modulate and process plant-derived ingredients, resulting in products with a unique flavour and nutritional profiles and modified texture".
A second process, biomass fermentation, used by UK meat-free business Quorn Foods, "leverages the fast growth and high-protein content of many microorganisms to efficiently produce large quantities of protein", GFI says.
And, thirdly, there is precision fermentation, which "uses microbial hosts as 'cell factories' for producing specific functional ingredients that typically require greater purity than the primary protein ingredients, and are incorporated at lower levels".
"Plant-based and cultivated meat have been recognised as two primary pillars of the alternative protein industry, but fermentation is now emerging as a key alternative protein platform in its own right," GFI says.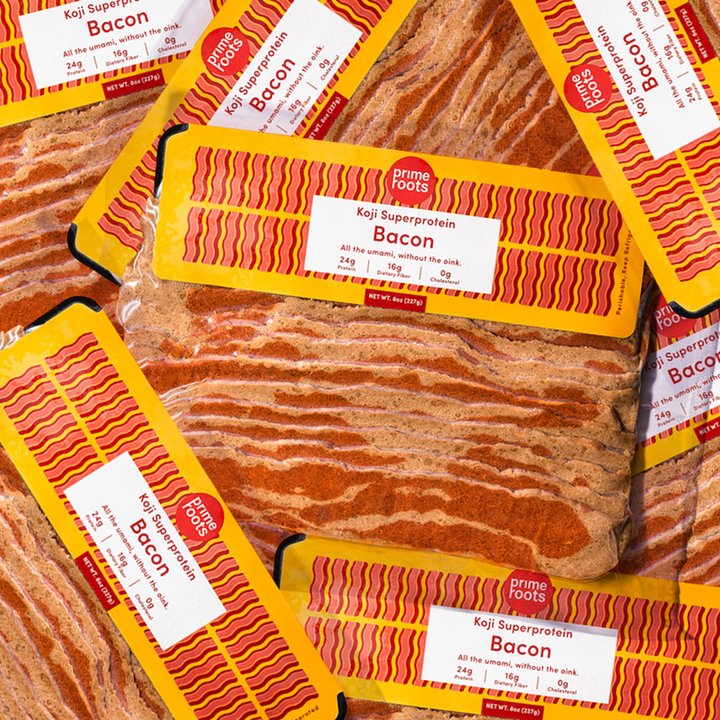 Prime Roots meat-free bacon, made using Koji through fermentation. Credit: Prime Roots
In common with all executives in the field of meat alternatives, Kimberlie Le, co-founder of US-based Prime Roots, which uses a biomass fermented fungus called koji to make alternatives to meat and seafood alternatives, says fermented meat alternatives are much less damaging to the environment than animals bred for human consumption.
"Some of the biggest issues right now with animal agriculture is that it is an extreme emitter of greenhouse gas emissions, and accounts for 15% of global warming, which is a huge issue," says Le.
"Also, there isn't enough land or water resources to support the level of consumption and demand for meat if we keep making meat from animals, which is an outdated technology. We can and are doing better by making protein that can nourish both people and planet."
Le adds there are a host of other benefits associated with choosing fermented meat alternatives over animals ranging from "having a safer, and healthier source of protein, to also being really delicious, and being able to fully replace meat wherever you use it – this has been a huge shift in terms of products and technologies in the past few years".
Our 'growing season' never stops – we have the ability to produce 365 days per year, independent of traditional seasonal cycles.
Using fermentation to create alternative-meat products offers a number of upsides compared with plant-based meat, says Måns Ullerstam, founder and CEO of the Swedish plant-based holding and distribution company Kale United.
"The benefits versus plant-based are still theoretical, but in theory, you can be a lot more effective in land use and also grow this where you normally can't grow crops – similar to the idea of vertical farms," Ullerstam explains.
In addition to requiring a lot of land and water, many plant-based proteins also rely on traditional agricultural cycles, explains Karuna Rawal, CMO at US-based Nature's Fynd, a fledgeling firm that uses what it describes as a "breakthrough" fermentation process to create Fy – a new protein source grown from microbes that originate in Yellowstone National Park.
"Soybean and pea crops take months to mature and, under most circumstances, their development is limited to specific growing seasons. Our 'growing season' never stops – we have the ability to produce 365 days per year, independent of traditional seasonal cycles," Rawal says.
Finding a place in the alternative-protein world
In the overall meat-alternative industry, plant options may soon not be the only possible competitor for those using fermented protein. The cell-based industry is still in its infancy and has a number of challenges ahead before becoming a real mainstream market, but it recently received a shot in the arm when Singapore gave the world's first approval for the commercial sale of a cell-cultured product.
In terms of the benefits derived from fermented meat alternatives versus cell-based options, Ullerstam points out that "we still have a lot of health issues eating red meat, [and] they don't go away because it is cell-based".
GFI says innovation is occurring across all three areas, although to date activity has been slowest in precision fermentation. At present, there may only be a few meat alternatives available that have been created using precision fermentation, but there are plant-based meat alternatives that use precision fermentation in their production process.
For instance, the Impossible Burger, made by US-based Impossible Foods, uses precision fermentation to help recreate an ingredient called 'heme' – an iron-containing molecule that occurs naturally in every cell of every animal and plant and is responsible for the unique flavours and aromas of meat.
According to a spokesperson for Impossible Foods, the company has developed a process for "adding the gene for heme found in soybean roots to yeast cells and we use fermentation to multiply those yeast cells and produce large concentrations of heme".
The spokesperson adds: "Producing heme using yeast and fermentation allows us to produce this ingredient at commercial scale with a much smaller environmental impact".
Over the next few years it's anticipated there will be more companies bringing products to market made using fermentation or including ingredients created using fermentation.
While it may still be early days for meat-alternative products created using precision fermentation specifically, over the next few years it's anticipated there will be more companies bringing products to market made using fermentation or including ingredients created using fermentation.
Nature's Fynd, which uses a "novel, non-traditional fermentation method for biomass production named liquid-air interface fermentation", is aiming to have a range of fungi-based, dairy-free and meatless foods available for purchase in the coming year.
The Protein Brewery, a Netherlands-based company that makes a biomass fermented food ingredient called Fermotein, is going through the process for approval of Fermotein as a food ingredient and expects to receive regulatory approval in the US this year and in 2022 in Europe.
Although Fermotein could be used in a variety of different food products – from pasta through to ice cream – Wim de Laat, founder of The Protein Brewery, says: "Our main focus now is on processed meat alternatives, like burgers, nuggets, etc."
It's a similar situation at Prime Roots. Le says the natural umami taste and texture of koji makes it a versatile source of protein that can be used across virtually all meats and seafoods.
"It's truly a super protein and we have proven that we can make it into everything ranging from our bacon, chicken, beef, and seafoods like salmon and lobster," says Le. "Everything we make tastes delicious and can replicate meat and seafoods and make them even better. For example, our seafoods have more omega-3s than actual seafood and our meats have more protein and also have some prebiotic fibre which makes it much more balanced."
Scaling up for the future
Thanks largely to the flexibility of the technology, the outlook for the nascent sector looks promising. However, it's not without its challenges. One of the biggest issues manufacturers face is scale, according to Ramkumar Nair, founder-CEO of Swedish food-tech start-up Mycorena, which has created a fungi-based protein source called Promyc using biomass fermentation.
"Our fermentation process, even though it's very special and unique, is rather straight-forward and easily scalable, but the initial investment for building large capacity is high," says Ramkumer. The company is in the middle of building its first small-scale commercial plant, which it hopes will be operational sometime in 2022.
At Nature's Fynd, Rawal says scale is also an issue for her company but she seeks to underline the benefits of the tech. "The biggest challenge with any food technology is bringing it to scale," she says.
"As a society, we must prioritise bringing food innovations to the forefront through collaborative efforts and policies that overcome long-standing resistance to change. Our breakthrough fermentation method does just that. It is inspired by nature's own efficiencies, so we can grow protein and scale production with less of an environmental impact compared to traditional protein sources."
Scaling up production requires significant investment and many of the companies active in this space at the moment are small start-ups still experimenting with fermentation technology and fine-tuning their products.
The good news is the investment community appears to believe the segment presents opportunities. According to figures from GFI, fermentation companies raised over 3.5 times more capital than all cell-cultivated meat companies and close to 60% as much as plant-based food companies that are based in or sell their products in the US market in 2019.
Fermentation has already been used in food production for hundreds of years, and now the principles underpinning this ancient technique could have the potential to change the way people eat in the future.