- ECONOMIC IMPACT -
Latest update: 20 January
Jobless rate in the Euro zone declined to 8.3% in November 2020 from 8.4% in the previous month, according to Eurostat.
According to the OECD, the unemployment rate in OECD nations declined marginally to 6.9% in November 2020 from 7.1% in October 2020.
The World Bank forecasts global economic growth at 4% in 2021 as vaccine rollout becomes widespread.
Fitch Ratings revised its economic growth forecast of the UK for 2021 to 5% from its earlier estimate of 4.1%.
Impact of Covid-19 on employment outlook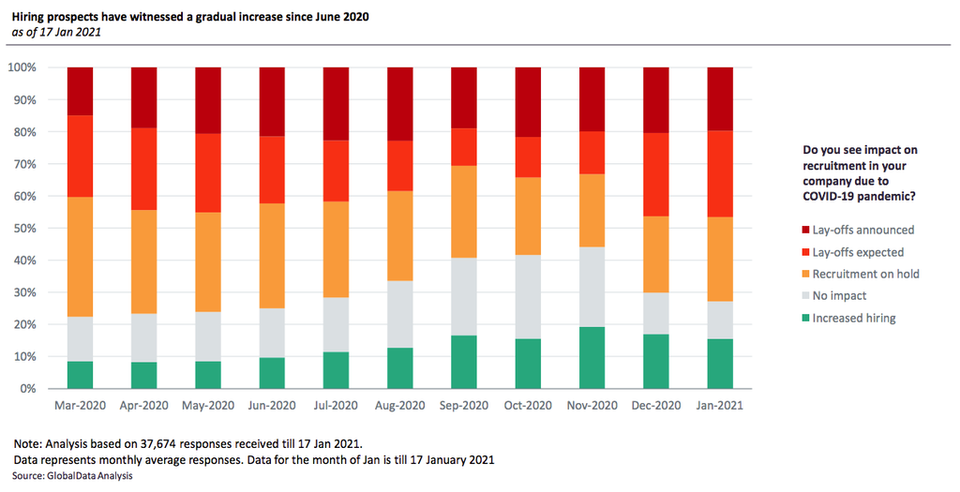 Butterball, the largest Turkey producer in the US, plans to halt production at a plant in Missouri, which will result in a loss of 450 jobs.
Deliveroo is set to hire 15,000 new riders in the last quarter of the year as new partnerships with foodservice operators "soar".
GlobalData's latest forecasts show a decline of 3.8% in consumer products for 2020 compared to baseline predictions, equivalent to $334.3bn in lost revenue.
The restaurant channel will see the largest decline in value terms with a predicted $587.9bn value loss in 2020 vs the baseline forecast, equivalent to 24.7%. This gap between the baseline and slowdown forecast will narrow slightly to -7.8% in 2023.