Brands under the Martin Braun Gruppe portfolio occupied plenty of space at Gulfood 2020 - and rightly so. Think about the international leading brand around baking and sweet indulgence like Braun, the Italian premium Gelato brand Cresco Italia or the high standards of Swiss-Quality bread & rolls of Agrano, brands of the Martin Braun Gruppe are valued by customers from around the world.
Explore Kranfil's - Crunchy fillings of Braun:
There are many ways to fill your pastry deliciously. The Kranfil´s from BRAUN are fat based ready to use fillings combining two special characteristics: Different distinguished flavours and a crunchy consistency. We offer 8 different premium flavours from fruity to pistachio and our newest additions Kranfil´s Caramel Cookie & Almonds and Kranfil´s Dark Chocolate. No preservatives, suitable for vegetarians and only high quality raw materials!
With Kranfil's you can:
Fill truffles and pralines
Put a crunchy layer on sponges and pound cakes
Create special desserts
Put a certain something to mousses
Fill everything else for a special, crunchy taste
Level up fat based coatings
Explore Schokobella Ruby:
Schokobella – the worldwide used all-round solution! Our successful Schokobella range has a new trendy family member: Schokobella Ruby. With a blush pink appearance and a unique hint of flavour, Schokobella Ruby is joining in the worldwide pink-coloured hype. Trend up each creation with the endless possibilities in application: Ready to use, for filling, covering, flavouring, whipping up or decorating all sorts of tartes, slices, desserts, eclairs or cookies with Schokobella Ruby.
That's not all! The Braun team can also talk about healthy and sustainable products like vegan baking ingredients, vegetarian fresh cream stabilizers, palm free fillings and reduced sugar items. The quality of the product is determined by many factors. Where in the past products only had to taste good, today sustainability, economy, convenience and health aspects are also important. With the aim of offering to the final consumers a proposition designed around their needs, we begin to develop also solutions such as reduced sugar concepts or palm-free products that, even though, are not scientifically and directly linked to better health are often viewed as a part of a healthy lifestyle.
Explore SAPORI DAL MONDO of Cresco Italia:
ON THE TRAIL OF SUPERIOR TASTE
The SAPORI DAL MONDO range offers a choice of special flavours from designated origins around the world, all well-known for their high quality raw materials. Finest Iranian pistachios and aromatic Columbian Arabica coffee beans are just examples of the premium raw materials used for this range. Available as cream pastes, powdered pastes or ready lines, SAPORI DAL MONDO products are suitable for different ways of production. They are not only applicable as excellent ice cream flavours, but also for premium pastry applications.
Explore Agrano Modular Solutions:
Too many improvers in your warehouse?
Too many e-numbers in your recipes?
Want to reduce the complexity of your ingredients?
Then we have a clean solution for you!
AGRANO has always been an innovator in its field, so exploring new trends, technologies or customers' requirements goes without saying. With this in mind, we are constantly refining existing baking techniques and developing new concepts to help our customers quickly adapt to the ever-changing eating habits and taste trends. With our Modular Solutions products we are even heading for new ways within the field of technical solutions for mid-sized and big industrial customers. Taking into account the different conditions of our worldwide client base as well as the need for cost effectiveness, this range helps to increase freshness, enhance volume, support product stability during cold working process and shorten the number of improver used as well as the list of e-numbers in your customers' final products.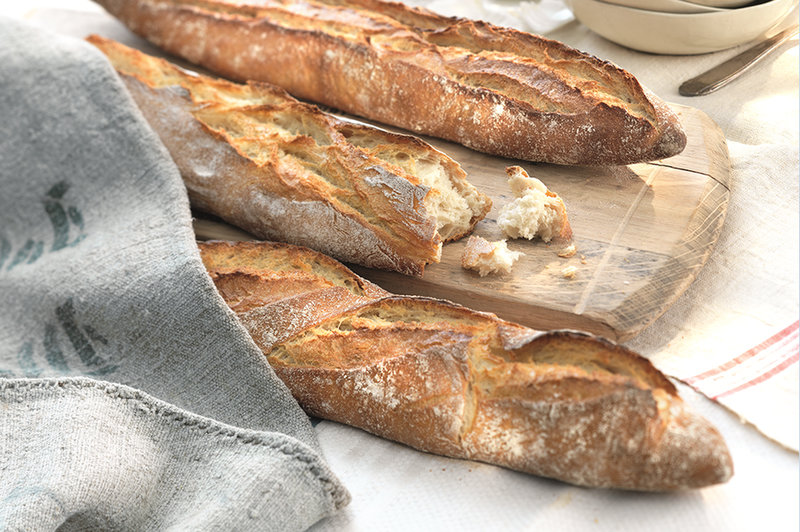 Meeting point for the industry and a benchmark.
As a principle Martin Braun has always focused on quality and service with the strong belief that this is a main pillar for a competitive edge. In order to ensure a long term successful relationship with its customers, the Martin Braun KG created the perfect platform to support them: In the BACKFORUM, product development, quality control, product training as well as marketing come together to achieve the perfect "mix" for customer support. Customers and partners have the opportunity to simulate all different kinds of scenarios and experiment with products to see the various applications and develop together new ideas. The BACKFORUM offers practical demonstrations, marketing and sales seminars, as well as presentations on top topics from the baking and foodstuff industry. It offers more than 4,900 m² with 4 bakery rooms. The Martin Braun-Gruppe, in cooperation with its partners, has made of the BACKFORUM a meeting point for the industry and a benchmark.
Quality and Sustainability
The vision of Martin Braun is to achieve a sustainable and responsible growth of the company. This means thinking and handling sustainably with all resources at all levels.
Constant improvement of employees through trainings and seminars, of raw material and packaging through an accurate screening of its providers, of production and delivery procedures through quality management and logistic management systems, as well as environmental management and waste control management systems are key components in the sustainable growth policy. Just as important is the quality and service policy towards partners and customers to ensure a long, sustainable and profitable relationship. Quality as a main concern; this requires the implementation of the highest standards in all processes. The high standards maintained by Martin Braun comply with the HACCP norms and are certified with IFS and ISO 9001.