- ECONOMIC IMPACT -
Latest update: 11 August 2020
The World Economic Forum estimates that advanced economies will shrink by 7% and emerging and developing economies will contract by 2.5% in 2020.
Fitch Ratings reports that the combined GDP of the US, China and Eurozone contracted by 4.1% (QoQ) in Q2 2020.
Global foreign direct investment flows are forecast to fall by up to 40% in 2020, from a value of $1.54tn in 2019, according to UNCTAD.
Global economic output will fall by $8.5tn over next 2 years, according to the UN's World Economic Situation and Prospects report
Impact of Covid-19 on GDP Growth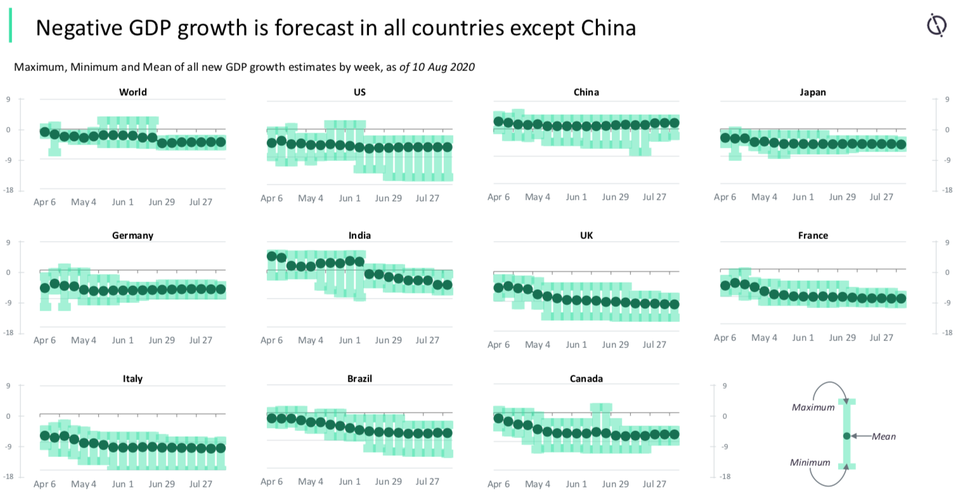 - SECTOR IMPACT: CONSUMER & FOODSERVICE -
Latest update: 12 August 2020
A positive valuation outlook continues for long-life products such as canned foods, frozen foods and pasta & noodles. In contrast, consumer spending in savory & deli, ice cream and fish & seafood has fallen in 2020. Overall the food sector will see a slight increase vs 2020 baseline predictions by 3.4%.
Kraft Heinz second quarter 2020 sales increased 7.4% versus the year-ago period.
GlobalData's latest forecasts show a decline of 3.9% in consumer products for 2020 compared to baseline predictions, equivalent to $361.7bn in lost revenue.
The pandemic has exposed weaknesses in supply chains for manufacturers, particularly international operations. Firms will move away from single-source dependencies and incorporate digital tools and advanced-analytics techniques to improve resilience.
Tyson Foods has launched a Covid-19 monitoring programme and plans to test workers without symptoms, as well as those who exhibit symptoms, in a bid to keep the workplace safe and continue its operations.
Foodservice market impact
Customers are more interested in meal deliveries, though the foodservice industry continues to struggle across the globe, and risk of staff cuts and outlet closures remains high.
GlobalData's latest forecasts show a decline of 29.4% in profit sector operator sales for 2020 relative to the 2020 baseline forecast, equivalent to $1tn in lost revenue.
Foodservice is expected to embrace robotics and automated systems. For example, Starbucks recently launched its first self-service machine with digitised payment options.