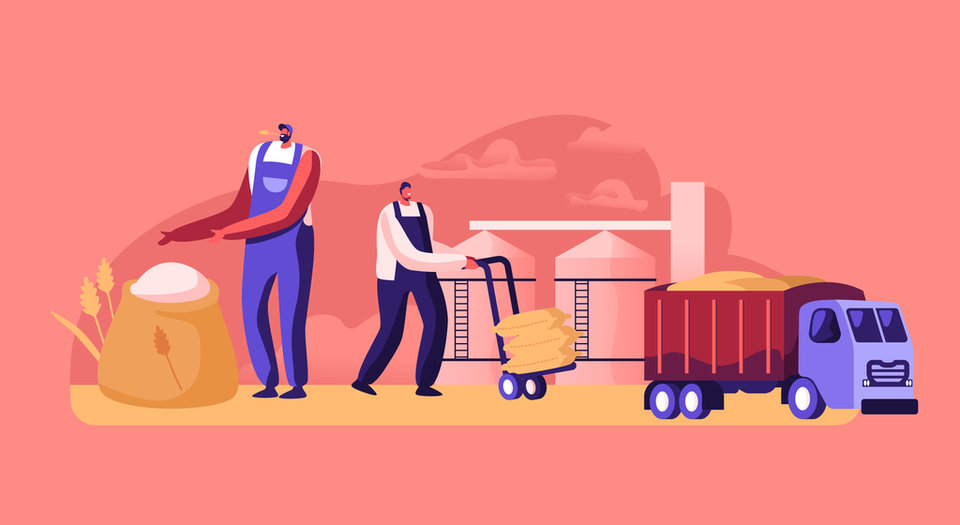 Moving on up: upcycling in the US
A year of preparing three meals a day indoors has brought home the issue of food loss and waste to a growing number of consumers and the emerging upcycled-food industry believes this is its moment. At the vanguard of the movement is the US, where more branded upcycled foods are hitting shelves – but how much potential does this niche market have? Dean Best reports.
A
ccording to the Food and Agriculture Organization of the United Nations (FAO), an estimated one-third of all produced worldwide is either lost or goes to waste.
The FAO defines "food loss" as the decrease in the "quantity or quality of food resulting from decisions and actions by food suppliers in the chain", excluding retailers, foodservice operators, and consumers.
"Food waste", on the other hand, is caused further down the downstream by the retail sector, the foodservice market and consumers.
The FAO says that around 14% of the world's food is lost from post-harvest up to, but excluding, the retail level. Published this month, a report from the UN's Environment Programme suggested 17% of the food available to consumers was wasted in 2019.
One of the UN's Sustainable Development Goals aims, by 2030, to "halve the per-capita global food waste at the retail and consumer level, and reduce food losses along production and supply chains including post-harvest losses".
Tackling the amount of food wasted along the supply chain is a significantly complex issue, needing international efforts co-ordinated across different sectors, as well as between industry, the non-profit community, and government.

There is no one silver bullet. One area attracting increasing attention from the industry is the development of upcycled food brands, with a growing number of products hitting store shelves in multiple markets worldwide.
The country at the forefront of the still niche, but expanding, consumer market for upcycled foods is the US, where it's estimated around 400 products are on sale.

Major national grocer Whole Foods Market, owned by Amazon, called out upcycled foods – products made from ingredients that would have otherwise been discarded – as one of its "top ten food trends for 2021", an annual list closely watched by the industry.
Whole Foods' inclusion of upcycled foods on its list of trends "expected to take off in the next year" has been touted by proponents of the products as a sign the emerging area is at something of a tipping point.
Big Food peddling together
According to the US Department of Agriculture, 30%-40% of the country's food supply becomes waste. But what are the prospects for the upcycled-food market in the US?
One sign of business confidence in the area is the formation of an industry body, the Upcycled Food Association (UFA), set up in 2019 and which has more than 100 members. The association was established to help grow consumer awareness of food waste and of the burgeoning number of upcycled food products on sale in the US.
In September, Dole Food Co., which is aiming to achieve "zero fruit loss from farms to customers by 2025" became the association's 100th member and this March the fruit-and-veg giant was joined on the organisation's membership list by snacks behemoth Mondelez International, which insisted "there is nothing but upside to using upcycled ingredients".
March also saw Kroger, one of the largest food retailers in the US, announce plans to financially support firms "promising new ways to manufacture, process, or distribute upcycled consumer food products". In August, Spudsy, a fledgeling US snacks business making sweet-potato puffs from upcycled ingredients, was awarded a $100,000 grant from PepsiCo through the Lay's giant's accelerator programme.
There is nothing but upside to using upcycled ingredients.
Not every foray by 'Big Food' into upcycling has been a success. In 2019, US meat giant Tyson Foods scrapped its Yappah brand, which had been launched a year earlier, with a line of Protein Crisps made from "upcycled" chicken breast trim with, depending on the product, rescued vegetable puree or spent grain from beer giant Molson Coors.

At the time, Tyson simply said that it had "decided not to move forward with it at this time for a variety of reasons, including overall viability", adding that: "food waste is still a focus for us."
Nevertheless, the continued and growing interest being shown in upcycled food by the more mainstream parts of the food industry is giving entrepreneurs and advocates already doing in the business in the market some optimism.
"It's exciting. It's clear traction in this segment and, to have traction for a movement that is reducing a global issue, is really incredible and a sign the consumer has the power, they want transparency, they want things to change – and this is one way in which their voice can be heard," says Channing Salava, eastern sales manager in the US for the Upcycled Grain Project snacks brand.
Renewed focus on food waste
Covid-19 is said to have intensified the consumer interest already building in upcycled food.

"The data is pretty clear on that actually, and is showing the pandemic has forced people to pause and to look at it, especially in the beginning when there were literal disruptions to the food supply chain," says Dan Kurzrock, the UFA's vice president and founder and CEO of ReGrained, a California-based producer of upcycling snacks and supplier of upcycled ingredients.
In February, US research firm The Hartman Group said food waste, as well as consumer-facing products made from upcycled ingredients, had become "trending news" in the midst of the pandemic, "if only because from the consumer perspective, wasting food is even more onerous today than it was prior to the effects of Covid-19".
Hartman said: "Driven by changes seen both in their own lives and in their communities, consumers are increasingly thinking about how food waste occurs throughout the product life-cycle.

"For them, the pandemic has illuminated the interconnectedness of the food supply chain, with crippling effects visible not only among shuttered businesses, but within a wider, interdependent network of consumers, farmers, and other institutions.
"Covid-19 has also put a spotlight on food waste and thrift at home. Consumers have been forced to adapt to both fewer, constrained sourcing routines and more intentional strategies about when and how they will use items."
The researchers added: "As consumers continue to raise expectations for products and companies to do better, they are primed to more greatly value product attributes, practices, and narratives that shed light on corporate initiatives relating to responsible resource use."
Gaining traction with investors
Investor interest in the start-ups that have carved out footholds in the area appears to be picking up. This March, ReGrained announced investment from Oisix, the Japan-based online grocer.

In February, Canada-based branded and ingredients business Outcast Foods unveiled backing from venture-capital fund District Capital Ventures and the investment arm of the Business Development Bank of Canada.
As well as striking the investment deal with Oisix, Kurzrock has been part of the UFA team to have defined a term for "upcycled foods", which, the association says, "use ingredients that otherwise would not have gone to human consumption, are procured and produced using verifiable supply chains, and have a positive impact on the environment".
The association has also developed and launched what it says is the world's first upcycled certification standard. Companies that wish to sign up to the certification must allow an audit of their supply chain to ensure their upcycled ingredients come from a verified source.
The standard also requires information on the amount of upcycled content within an ingredient or product, the amount of an ingredient that was set to be lost or wasted, and in most cases, demands they meet or exceed related thresholds. Other requirements include a demonstration of waste monitoring and information on greenhouse gas emissions.
An initial group of UFA members are taking part in a "beta" version of the certification programme and, by early summer, the association is looking to make "a more public launch" of the standard, Kurzrock says. Products carrying a label showcasing the standard are to be unveiled in the months that follow.
Within the industry, at least, it feels like we've hit this tipping point of awareness about the term and about the value it delivers to the bottom line and the planet.
"The certification is to drive the development of the market for these products," Kurzrock says. "We're already seeing retailers looking to source more upcycled products. They will be looking for products that are certified as upcycled, not products that are just claiming to be upcycled."
Kaitlin Mogentale set up California-based upcycled-snacks firm Pulp Pantry in 2015, with the company selling its line of Pulp Chips in more than 500 stores on the US West Coast. She says the firm will "definitely" apply for the certification.
"The biggest thing for me is making sure there are people vetting the claims because a lot of brands don't have a huge amount of upcycled content and they're benefiting from saying they're an upcycled brand but it's maybe just a tiny portion of their ingredients," she says.

"It'll bring a benefit to transparency and hopefully no green-washing so that we don't dilute the messaging and the impact of the brands that are doing real work to make a dent in food waste."
The US market for consumer-focused upcycled products remains small and specific sales data is still hard to come by. Kurzrock says recent market studies suggest that consumer appetite is there, while the success of companies such as Pulp Pantry in securing listings with the likes of Target underline buyers of major US retailers are interested.
"Surveys are one thing and sales are another, so it's not just making trend lists and the consumer surveys being positive, but also sales growth," Kurzrock says. "It's not yet at the point where you can walk into a Safeway and see upcycled products in every set."
He adds, however: "I'm meeting investors now who are saying upcycling is one of the hottest trends they're looking at. Within the industry, at least, it feels like we've hit this tipping point of awareness about the term and about the value it delivers to the bottom line and the planet. We're seeing growing consumer awareness.

"It'll be very interesting to check in a year after the full certification launches and we've [the association] got [certified] products on the shelf for maybe nine months or more to see how they're selling."
A nascent market that needs more momentum

Those behind the current fledgeling brands on sale in the US say that the upcycled movement needs the industry's largest manufacturers to launch their own products to help grow the market.
ReGrained and Outcast Foods, companies that, alongside marketing their own branded products, supply upcycled ingredients to other manufacturers, say that interest from larger companies is building.
"We have some brands we've been working with for a number of years and they're finally going to be launching products using our ingredients this year," says Outcast Foods co-founder TJ Galiardi.
"I think we're going to see a pretty big shift that happens. The CPG world is kind of a monkey see, monkey do business, so, if a brand that's marketing sustainable ingredients starts to take a little more market share or a little more shelf space, the other ones are going to take notice and try to jump on board immediately and that's going to grow the movement."
ReGrained's B2B projects "have gotten very active", Kurzrock says.

"The problem is I can't talk about a lot of them while they're in development. One launching actually on 1 April is with an edible cookie-dough company. We've got a large retailer that is going to be doing a baked item. It probably won't launch till 2022. Some of these things take a really long time but we're seeing these projects increase in volume."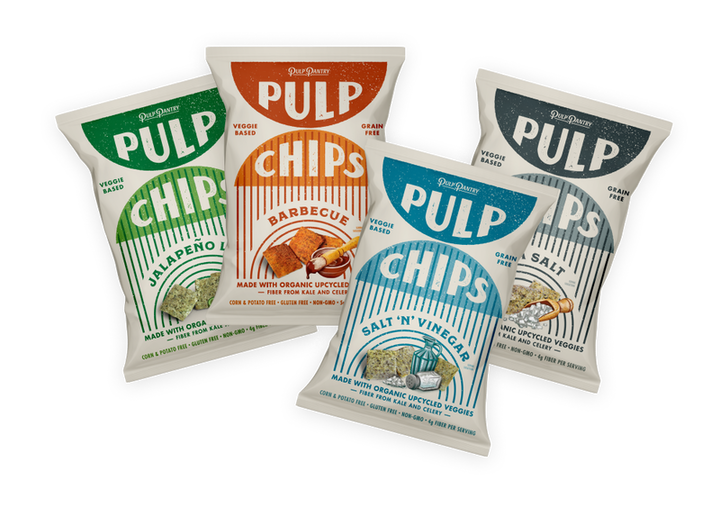 Pulp Pantry's range of snacks made with upcycled ingredients. Credit: Pulp Pantry
Kurzrock is under no illusion that the development of a fully-fledged market for upcycled food in the US will be able to solve the country's food-waste problem by itself.

"We're seeing more awareness than we ever have before but, of course, the broader reality is these problems are systemic and they're not consumer-created. I always like to stay very sober, I guess, about the complexities of the overall problem."
However, there is optimism that upcycled consumer brands can play a role in educating more consumers about the issue of food waste, especially as interest from Big Food builds.
Turner Wyatt, the co-founder and CEO of the UFA, says that companies like Mondelez, through its SnackFutures innovation arm, can use their insights into consumer behaviour and marketing to the movement's benefit.
"Upcycled is still a very new term, and without proper context, it can be a bit confusing," Wyatt says. "That's why I love that SnackFutures is able to consumerise upcycling through snacking, and create a simple, actionable way for consumers to make an impact."
The food industry inside and outside the US will be watching closely whether consumers' interest in upcycling translates into sales and into a dent in one of the most complex sustainability issues facing the sector.