Deals activity by geography
Food industry deals, as captured by GlobalData's Consumer Intelligence Centre, are down year-on-year (YoY) across all regions.
North America and Asia-Pacific are leading in terms of deal value, but also recorded a significant decrease in YoY growth in deals volume at -20% each. South and Central America has also suffered the biggest YoY change, with deal volumes at -53%, however in terms of deals value the Middle East and Africa, down 39% YoY, come last. The volume of deals recorded by GlobalData also decreased YoY in Europe (-34%) .

Deals activity by type
| | | | |
| --- | --- | --- | --- |
| Deal Type | Total Deal Value ($m) | Total Deal Count | YoY Change(Volume %) |
| Acquisition | 4228602 | 26486 | -30 |
| Asset Transaction | 1073410 | 12358 | -67 |
| Venture Financing | 129088 | 8864 | -42 |
| Equity Offering | 680911 | 6503 | 9 |
| Private Equity | 659399 | 4550 | 13 |
| Partnership | 22303 | 3833 | 5634 |
| Debt Offering | 1972933 | 3759 | 84 |
| Merger | 289763 | 667 | -99 |
A breakdown of deals by type and volume shows mixed trends, with mergers down -99% and asset transactions down -67% YoY. Venture financing is down -42% and acquisitions are down -30%. Equity offering remains largely unchanged, at a 9% increase YoY. However, private equity deals have seen an increase of 13% and debt offering deals are up 84% YoY. Most notable, however, is the YoY change in partnerships, which are up 5634%.
Deals activity by sector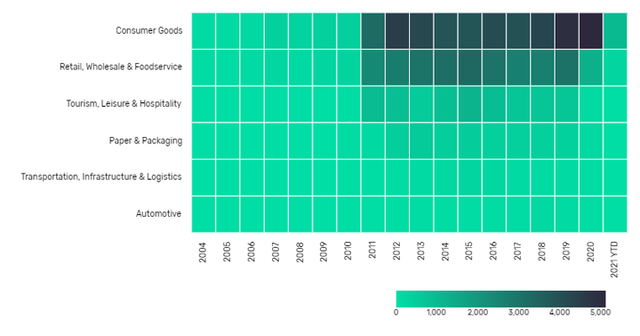 The most notable development apparent in GlobalData's analysis of food industry deals by sector is the decrease of deals across all sectors. Consumer goods remained the leading sector by deals volume after several strong years of growth and remains relatively stable. Retail, wholesale, and foodservice saw the largest decline in its total volume, but the sector is still performing steadily compared to the rest.
Note: All numbers as of 18 March 2021. Deals captured by GlobalData cover M&As, strategic alliances, various types of financing and contract service agreements.
For more insight and data, visit GlobalData's Consumer Intelligence Centre.
Latest deals in brief
Hormel Foods to acquire Planters snack business from Kraft Heinz for $3.35bn
Hormel Foods Corporation, a meat and food processing company, has entered into a definitive agreement to acquire the Planters snack nut portfolio from The Kraft Heinz Co (Kraft Heinz), a food and beverage company. Both companies involved in the transactions are based in the US.
Hormel Foods will acquire the business for $3.35bn in cash in a transaction that provides a tax benefit valued at approximately $560m, equating to an effective purchase price of $2.79bn.
CapVest may Acquire Valeo Foods for $2.06bn
According to businesspost.ie, Capvest Ltd, a private equity firm, may acquire Valeo Foods Ltd, an Ireland-based company that produces beverages and food products for $2061.50m (€1.7bn). Goldman Sachs Private Wealth Management may act as a financial adviser to Capvest.
Post Holdings Prices $1.8bn in private placement of 4.5% senior notes due 2031
Post Holdings Inc (Post), a US-based company that manufactures, markets, and distributes branded and private label ready-to-eat cereals, snacks, and active nutrition products, has priced $1.8bn through private placement of 4.50% senior notes due 2031.
Monde Nissin Files to raise $1.28bn in initial public offering
Monde Nissin Corporation, a Philippines-based producer and distributor of food products, has filed for an initial public offering (IPO) to raise up to PHP63bn ($1.28bn). Monde Nissin is looking to sell up to 3.6 million shares at up to 17.50 pesos apiece, with an option to sell up to 540 million more shares.
Danone plans to sell China Mengniu Dairy
Danone SA, a French food and beverage company, has announced its plan to sell its stake in China Mengniu Dairy Company Limited, a Hong Kong-based manufacturer and distributor of dairy products and ice cream.
Danone's indirect stake in Mengniu's share capital currently represents a book value of approximately €850m ($1bn) and had in 2019 a contribution to recurring income from associates of €7m ($68.7m).
Rhizen signs oncology drug development deal with Curon
Swiss biopharma company Rhizen Pharmaceuticals has signed an exclusive licensing agreement with Curon Biopharmaceutical to develop and commercialise Tenalisib for oncology in the Greater China region. Tenalisib, a highly selective dual PI3K delta and gamma inhibitor, is currently in Phase II clinical development for haematological malignancies. The US FDA granted fast track and orphan drug designations for the drug candidate Tenalisib as a treatment for relapsed/refractory peripheral T-cell lymphoma and cutaneous T-cell lymphoma.