50% 'food-state' curcuminoids
Retained turmeric essential oils
39X enhanced bioavailability
Self-dispersing property
Clinically proven
Talk about standing the test of time AND the rigors of science; Turmeric's medicinal history of 5,000-plus years in length and research resume of 8,000-plus in citations, attests confidently to the benefits of the yellow spice's pigments and primary actives e.g. curcuminoids. Curcuminoid formulations for use in dietary supplements have come a long way, but the next evolution of this ingredient is its accessibility and application to the broader food and beverage industry. While true that major strides in improving solubility and formatting for this market has been accomplished, we believe no single brand has done this as comprehensively as Curcugen. Curcugen is concentrated, safe, clinically-studied, 'turmeric-to-the-core', and even tasty – some might add!
Curcugen is a full-spectrum, 98.5% turmeric-based, concentrated, water-dispersible curcuminoids formulation. The dietary supplement, food and beverage-friendly extract is 39X more bioavailable (free curcumin) than standardized curcumin formulations and delivers 50% of active, naturally-distributed curcuminoids per dose. The curcuminoids are also complemented by other turmeric natives, including essential oils and turmeric polysaccharides. Curcugen is mildly-flavored and free-flowing for easy delivery in beverage shots, drinks, gummies, chocolates, candies, lozenges, etc. at low, clinically-proven doses of 500-1000 mg/day.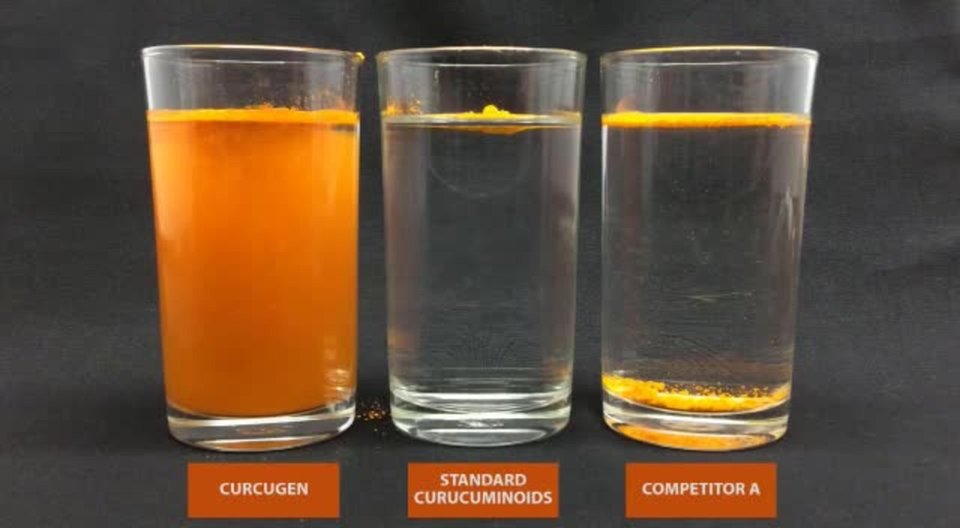 The water-dispersible functionality of Curcugen is powered by turmeric-native polar, or 'P'-resins. These resins are activated by a patented manufacturing process called Self-D. This process engages the benefits of the entire rhizome – including other known and unknown compounds – over the use of non-native or synthetic drivers of dispersion or bioavailability.
Resins are naturally packaged alongside curcuminoids and essential oils in turmeric, in a complex formally known as the oleoresin. The oleoresin is the preeminent turmeric source material for the food-flavor and color industry, because of its potency. It is a less processed starting material than the nearly-purified, industry-standard starting material, C-95 or 95% curcuminoids. Curcugen is the only curcuminoids brand to develop out of the direct use of the turmeric oleoresin. This novel process allows for high concentrations of curcuminoids actives in their native ratios, alongside the preservation of functional and medicinal constituents like the cohabitating P-resins and turmeric essential oils.

The functional, polar resins retained in Curcugen are posited to deliver their dispersion characteristics through an increase in the surface area of otherwise, hydrophobic curcuminoid molecules. In general, lipophilic curcumin molecules tend to cluster together and repel interaction with water. Alternatively, the native P-resins are 'surfactant-like', allowing the curcumin molecules to overcome their clustering effect, and separate more easily from one another. Functionally, this improves the curcuminoids capacity to interface with water and stabilize transiently in solution. Curcugen unlocks the full potential of the color-flavor oleoresin complex. It provides freedom to manufacturers and consumers alike in its versatility so that no matter the delivery system, the same standard of clinical efficacy and brand-fidelity can be consistently achieved. Curcugen's brilliant dispersion property can be observed in the above video.
It is important to note that Curcugen's dispersion property facilitates a biochemical reality as well. Greater interaction with water in a glass exemplifies Curcugen's interaction with the watery medium of the gut. This biochemical benefit has been both proven by an assessment of improved bioavailability or absorption of curcuminoids - at 39X increase over the standard form of curcumin, C-95. Further, published clinical studies on Curcugen have revealed its benefit in exercise, joint-discomfort, gut and mood health at very low doses of only 500 mg/day. As Curcugen is a 50% concentrated curcuminoids formulation, these benefits are attained with only 250 mg of actual curcuminoids per dose.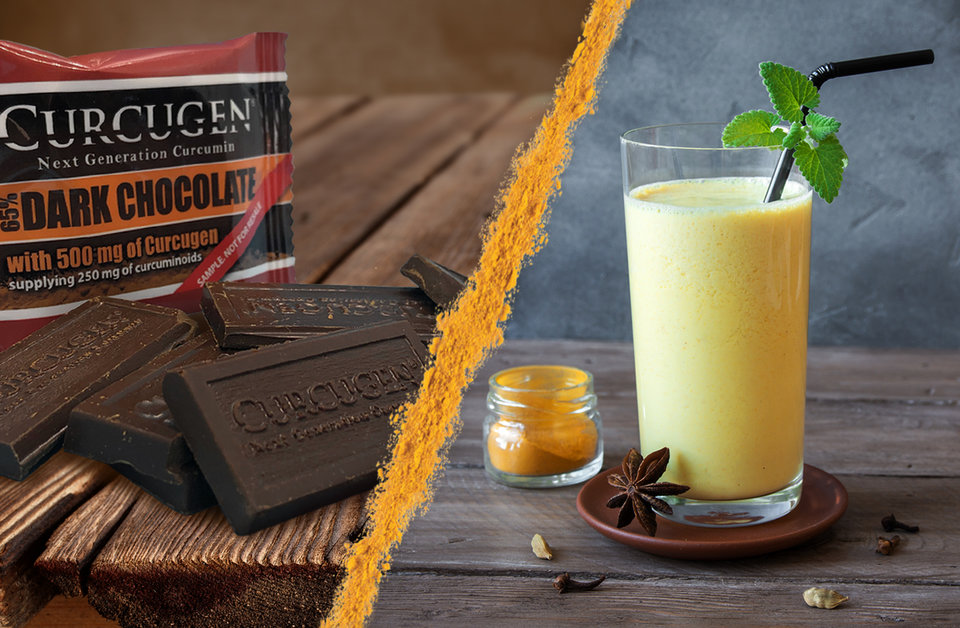 Crossing over from a dietary supplement to a food and beverage active requires more than a formidable profile and spirited ambition; it requires proof! Curcugen was recently conferred self-Generally Recognized as Safe (GRAS) status for food and beverage application by a panel of expert food-regulatory and toxicology professionals. The ingredient's manufacturing process, composition, toxicology and clinical study reporting were comprehensively assessed in the panel's determination of safety.
With both safety and efficacy of the ingredient assessed and not assumed, Curcugen is positioned to be the next big player in the functional food and beverage industry. Its unique composition, dispersion characteristics and consumer-friendly flavor have already been modeled successfully in various better-for-you formulation concepts, including beverages and chocolates. It is available, by designation of the GRAS expert panel, to additionally be a safe option for inclusion in yogurts, bars and smoothies.
For more information about Curcugen, please click HERE.