High performance production flow that delivers results
Material flow solutions for the food industry
WHO WE ARE
FoodTech is the intersection of food and technology, aiming to provide applications that improve food production. FlexLink has almost 40 years of experience delivering turn-key solutions to the food industry, and is the perfect partner when facing your production challenges.

We are world-class factory automation experts within the food industry. Working closely with customers, we provide innovative, automated solutions to produce goods smarter, safer and at lower operating costs. With a dedicated FoodTech team, we support the industry directly in over 30 countries and are represented in more than 60.

We offer a payback time of less than six months compared to other alternatives!

FlexLink is part of Coesia, an innovation-based group consisting of 21 companies specialized in automated machinery and industrial process solutions for fast moving consumer goods and food products.
A rock solid partnership

Our knowledge of processes and solutions comes from almost four decades of working closely with machine manufacturers and food producers. Together we identify the true needs, map the value streams and define the optimized flows and solutions.
How we work
Applying lean principles
Focusing on true needs
Providing innovative solutions
Offering shortest payback time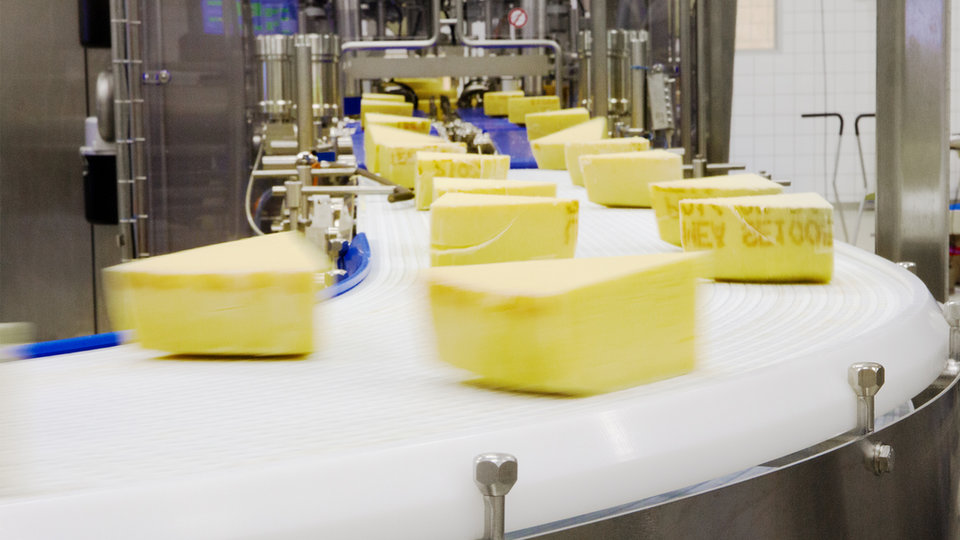 our foodtech
TOOLBOX
Our food production solutions increase your production effectiveness and are designed with food safety and operators in mind. The layouts are compact and the equipment is easy to maintain and relocate. We handle your products gently and the design reduce the contamination risks and support effective and consistent cleaning.
Our FoodTech offer includes a toolbox of products and services:
Line design
Conveyor equipment
Product manipulations
Line balancing and controls
Our chain conveyor systems in stainless steel are robust and follow a proactive approach to increase cleanliness, minimize crevices and maximized drainage.
70/85/180/300 mm beam width
Up to 120 m/min
Operational temp. -20 °C to +60 °C
Chain washer unit
CIP unit
Modular belt conveyor system
The modular wide belt conveyors address important aspects such as quick and easy cleaning, gentle handling of products, operator safety, long service life, and low cost of ownership.
150–600 mm belt width
40 m/min
Operational temp. -20 °C to +60 °C
Chain lifter unit
3-A qualified and EHEDG compliant conveyor
By elevating your production flow, valuable floor space is reclaimed. This allows you to add more production capacity or increase the accessibility for your operators. For the food and dairy industries wedge elevators and incline conveyors are available in stainless steel.
Our long experience in robotics allows us to deliver turnkey applications for the food and dairy industry, suited for every customer's specific needs. We offer standardized cells and tailor made solutions, resting on our competence within PLC programming, development of gripper technologies and international regulations and standards.
By balancing the flow you can optimize total line effectiveness (OEE) and protect your bottleneck. It can also eliminate unnecessary back pressure and reduce the risk of damaging the products.
Dynamic buffers
High speed mergers and diverters
The standardized controls system is flexible and easy to adapt and expand for new systems or existing lines. This gives you minimal programming of functions which improves your engineering efficiency as well as fast and easy installation. FlexLink controls system supports PackML (Standardized Packaging Machine Language).
Downtime is lost production time. Cleaning must be quick and efficient with the possibility to easily verity the results. FlexLink supplies various cleaning solutions for wet and dry production.
Chain washers
Chain washer and dryer units
Clean In Place (CIP)
Chain lifter unit