How Yofix is prioritising clean label for plant-based dairy
After building a solid presence at home, Yofix is stepping out internationally, with a new brand launching in the UK. Dean Best speaks to CEO Steve Grün about the company's ambitions and consumers' growing interest in simpler ingredients.
Plant-based dairy product maker Yofix Probiotics this year got financial backing from yogurt behemoth Unternehmensgruppe Theo Müller and cheese giant Groupe Bel, with the European dairy giants interested in the six year-old Israeli start-up's use of "clean-label" alternatives.
Yofix, which also counts Israel-based food-and-beverage major Strauss Group as an investor, is, after securing listings with its major domestic retailers, taking its first steps abroad, launching a new brand and hoping to win over the growing number of consumers who, the company says, are becoming more inquisitive about what's in their food.
"I think people are getting much more aware of what they're eating. People are looking at ingredients lists," Yofix CEO Steve Grün says.
In Israel, Yofix is marketing a range of dairy-free and soy-free yogurt alternatives, with Strauss as distributor, under the brand Only, containing oats, legumes and seeds and without colours and stabilisers.
Launched in 2019, Yofix, which at the start of the year was announced the winner of a PepsiCo incubator in Europe, said it has listings with more than 1,000 outlets with sales, Grün says, "growing from month to month".
New markets, new products
The company's first international foray, however, has come with a different product, sold under a new brand. This summer, Yofix unveiled The Real Foodists in the UK and, under a sub-brand dubbed Yo'ridge, launched a line of ready-to-eat, chilled "yogurt-y porridge" products. Yo'ridge is plant-based and is free from dairy, soya and refined sugar.
"It's half-yoghurt, half-porridge," Grün explains. "The yoghurt is giving the probiotic message. The porridge is giving the satiety message. That's different from what we have on the local market."
The Yofix CEO says the company chose the UK for the start of its international push due to the country's "growing vegan market" and because of a "big openness" among the market's retailers for "disruptive brands", adding: "Our product is totally clean label. There are other companies who say their products are clean label and then you see all kinds of starches and so on. We are working with real ingredients."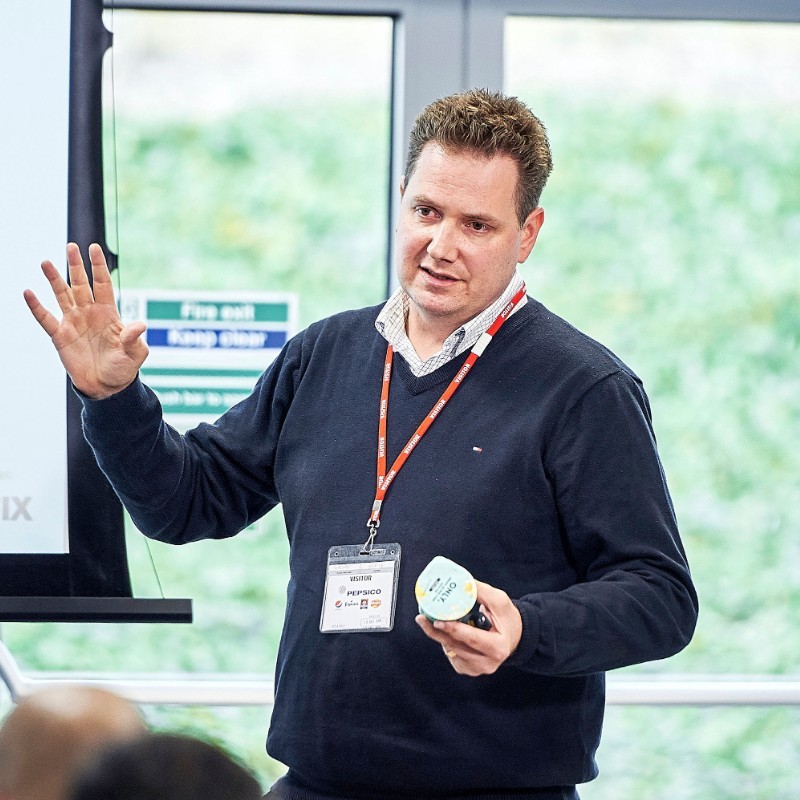 Steve Grün, Yofix CEO. Image: Yofix
That desire to be disruptive saw Yofix decide to develop a new product and create a new brand for the UK market, rather than roll out what the company had already been selling in Israel. "In order to get into the UK, we said we need to be totally clean. In Israel, in order to get to a certain price point, we're working with sugar," Grün says.
The Yo'ridge products sold in the UK contain maple syrup and apple juice as sweeteners but Grün stands by the use of sugar in Yofix's range back home.
"Sugar is not a non-clean-label ingredient. It's a much cheaper, much less qualitative ingredient and we know the world is going towards less sugar in your product, so we want to walk away from the sugar," he says, but he also adds: "Sugar is not potassium sorbate or like all [those] kinds of different preservatives that are put in products, but, if somebody wants to have a health product, you need to give them the full ingredients list and not start to do shortcuts.
"That's why we did it in the UK, with a totally clean ingredients list, a totally qualitative ingredients list. We won't be using potassium sorbate and sodium carbonate and all kinds of strange things in our products."
Sometimes you see 20 ingredients and you understand five. We say that everything needs to be clear for the consumer.
Grün believes more consumers will start to become "fed up" with "eating all kinds of strange ingredients", adding: "Sometimes you see 20 ingredients and you understand five. We say that everything needs to be clear for the consumer. That's what we're pushing. It's not easy to not put [those] ingredients inside.

"Sometimes you say 'Oh, it could be a shortcut to put this or that' but we won't do it because it's just harmful for the consumer at the end. If you want to really be with our vision and with our DNA then we need to be really strictly clean label."
Grün still describes Yofix's products on sale in Israel as clean label. "Yeah, it's always cleaner than others. It's clean but, again, sugar is less qualitative than maple syrup. It's a compromise, it's still a good compromise but we prefer to put products with maple and more healthy ingredients inside."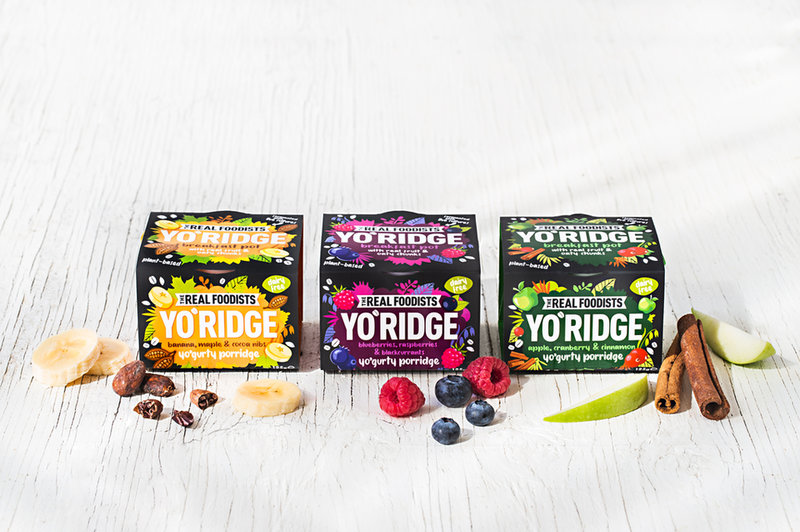 Yo'ridge, Yofix's UK offering. Image: Yofix
He uses the word "qualitative" again in an attempt to describe the products with which Yo'ridge will be competing in the UK, and gives examples of brands he sees in the same vein. "We're not competing with companies who are using an endless list of ingredients with starches and different types of additives. All [our] products are clean label, without any additives, so there's no emulsifiers and no preservatives and so on," Grün explains.
"We're not competing against those products because they've got a different price point, it's lesser-quality ingredients and all kinds of shortcuts. There are really great, nice companies in UK like The Coconut Collaborative and Rebel Kitchen and there's already a segment of products in the market that is enabling us to get into this – I will not say niche because I think this niche is growing from year-to-year and we see [the same thing] with Covid-19.
"People are looking for a more healthy diet, a guilt-free diet, they're thinking about their body, about their immune system and they don't want to put all kinds of low-quality products in their body. They know there's a connection between your body shape, and Covid-19 and other diseases."
Covid-19 delayed the launch of Yo'ridge. In February, Yofix held "tastings in a couple of shops" in the UK, Grün says. "We wanted to do the launch in March but then Covid-19 started, so we decided to postpone things until the market was ready for us. We dare to succeed now and think that it's the right time for companies like us."
Yofix want to be first for consumers
At the tastings in the UK, Grün says consumers were "starting to go ingredient-by-ingredient", asking questions about Yo'ridge's recipe, confirming his belief that, among the company's target consumer at least, there is growing interest in – and scrutiny of – ingredient lists.
"There's always a difference about people looking for qualitative products and people looking about basic and cheap products," Grün acknowledges. "We are targeting people who are looking at a healthy, guilt-free lifestyle and who are looking at good, qualitative, ingredients and qualitative products. That's what we're pushing at."
But might that market still only be a small percentage of the population? "I think it's growing," Grün insists. "When you look at the UK market, if you see Tesco, Sainsbury's, it's not like 20 years ago, when these kinds of products were only listed in Holland & Barrett or Whole Foods. It's the same thing in the US: you see Walmart, you see Target, they're full of plant-based, healthy products because that's what people are looking for.
It's not like 20 years ago, when these kinds of products were only listed in Holland & Barrett or Whole Foods

"It will only grow year-by-year. You're also seeing bigger companies tending to go towards this movement by decreasing the quantity of ingredients they've got in their lists. We're already there as a pioneer in the market, so we are in a good place to be first where we are selling the product."
For now, Yofix's international strategy is to focus on the UK, although Grün does indicate the company has plans both to launch more products there and also move into other countries. "We're starting with this range of products for which we need to build traction in the UK market. We're working with wholesalers and independent shops and we're in negotiations with major retailers. At the moment, it's like building the first platform of our expansion, and afterwards, we've got a lot of plans of different products in the plant-based dairy alternative market, the white cheese kind of products."
He adds: "We're looking at 2021 to really grow on the UK market, starting from independent stores to major multiples [and] to bring another line of other products on the market. That would be our plan for 2021, maybe also looking at another western country, but it's still early to state at this moment."
As well as trying to trade during a pandemic, in parallel industry executives are also trying to work out how Covid-19 might shape consumer habits that last once the virus is tackled. Grün believes there could be long-lasting changes in behaviour that could benefit Yofix.
"Healthy products will be booming. Plant-based will be booming," he says. "Again, people will be looking at more qualitative products."
But what about the prospect a health crisis could become an economic one? "I started having to always cope with challenges and that's something that we have built in our DNA, coping with challenges. Challenges come every day. We're always looking at it in a positive way and that's what a start-up needs to do. Being disruptive, we're always thinking and thinking positively," he insists.
"For sure, there will be challenges economically and so on, but we really believe in what we're doing and we really believe we are spot on on the trends, and that Covid-19 has also pushed the emphasis on consuming products like ours. I think it's a really great horizon for us. For sure, we need to work fast, we need to innovate [because] there's competition. There will be more competition in our market, but we are here to stay. That's what we believe."