A growing appreciation of the role diet plays in healthy ageing has been a consistent trend in the food market in recent years. So, given the link between the severity of Covid-19 and age, it is no surprise to see a significant upswing in consumer interest and the engagement of the food industry in nutrition to support better health in later life.
Even the most cursory search of new product launches during the past six months will yield compelling evidence of a significant expansion in the functional food market, with parallel growth in nutritionally-enriched or enhanced variants of mainstream food products.
Over-60s are by no means the only age group being targeted, but they are already major consumers of functional foods and supplements. Covid-19 has given them more reason to take their nutrition seriously than younger cohorts.
A recent survey by the Council for Responsible Nutrition (CRN), a US trade body representing producers of nutritional supplements and functional foods, suggests that Boomers are doubling down on healthy eating in response to coronavirus. While it looks at consumers' use of food supplements during the pandemic, it is likely to be a reliable indicator of parallel trends in functional foods.
According to the survey, consumers aged 55 and over are more likely to have increased their supplements usage during the pandemic, with 94% of those reporting their supplement regime had changed stating they had increased their usage.
Furthermore, older consumers are considerably more likely to have included new supplements, with 59% of 55+ adults saying they had added new supplements versus 37% of those aged 18 to 34. The supplements that showed the highest increased usage are multivitamins, vitamin C, vitamin D, vitamin B/B complex and calcium.
Claiming immunity
According to Hamish Renton, managing director of UK-based FMCG consultancy HRA Global, olive leaf and various fruit and berry extracts have been notable growth areas with regard to product development, with turmeric emerging as the new "wonder ingredient" in the anti-ageing arena.

Regarding functional properties, one trend stands out above all others with the pandemic witnessing a huge proliferation of new food products claiming to support a healthy immune system. "The main thing that's changed [from last year] is the rise in immunity claims, particularly for that cohort, the over-60s," Renton highlights.
Among the many functional food specialists looking to tap into heightened consumer interest in immuno-related products is Vital Proteins, the US-based nutrition specialist in which Nestlé acquired a majority stake in June.

The company launched what chief revenue officer Tracey Halama describes as a "comprehensive, immune-builder drink" called Vitality in May. "We've been actively pushing that product line to the Boomer generation," Halama says.
In addition to a promotion through US drugstore chain Walgreens, Vital Proteins recognised the potential to raise awareness of Vitality among Boomers through social media. While 60+ consumers, particularly in the US, have been shown to be more conservative about adopting online shopping during the pandemic than other age cohorts, this does not mean they are resistant to information-gathering and networking online.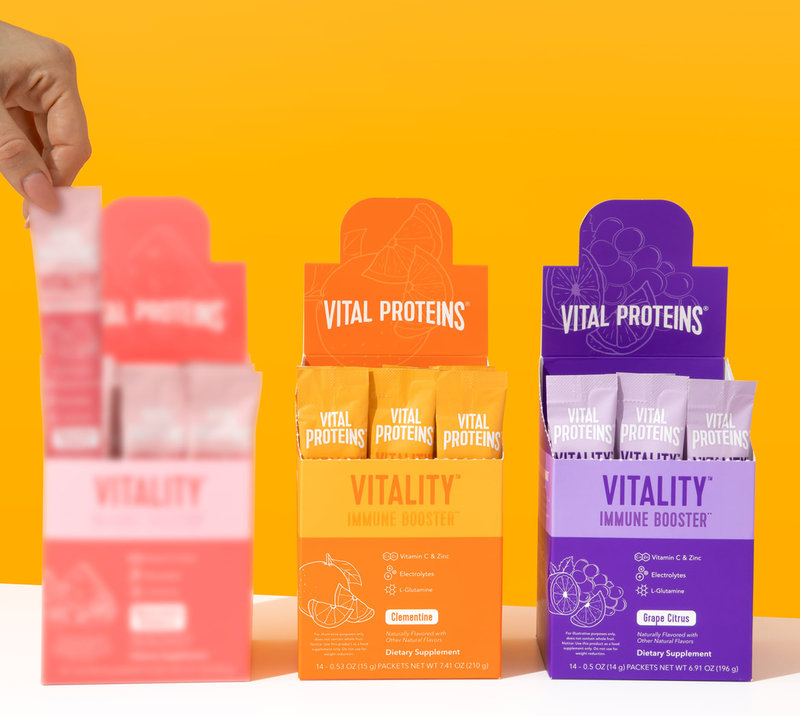 The Vitality range. Image: Vital Proteins
"I think the pandemic has actually been a great help for online marketing and provision of information to consumers because you do have the over-60s regularly using Zoom calls and doing work virtually," says Dr Darian McBain, global director of corporate affairs and sustainability at seafood giant Thai Union.
McBain stresses the opportunities this creates to communicate with consumers about nutrition and sustainability, adding: "The 60+s have become more digitally savvy in how to access information online."
That said, Halama explains that to reach 60+ consumers through social media, Vital Proteins had to look beyond its prime social channel, Instagram, and orientate social media engagement for Vitality towards Pinterest and Facebook.

Vital Proteins also believes its strategy to strengthen relationships with healthcare providers will help in building links with Boomers, who Halama says are more likely to adopt a product if it is recommended by a health professional.
Although Vital Proteins' core focus on younger age groups may create challenges in reaching over-60s, Halama is sure the products themselves will appeal to them. Furthermore, this may well be the case for a high proportion of functional food concepts that are pitched primarily at a Millennial or Gen X audience.
One abiding facet of Boomers is they do not feel, nor do they want to be regarded as, old.
Even if the imagery and marketing of the products seems to be conceived for a younger audience, one abiding facet of Boomers is they do not feel, nor do they want to be regarded as, old. This mindset seems very unlikely to have dissipated in any way during a period when the merits of an active lifestyle and good nutrition have been constantly discussed and promoted.
Liz Fisher, founder and CEO of US-based Lavva, which produces paleo and keto-certified plant-based yogurts and milk products, considers the company's target consumers to be people who care about their food whatever their age, which extends to those aged 50 and above.
With regard to Boomers, Fisher says: "Many of them are fitter now than they were in their 20s. They have the time, and they are passionately committed to challenging their bodies and their minds, and food and nutrition is a very integral part of it."
While the pandemic has offered opportunities for speciality functional food brands to build sales with Boomers, mainstream brands across the world, from British tea bags to Indian ice cream, are being repackaged, extended or given marketing revamps to emphasise possible immunological benefits.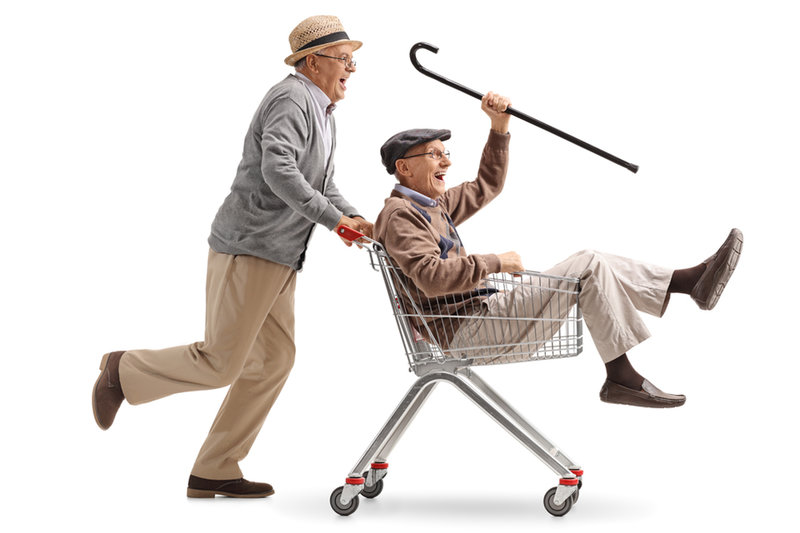 "In order to generate an immunity claim classically you're looking at some kind of antioxidant element, a Vitamin D element," Renton explains, adding in many cases brands are adopting a "sotto voce" approach when doing so.

"They don't want to be seen to be jumping on the immunity bus but frankly they've jumped on the bus and they're ringing the bell and shouting all aboard. They can't stop themselves."
There has been criticism from health professionals and organisations regarding over-stated or misleading claims about immunity benefits and food companies might be wise to pay heed.
Given the dissemination of spurious or bogus information about coronavirus has been a constant and controversial issue throughout the pandemic, the reputational risks that could come with being seen to be capitalising on fear of infection, particularly with contestable product claims, are considerable.
"We haven't changed any of our labelling or product claims specifically in relation to the pandemic," Thai Union's McBain says, suggesting the rapid addition of a health claim on an existing product may in itself be a bad sign.
"However, the work that we're doing on functional foods needs to be researched properly and you need to make sure that you have the science to back up any claims that you're making. So, that is definitely not something that you can rush into and change your marketing strategy overnight."
Nutrition-savvy
It is quite possible, however, that Boomers could be less susceptible to exaggerated claims or products that overstate their medicinal properties. Boomers may be more at threat from Covid-19 than younger consumers but they also have more experience in tailoring their diet to support good health, as recent research by The Hartman Group appears to suggest.
In a survey carried out by Hartman, participants were asked about their heightened health concerns during the pandemic. From an extensive list of health issues, Boomers only over-indexed in comparison with the average across all four demographic groups on one question, about generally preventing disease over the long term.
Hartman Group senior vice president Dr Shelley Balanko believes this must be due to their already heightened level of awareness rather than a lack of concern.

"The Boomer is orientated towards health and wellness anyway," Balanko says. "Boomers already have a prevention mindset. They are already engaged in managing certain chronic diseases, trying to prevent the onset of any acute or other chronic illnesses. They are already in that mindset given their life stage."
While there is clear evidence of Boomers taking nutrition and healthy eating to another level during the pandemic, it is also true coronavirus has consolidated existing attitudes to health in Baby Boomers rather than prompting any radical change in outlook.
It may well be the case that many older Gen X consumers, realising the higher risk of serious illness or death they are facing, have experienced a more significant change in attitude and behaviour with regard to nutrition and health than the typical Boomer. "Some of these differences are less about generational cohorts and more about life stage," Balanko says.