- ECONOMIC IMPACT -
Latest update: 7 October 2020
The World Economic Forum estimates that advanced economies will shrink by 7% and emerging and developing economies will contract by 2.5% in 2020.
Fitch Ratings reports that the combined GDP of the US, China and Eurozone contracted by 4.1% quarter-on-quarter in Q2 2020.
Africa and Asia are set for the fastest decline of revenue in percentage terms, with a 4.5% loss versus the 2020 baseline in each region.
Unemployment will reach 11.1% of the total labour force across the OECD member countries by Q4 2020 in a scenario where there is not a second Covid-19 wave, according to OECD forecasts.
- SECTOR IMPACT: CONSUMER & FOODSERVICE -
Latest update: 7 October 2020
Economic uncertainty and price-consciousness continue to affect willingness to spend, and food and household products continue to be the only sectors predicted to grow in 2020. Firms remain aware of the necessity of moving away from single-source supply chain dependencies and investing in sustainable practices amid the pandemic.
PepsiCo reported a 5.3% increase in its third quarter sales, hitting $18.09bn as its beverage business rebounded and its snacks and packaged foods categories experienced strong demand.
GlobalData's latest forecasts show a decline of 4.0% in consumer products for 2020 compared to baseline predictions, equivalent to $362.6bn in lost revenue.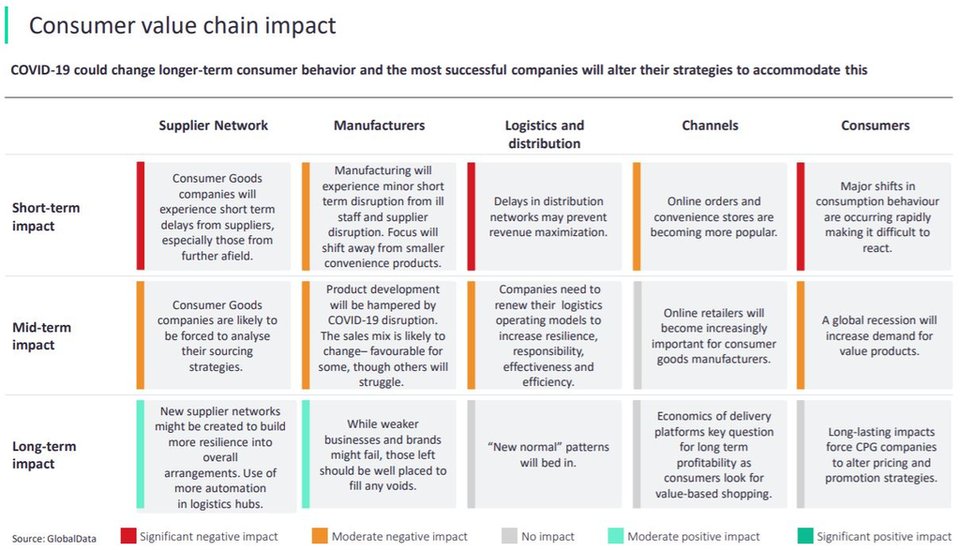 Long-life products continue to see a positive valuation in 2020 versus baseline predictions, which will continue to 2023. In contrast, savory and deli foods, ice cream and seafood have fallen in 2020 compared with baseline predictions and this negative valuation will continue to 2023.
Consumer goods firms recognise the continued importance of sustainable supply chains. FrieslandCampina will now offer its 'On the Way to PlanetProof' milk to other dairy companies to meet demand for milk that reaches strict ethical and environmental requirements.
Foodservice market impact
The foodservice industry continues to see decline across all channels and regions in 2020 versus baseline forecasts. Partnerships with delivery operators remain important as firms recognise the necessity of direct-to-consumer business models, while on-premise locations continue to undergo transformations to improve hygiene and safety.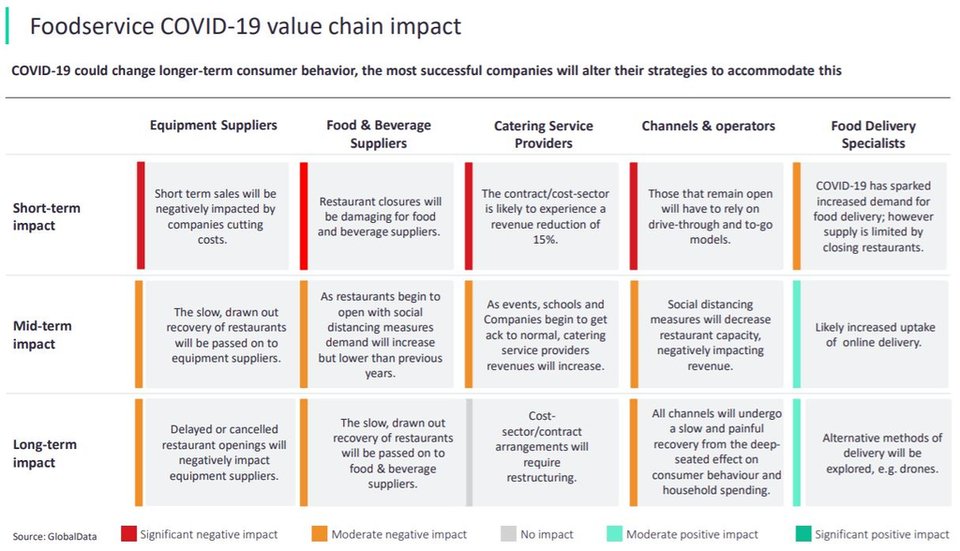 GlobalData's latest forecasts show a decline of 29.6% in profit sector operator sales for 2020 relative to the 2020 baseline forecast, equivalent to $1tn in lost revenue.
The restaurant channel will see the largest decline in value terms, with a predicted $652.9bn value loss in 2020 versus the baseline forecast, equivalent to 26.4%