- ECONOMIC IMPACT -
Latest update: 16 April 2020
Many economists have cut their GDP forecasts. The 2020 consensus forecast for GDP growth is currently negative and many predict a recession.
Unemployment rates are expected to rise in all major economies. The International Labour Organization estimates 6.7% of worldwide working hours will be wiped out in Q2 2020.
IMF forecasts the global economy to contract by 3% in 2020 as the 'Great Lockdown' will cause a dramatic drop in economic activity.
Expected reduction in investments in the commodity-rich exporting nations, according to UNCTAD.
Impact of Covid-19 on asset prices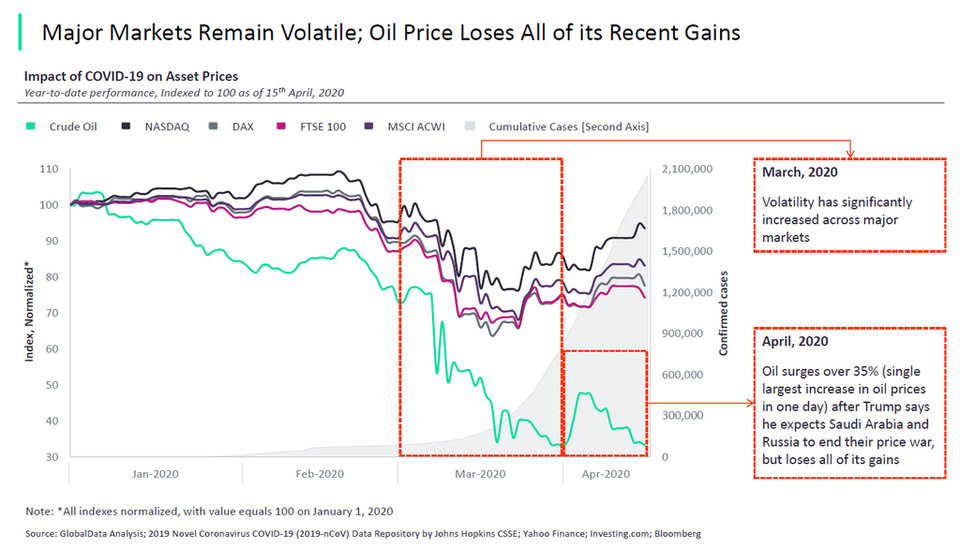 - SECTOR IMPACT: consumer & Foodservice -
Latest update: 16 April 2020
While online grocery shopping has become vital to many consumers during the outbreak, GlobalData's survey reveals that consumers are shopping online as efficiently as possible – poor courier availability when delivery times are oversaturated leads some consumers to use online grocery shopping less.
Increase in groceries delivery and collection services reported by Tesco in the UK

Data collected by GlobalData shows that the time consumers spend on online grocery shopping is falling in most countries. This makes availability and brand awareness critical for share of online sales.
Global logistics have been disrupted by the availability of staff, ingredients and materials. While some firms, both large and small, are switching production to alternative categories, others struggle to keep up with demand or the altered types of demand, such as altered consumer preferences and retail stocking policies, in particular the reduction in SKUs.
Social and corporate responsibility continues to be spotlighted, with recent studies highlighting that large majorities of consumers believe brands should help consumers in their daily lives and not exploit the present situation. Involving and engaging consumers with this process is a key mechanism to achieve this.
Foodservice market impact
The scale of upheaval is staggering as most pubs, clubs and restaurants have been closed for business. For example, people have massively reduced their out-of-home socialising, an occasion that is typically associated with out-of-home food consumption. GlobalData's latest forecasts show a decline of 14.5% in profit sector operator sales for 2020, equivalent to $545bn in lost revenue.

The future for operators is likely to involve greater uptake of takeaway and delivery services, as well as building supplementary retail operators for some. As far as possible given the current situation, building capabilities in these areas, from packaging know-how through to online ordering and delivery (or using third parties), will provide the building blocks for future growth for many smaller players.
Wholesalers that supply the foodservice industry, in the face of near-total closure of their primary market, are exploring direct-to-consumer sales as a means of revenue generation where their own supplies are not affected. This includes major companies like Sysco in the US.