- ECONOMIC IMPACT -
Latest update: 16 September
Global geopolitical tension is increasing the risks involved with investment and trade, as well as causing fluctuations in consumer demand. A prolonged conflict between Russia and Ukraine will continue to impact global growth in terms of production, trade, and employment. Major economies will continue to adopt tighter monetary policies to tame inflationary pressures.
Against this backdrop, GlobalData forecasts the world economy will grow at a slower pace of 2.9% in 2022 following a 5.9% growth in 2021. Global inflation rate is projected to rise to 8% in 2022 from 3.5% in the previous year due to supply chain disruption exacerbated by the conflict.
GlobalData anticipates the Middle East and north Africa will be the most buoyant region in 2022, with real GDP forecast to grow by 5%.
The research and intelligence group estimates real GDP will rise by 3.4% in both Asia-Pacific and Africa. It forecasts 2.7% growth in western Europe, an increase of 2.4% in Latin America and a rise of 2% North America. Unsurprisingly, real GDP is predicted to fall in eastern Europe, where GlobalData estimates it will decline 1.6%.
More than four in ten employees report an increase in productivity while they've been working from home, according to a GlobalData survey.
The percentage of employees still working at home on a full-time basis, GlobalData research shows. Some 27% of survey respondents said they are now working at the office all week.
All major economies are expected to bounce back in 2021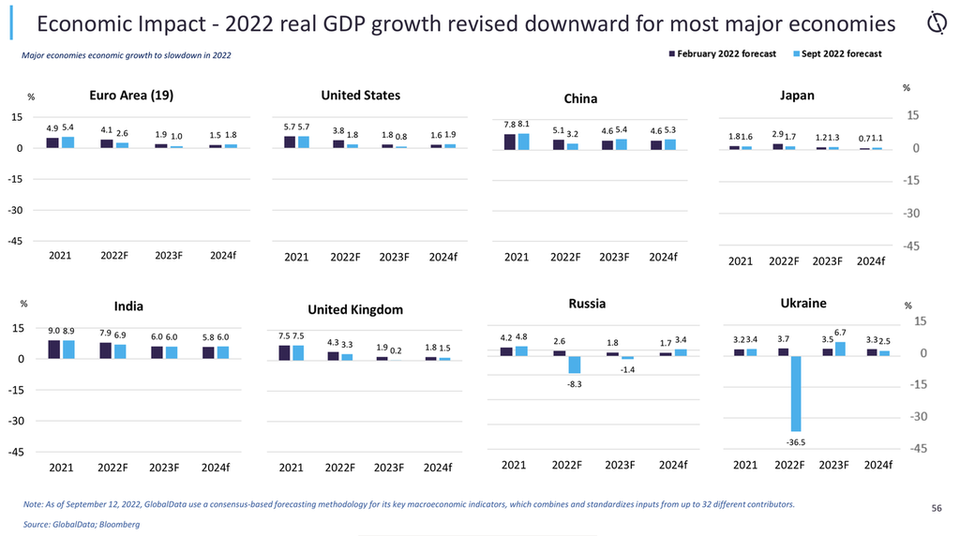 - SECTOR IMPACT: FOOD -
Latest update: 16 September
Agriculture and agri-business impact assessment
The opening of the "grain corridor" from Ukraine has raised hopes supply bottlenecks could be eased.
According to data issued by Ukraine's Ministry of Agrarian Policy and Food on 19 October, the country shipped 10.4 million tons of grain, pulses, veg oil crops and their by-products in the first month and a half of autumn – some 1m tons higher than for the summer as a whole. In particular, in 16 days of October, 3.6 million tons of grain left Ukraine. In just 7.5 months, 23m tons of agricultural products crossed the Ukrainian border.
There, however, remain questions about whether the backlog from accumulated grain stocks can be cleared during the planned 120 days of the grain port agreement.
In the sunflower sector, Ukraine has long implemented a differential export tax policy that incentivises domestic sunflower seed processing. As a result, exports have traditionally been dominated by sunflower oil. However, with occupied territories, logistical difficulties and some domestic crushing plants remaining non-operational, this year's harvest may see exports of up to 2m tonnes of sunflower seed to Europe. Normally, seed exports to Europe seldom exceed 200,000 tonnes.
Source: LMC International, Just Food