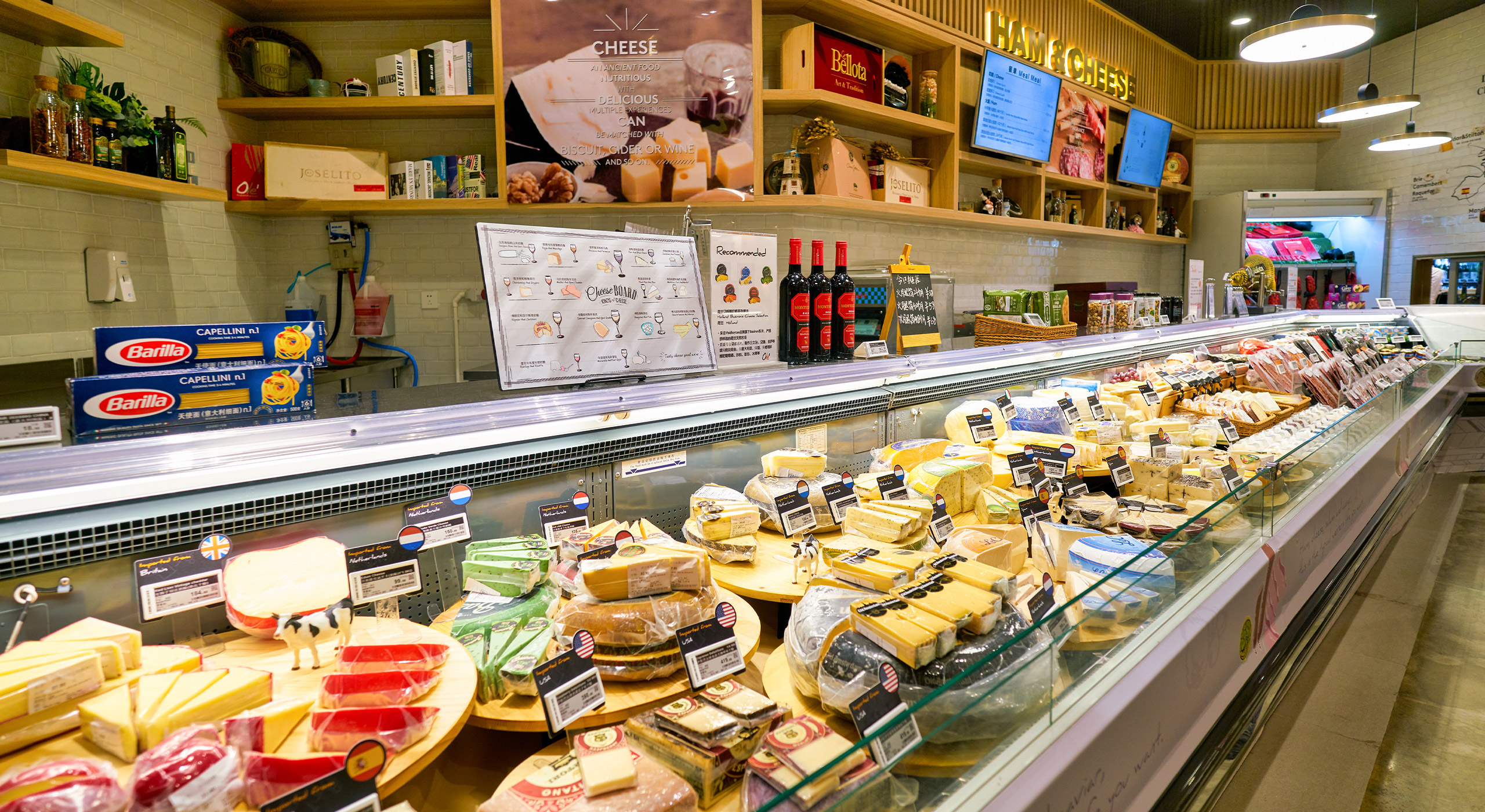 China's appetite for cheese shows little sign of slowing
Per-capita consumption remains low compared to regional and global averages but China's budding cheese market continues to offer promise. Wang Fangqing reports.
C
hina is eating more cheese than ever.
The size of the country's cheese market reached just over US$1bn in 2021 and is expected to grow at a compound annual growth rate of more than 10% up to 2026, according to a report published this year by GlobalData, the research and intelligence group that owns Just Food.
Cheese companies operating in China are responding – they produced about 373,000 tonnes of cheese in 2021, up 1.3% from 2020, according to the Beijing-based Intelligence Research Group but it still did not meet demand – a relatively modern phenomenon in a country that has traditionally eschewed cheese. In 2021, China bought 176,000 tonnes of cheese from foreign countries, up 36.3% from 2020, with New Zealand, Australia and Denmark the top three exporters, according to China Customs data.
Middle class seen as driver
New Zealand dairy products exporter Fonterra has enjoyed the growth. The company has long sold Anchor cheese in China to retail consumers and catering service providers, including pizza shops and bubble tea chains. Chinese buyers contribute about 30% of Fonterra's annual revenue, according to the company, although it did not specify how much of this was revenue from sales of cheese.
Teh-han Chow, the CEO of Fonterra's business in Greater China, predicted cheese sales will continue to soar in the coming years. "As China continues urbanisation and its middle class continues to grow, the need for high-quality nutritious dairy products is also likely to grow. Cheese as a concentrated nutrition product meets the market demand," he tells Just Food.
Anchor's business with China's catering industry includes selling mozzarella cheese to over half of the pizza makers across the country. It also sells processed cheese slices to Chinese retail consumers.
To seek retail opportunities for mozzarella cheese, Fonterra partnered with a major Chinese cooking app Douguo in 2017, targeting China's baking enthusiasts. The tie-up has endured. In August, Fonterra sponsored a national home baking and cooking competition, held via Douguo.
And the partnership appears to have paid off. Anchor is now a top brand among mozzarella cheese sold through B2C e-tailer Tmall as more consumers try making pizza and other non-traditional recipes at home, such as cheese-stuffed buns, a recipe promoted by Douguo a year ago. "Our mozzarella cheese is very popular. People usually buy it to make pizza toppings," Chow says.
Snacks fuel China's appetite for cheese
While the ubiquitous pizza shops in China's urban areas have helped the country's citizens become familiar and even fond of the taste of cheese, it is the introduction of cheese lollipops, a lollipop-shaped processed cheese targeting kids, that has really propelled cheese sales, Chow explains.
Cheese lollipops became an overnight success in 2019 when Shanghai-based dairy Milkground invested heavily to promote its newly-launched cheese lollipops.
"The lollipop's fast sales growth has driven the cheese consumption in China's retail cheese market. They are particularly favoured by kids due to the snack-like shape and size, as well as various flavours," Chow adds.
Thanks to a successful advertising campaign, in 2021, Milkground became the number one processed-cheese supplier in China's retail cheese market, with a 28% market share, followed by France-based Savencia Fromage & Dairy's Milkana (with 24%) and The Laughing Cow (owned by France-based Bel), with 5%, according to AskCI, a Shenzhen-based research firm. Anchor ranked fourth with 4%.
In the first half of 2022, Milkground, partly owned by China's major dairy company Mengniu, made CNY132m in net profits, up 183% year-on-year, with sales from cheese lollipops the major contributor, according to the company.
The success of cheese lollipops underlines how differently cheese is consumed in China compared to the West, says Stéphane Badel, an analyst at the Shanghai-based consulting firm Daxue. "Western consumers usually eat cheese as a platter with wine, while, in China, the greater part of cheese consumption is done either as snacks or meals such as pizza, pasta and sandwiches."
Also, Badel continues, Chinese consumers usually do not prefer aged, strong-flavoured cheese. Rather, they favour milder, fresher cheese with a hard or semi-hard rind like mozzarella.
"Foreign cheese makers who wish to please Chinese consumers should avoid cheeses like blue cheese or alcohol-washed cheese in the country," he advises.
Nevertheless, the snack-like lollipops remain a key product for cheese makers in China and competition is getting more intense. Companies have been trying hard to differentiate. Milkana, for example, introduced China's first jam-filled cheese lollipop in October last year, three months after Arla Foods launched China's first organic lollipop, made from organic cheese from Denmark. In early 2021, Anchor re-designed its lollipop package to make it more attractive to Chinese children.
Badel asserts that nutrition is the key reason parents buy cheese for their children. "Parents remain the major customer in China's processed cheese market as they want healthy snacks or breakfast for their kids," he explains.
This could explain why, in May, Le Chun, a fledgling yogurt maker based in Beijing known for high price tags and healthy ingredients (and backed by Coca-Cola), launched China's first sugar- and sodium-free natural cheese, a rare move in the kids' cheese sector. The company claims the product contains zero additives.
New regulations for cheese makers
Taking account of these market developments, in July, the National Health Commission of the People's Republic of China and the State Administration for Market Regulation updated its 2010 food security standard for cheese products and processed cheese. This involved increasing the proportion of natural cheese that must be present in ingredients. Under the 2022 revisions, natural cheese should account for over 50% of the ingredients in products sold as processed cheese, and between 15% and 50% for other manufactured cheese-focused products, such as cheese flavoured snacks, and labelled 'cheese product' (gan lao zhi pin).
The potential in China's cheese market led Bel to announce in July the acquisition of a majority stake in Shandong Junjun Cheese, a dairy product manufacturer based in Dezhou in Shandong province. Junjun's flagship cheese brand is Cheese Fun and its range includes cheese lollipops, mozzarella cheese and cream.
Daxue's Badel says investing in local production in China is a good strategy for foreign companies to grow market share. "Chinese companies know the marketing and pricing strategies in China, which are very different from the Western markets."
However, the increasingly fierce competition in the children's cheese sector, along with China's falling birth rate has pushed some companies to change strategy. Milkana, for example, introduced a new type of lollipop in July targeting young urban Chinese who take their wellbeing seriously. The lollipop, named Yi Xiao Zhi, contains no preservatives and is made from two kinds of imported cheese from Europe and Australia, blended with chia seeds and raspberry jam, according to the company.
Per capita, cheese consumption in China was merely 0.37 kg in 2021, according to the OECD, compared with 2kg in Japan and 17kg in the US.
Daxue's Badel acknowledges China's dropping birth rate could slow the cheese market, especially the sector targeting kids, but he adds: "Compared with developed countries, the cheese market in China still has plenty of room to grow in the coming years. Cheese has yet to make its way into every Chinese household."
Main image: Ham and cheese on display at Ole' Wine Cellar in Shenzhen. Credit: @Sorbis / Shutterstock.com