Energy supply and costs in food processing: What do we do now?
ALFRED NOLTE GmbH offers answers
Nobody can avoid this topic anymore: Food processing processes require energy - and this is constantly becoming more expensive or the availability is getting worse. We are all looking for alternatives to our previous energy resources. Many companies are trying to switch from fossil fuels to electricity for heating processes. Some are also looking for other fuels.
However, various new questions arise, for example: Is there actually so much electrical energy available? How much will the required electrical energy cost in the future? Would it be possible to use another fuel gas to replace natural gas?
In any case, you ask yourself: How much does the necessary system technology and installation cost? Can I structurally accommodate the installations for the required performance in my process? Do the recipes and the taste of the processed product change?
For a drying and roasting process of pistachios in brine, 16 m³ of natural gas or an average of 160 kW of thermal energy are required per 1000 kg of product and hour. The values apply to stationary, warm operation. More energy and therefore more installed capacity is required to heat up the system.
There are several possible solutions that are individually tailored to the customer's requirements. Here we briefly describe some solutions:
If heat flows from other processes or a power plant or from natural sources are available, heat exchangers can be used to heat the drying air. If the energy level is not sufficient, electric air heaters can be installed in the airflow. If no heat exchangers are to be used, a combination of gas burners and electric air heaters makes sense for the energy requirement in this example. Gas burners can be operated with alternative gases instead of natural gas. Operation with a mixture of biogas and synthetically produced hydrogen is very interesting and forward-looking.
Which solution is to be used must be clarified early on in the project, because the infrastructure and equipment of the technical components must be set up for this.
The company ALFRED NOLTE GmbH is at your disposal with advice and action. Our technical solutions, which we produce ourselves or in conjunction with European partner companies, will convince you and align your production for the future.
All machines and plants of ALFRED NOLTE GmbH, including the control systems, are designed and manufactured individually for our customers. All our machines and plants are characterized by our special productive solution for the customer, easy handling and high reliability and longevity. So all sides benefit: The consumer, who can enjoy high-quality roasted food, the producer, who can offer at economically attractive conditions, and because of the high energy efficiency in the operation of the plants, also our environment.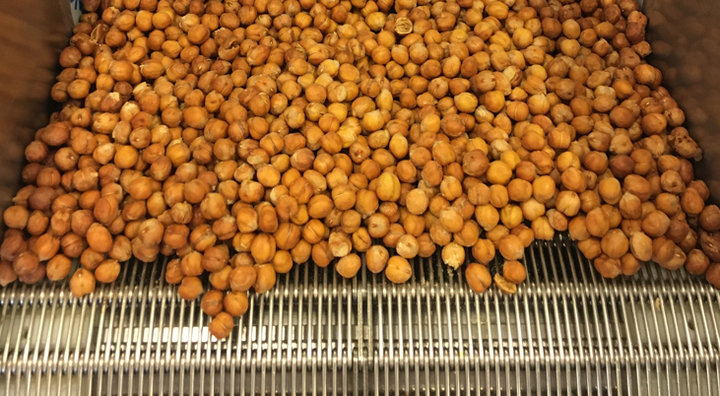 A modern snack: Spiced, roasted chickpeas
Electric hot air roaster with continuous product flow (approx. 100 kg/h) from NOLTE
Alfred Nolte GmbH
Dieselstraße 2
21465 Reinbek/ Germany
email info@alfred-nolte.de
Phone +49 40 - 727 789 0
Fax +49 40 - 727 789 26