Deals activity by geography
Food industry deals, as captured by GlobalData's Consumer Intelligence Centre, are down year-on-year (YoY) across all regions.
North America and Asia-Pacific are leading in terms of deal value, but also recorded a decrease in YoY growth in deals volume at -18% and -5.56% respectively. South and Central America has suffered the biggest YoY change, with deal volumes at -46.67%. In terms of deals value, the Middle East and Africa, down -8.51% YoY, comes last. The volume of deals recorded by GlobalData also decreased slightly YoY in Europe (-2.01%) .

Deals activity by type
| | | | |
| --- | --- | --- | --- |
| Deal Type | Total Deal Value ($m) | Total Deal Count | YoY Change(Volume %) |
| Acquisition | 1,181,871 | 7,278 | -19.01 |
| Asset Transaction | 294,079 | 2,638 | -28.29 |
| Venture Financing | 31,562 | 1,510 | -25.87 |
| Equity Offering | 133,042 | 1,150 | 80.41 |
| Partnership | 1,106 | 924 | NA |
| Private Equity | 190,184 | 917 | 321.88 |
| Debt Offering | 364,957 | 798 | -32.74 |
| Merger | 65,992 | 158 | -86.96 |
A breakdown of deals by type and volume shows mixed trends, with mergers down -86.96% and asset transactions down -28.29% YoY. Venture financing is down -25.87% and acquisitions are down -19.01%. Debt offering deals have similarly decreased by -32.74% YoY. However, equity offering deals have seen an increase of 80.41% and debt offering deals are up a massive 321.88% YoY.
Deals activity by theme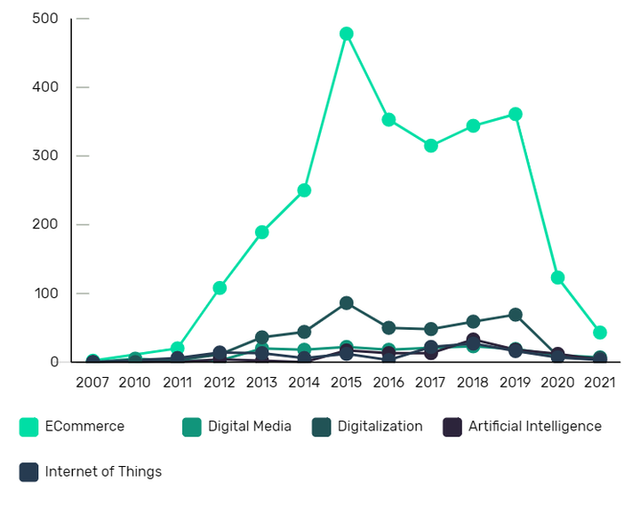 The most notable development apparent in GlobalData's analysis of food industry deals by sector is the decrease of deals across all themes. Ecommerce leads the way by volume after several strong years of growth and remains relatively stable. Deals surrounding digitial media, digitalisation, AI and IoT trail significantly behind.
Note: All numbers as of May 2021. Deals captured by GlobalData cover M&As, strategic alliances, various types of financing and contract service agreements.
For more insight and data, visit GlobalData's Consumer Intelligence Centre.
Latest deals in brief
Nestlé to acquire Bountiful from KKR for $5.75bn
Nestlé SA, a Switzerland-based food and beverage company, agreed to acquire Bountiful Co, a US-based manufacturer of nutritional supplements from KKR & Co. Inc. The transaction is valued at $5.75bn on a cash free, debt free basis, representing a multiple of 3.1x net sales and 16.8x EBITDA as of March 31, 2021.
The Middleby Corporation to acquire Welbilt
The Middleby Corporation, a food processing company, has entered into a definitive agreement to acquire Welbilt Inc, a food service equipment provider, in an all stock transcation. Both the companies are based in the US.
Under the terms of the agreement, Welbilt shareholders will receive a fixed exchange ratio of 0.1240 shares of Middleby common stock for each share of Welbilt common stock in an all-stock transaction, with an implied enterprise value of $4.3bn.
Performance Food Group to acquire Core-Mark Holding Company
Performance Food Group Inc, a distributor and marketer of food and food-related products, has agreed to acquire Core-Mark Holding Company, Inc., a marketer of fresh and broad-line supply solutions to the convenience retail industry, for $2.5bn. Both the companies are based in the US.
Danone sells 9.8% stake in China Mengniu Dairy
Danone SA, a French food and beverage company, has sold its 9.8% stake in China Mengniu Dairy Company Limited, a China-based manufacturer and distributor of dairy products and ice cream. The transaction resulted in total gross proceeds of HKD15.4bn ($1.98bn).
General Mills to Acquire pet treats business of Tyson Foods
General Mills has entered into a definitive agreement to acquire pet treats business of Tyson Foods for $1.2bn in cash. The business includes the Nudges, Top Chews, and True Chews brands.
Rhizen signs oncology drug development deal with Curon
Swiss biopharma company Rhizen Pharmaceuticals has signed an exclusive licensing agreement with Curon Biopharmaceutical to develop and commercialise Tenalisib for oncology in the Greater China region. Tenalisib, a highly selective dual PI3K delta and gamma inhibitor, is currently in Phase II clinical development for haematological malignancies. The US FDA granted fast track and orphan drug designations for the drug candidate Tenalisib as a treatment for relapsed/refractory peripheral T-cell lymphoma and cutaneous T-cell lymphoma.