What's needed to hook consumers on alternative seafood
The US alternative-seafood market remains in its very early stages but investor and business appetite is growing. Victor Martino sets out how brands can net repeat sales.
Well-funded start-ups and major food manufacturers are betting big that alternative seafood – plant-based, fermented and cell-cultured – will be the next big new opportunity in alternative proteins.

The US market for alternatives to seafood is tiny, with plant-based seafood dominating the niche. According to data from market research firm SPINS, plant-based seafood on its own accounts for only about 0.1%, (or around $12m in annual sales) of the entire US seafood market –and that's despite sales growing by 23% in 2020.

Fermented seafood, represented primarily by mycoprotein-focused business Quorn Foods, is currently too small to matter. Cell-cultured seafood, which is produced by cultivating the cells of marine mammals, is still in the pre-launch stage.

Taste and texture vital
Alternative seafood is at present a minnow. However, it's similar to where alternative dairy was in the 1990s and where alternative meat was a decade ago, so I agree with the start-ups, investors and established food companies diving into the space that there's opportunity there. The more important questions involve how big an opportunity there is – does the size of the opportunity justify the high-level of investment we're seeing? – and what it will take for that opportunity to materialise. What will it take to create and build a market for plant-based, fermented and cultivated seafood?

The total US seafood market is huge, amounting around $15bn in annual sales. If, for example, the alternative-seafood segment can slice off 5-7% of that total by 2030 – a reasonable goal but not easy to achieve – that would be substantial, amounting to nearly $1bn in annual sales, which is where I think the space needs to be by then in order to properly scale and taken seriously.

The two keys to making alternative seafood a viable segment are taste and consumer acceptance, which go hand-in-hand. These are the primary attributes for any alternative-seafood product – plant-based, fermented or cell-cultured. Sustainability issues, the overfishing of the oceans, the negatives of aquaculture, all of which are being used to market alternative seafood and might have a place in the marketing mix, are secondary and tertiary product attributes. Consumers must accept alternative seafood as viable substitutes for wild-caught and farmed seafood. Alternative-seafood products must taste good to consumers.

A recent study by consumer insights firm Kelton Global commissioned by non-profit organisation and alternative-protein advocate The Good Food Institute found nearly three in four consumers are interested in alternative seafood. According to the study, the majority of those interested are omnivores and flexitarians who are on no specific diet.

The study showed the most important attributes of alternative seafood to consumers are flavour and texture and a majority cited taste and texture as the two main barriers to choosing the products over wild-caught and farmed seafood. Consumers anticipate disliking the taste and texture of alternative seafood, obstacles that can be overcome but can often mean ongoing changes to recipes and formulations.

Lessons from plant-based meat
It's always instructive to apply some analogous product development history when looking at a nascent segment like alternative seafood. Alternative meat, particularly plant-based meat, which has been on the market for over three decades, is a good example in this case.

Historically, taste and texture were always the limiting factors for plant-based meat brands in gaining widespread distribution in supermarkets (as well as placement in the meat case in stores where it was offered for sale), along with attaining something close to widespread consumer acceptance.

Beyond Meat and Impossible Foods have broken that code to a great degree, obtaining widespread retail distribution, placement in store meat cases and a consumer base that includes meat eaters. The taste and texture of their alternative-meat products closely approximate the taste and texture of conventional meat.

Taste and texture are the driving force behind the popularity of these two alternative meat brands, as well as a few others following in their footsteps. All the other attributes – including sustainability benefits, being vegan alternatives – follow as secondary and tertiary product attributes that might encourage consumer trial but not repeat sales.

Limited margin for error
The alternative-seafood brands that will succeed, whether plant-based, cell-cultured or fermented, will do so primarily because they have products that have a texture and taste similar to the real thing. Consumers will accept a plant-based tuna or salmon that vary slightly in texture and taste compared to wild-caught salmon (just as farmed salmon can have a slightly different taste than wild-caught) but the margin of error for alternatives is very small. Consumers might try out an alternative-seafood product based on its secondary and tertiary attributes but repeat sales will only come from product acceptance – which means taste and texture.

Investment dollars are flooding into alternative seafood but there is a risk brands might think that, with enough funding and good marketing, they can build a brand and collectively build a segment based on those secondary attributes of alternative seafood – sustainability, overfishing and the like.

Negatives seldom, if ever, work in food marketing. Beyond Meat and Impossible Foods both use anti-animal meat messaging. But it's secondary to product. Texture and taste are central to their proposition. The message is: "We're alternative but look, feel and taste just like, or better than, the 'real thing'."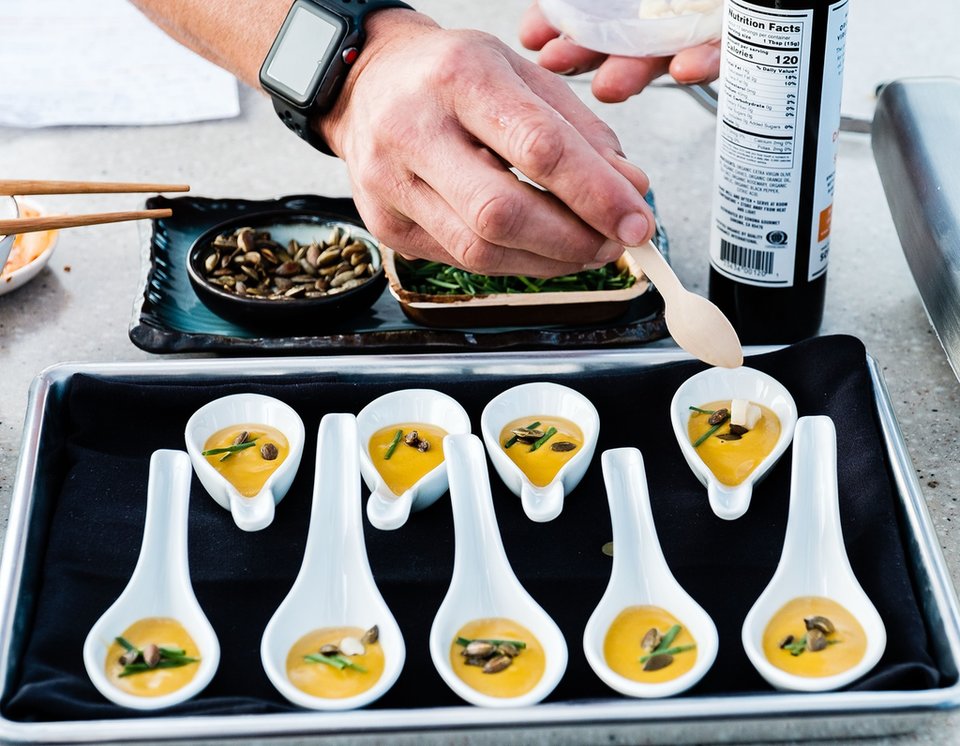 Seafood bisque topped with BlueNalu's cell-cultured yellowtail amberjack.
Credit BlueNalu / Facebook

For alternative seafood, we're only in the first quarter of the game. There are currently a handful of brands on the market, mostly all plant-based, but new brands are being created at breakneck speed and a number of existing brands are improving the quality of their products. In just the last two years, numerous plant-based seafood alternatives have been introduced that taste far better than products launched only a couple of years ago.

Retail distribution for alternative-seafood brands is spotty but retailer acceptance is growing rapidly. More widespread distribution is key not only for added availability but because it signals to consumers that retailers find alternative seafood worth selling.

The next iteration of alternative seafood will be cell-cultured products. Those developing cell-cultured seafood are awaiting FDA approval to hit the market but they could help the broader alternative-seafood segment reach the 5-7% share of the $15bn US seafood market I suggest is needed to make it a real contender.

However, consumer acceptance will be more difficult for cell-cultured seafood than for plant-based products because of a lack of knowledge among the vast majority of consumers about the new foods. The businesses already in the space will need to work hard to convince consumers about the safety credentials of the products, even when regulatory guidelines are published.

Additionally, various industry and consumer groups oppose allowing cell-cultured seafood to actually be called seafood, which would only add to consumer and retailer confusion. Plant-based food products, on the other hand, are fully accepted by consumers and retailers.

Overall, the keys to success and consumer acceptance for all alternative-seafood brands, whether cell-cultured, plant-based or fermented, are texture and taste. Product first. All else is secondary and tertiary.

Main image: Loma Linda Tuno tuna alternative
Credit: Linda Tuno / Facebook