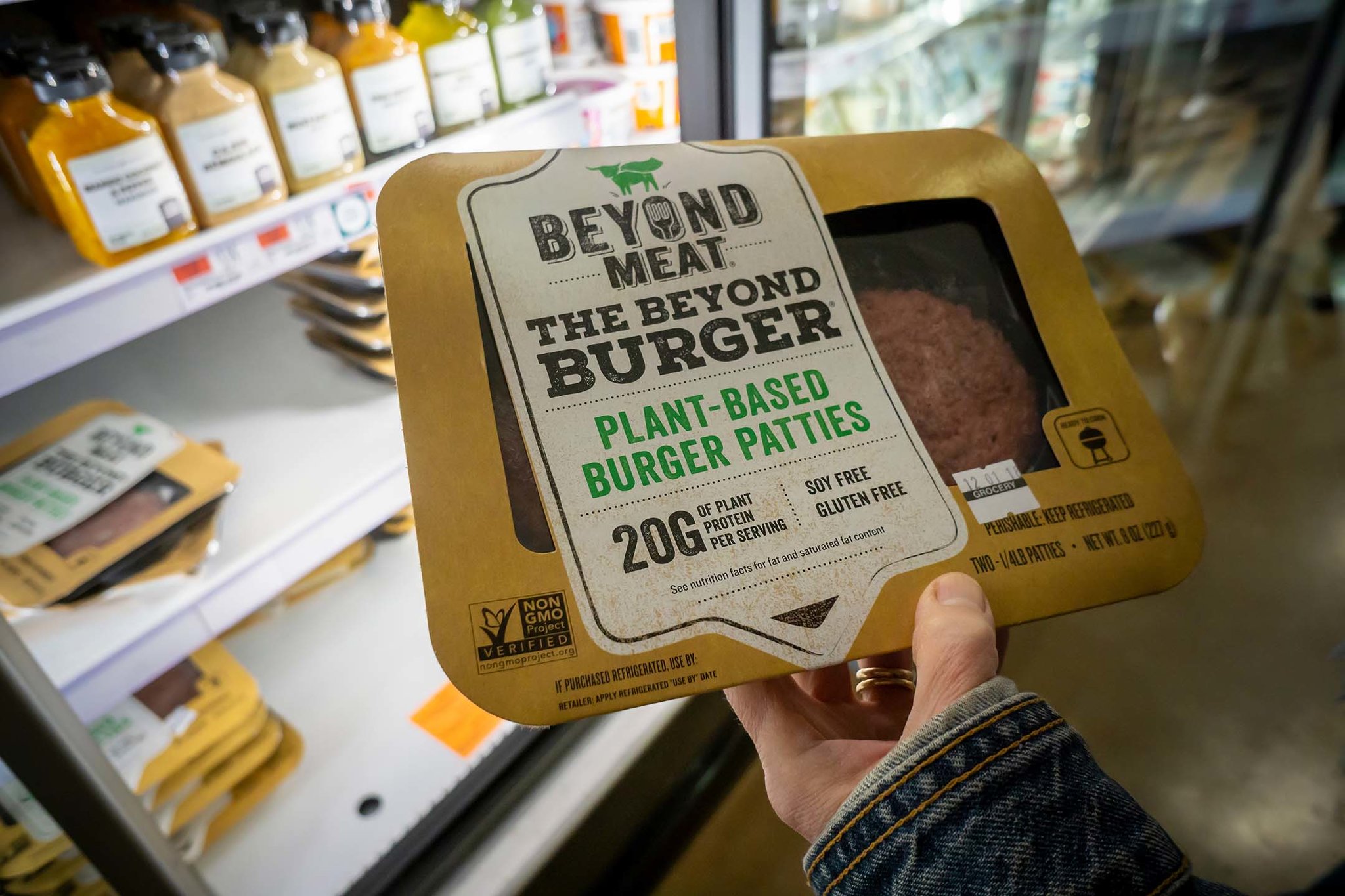 Is US plant-based meat market facing inflection point?
Amid recent rumblings of a slowdown, Simon Harvey looks at what might lie ahead for the US plant-based meat market.
W
ith signs consumer appetite might be waning, it's fair to ask: just what is the outlook for the US plant-based meat market?

Sparked by recent sales figures from Beyond Meat and a review by Canadian protein firm Maple Leaf Foods of its plant-based meat business, it's a question market watchers are pondering, as any reversal in the tremendous growth rates of the past few years would mark a significant turning point.

Reappraising forecasts
The food industry in general is grappling with challenges around input costs, supply chain constraints and labour shortages. All these may, to some degree, explain the slowdown in the US plant-based meat category. However, the problems may run deeper.

One analyst argues the US meat-free market is "coming back to Earth" after some dubious forecasting models extrapolated from the growth seen in milk alternatives – and predicts a US$12-13bn valuation across the retail and foodservice channels in a decade rather than the more optimistic estimates of circa $30-50bn.

If it transpires appetite for plant-based meat is easing off – and we need a few more quarters of evidence to establish if that is indeed the case – then the lofty valuation of one of the largest players, Beyond Meat, might well be disputed by Wall Street. Privately-owned Impossible Foods, which has raised $2bn since its founding, most recently with an injection of $500m, might well be eyeing the fortunes of its Californian peer amid speculation of an IPO in the coming year.

Beyond Meat faced the wrath of investors, when, in late October, it revealed an unexpected decline in third-quarter US sales in both retail and foodservice, coming off the back of a record previous three months. Two weeks later, Canada-based Maple Leaf Foods – which owns the US brands Lightlife and Field Grain Roast Co. – announced a review of its plant-based operations after three consecutive quarters of falling sales. Meanwhile, Kellogg, the owner of the Morningstar Farms brand, has also reported a "deceleration" in the retail market, even if it remains upbeat about its business' "momentum and strong prospects".

Distinctions have to be made, however, by company and by brand, with Beyond Meat and Impossible considered the stalwarts in the US because they feature in the centre aisle alongside regular meat, while other brands are more niche, placed on the store periphery with other vegan and vegetarian products.

And investors tend to sit up on announcements from the pair, as it was in October when Beyond Meat reported an almost 14% decline in third-quarter US sales, with retail down 16% and out-of-home 7% lower. While a surprise, growth rates had already slowed in retail over the previous two quarters from the end of 2020, while foodservice had been volatile. Those sales had been up 269% in the quarter completed on 2 July 2021 but were down 26% and 43%, respectively, in the previous three-month periods.

Market correction?
Beyond Meat suggested a "pause" in consumer demand was partially behind the third-quarter retail tail-off rather than any structural issue with appetite. Meanwhile, Impossible, via a spokesperson, has insisted the company's "sales are continuing at a tremendous rate". However, channel data analysed by AllianceBernstein suggests its sales growth has been slowing, too.

"We're really seeing the growth rate of the two companies year-on-year in US measured channels slow fairly sharply. Is it a pricing issue, is a product quality issue? At the moment, there is a question mark about where the category is heading from here," Alexia Howard, an analyst at AllianceBernstein, says.
While Beyond Meat and Impossible, which doesn't make its figures public, tend to catch the limelight, the brand performance of Maple Leaf, Kellogg and other tertiary brands can't necessarily be discounted when determining the market trajectory. After all, the US retail market for plant-based meat is full of competing brands, as well as retailer private-label.
The recruitment of additional consumers is beginning to slow
"That's really the crux of the question," says Howard when asked if the market is facing a correction, coining her response in the context of Beyond Meat's IPO in 2019, when it reached a valuation of circa $1.5bn, despite rounding out the year with $298m in sales.

"The only possible explanation is that everybody was happy to try it [the products] since the IPO, or before the IPO, and now that momentum seems to be fizzling out and we'll look back on it and perhaps view it as a fad.

"To me, a fad completely comes and goes like the Atkins diet when everybody was eating low-carb food in the early 2000s and then, come 2004, it went right out the window. In the US, you've got a group of very loyal consumers to these [meat-free] products. It's just the recruitment of additional consumers is beginning to slow."

Howard was referring to the vegans and vegetarians perceived to be driving the growth, the Gen X and Z consumers, and to a lesser degree, the flexitarians seeking to reduce meat consumption. But the wider populous needs to be convinced on the taste and texture if more consumers are going to become repeat customers – and at a competitive price point.
"Back to earth"
US meat-free growth at the retail level outpaced the global market in the five years to 2020 but is expected to slow through 2025, according to figures compiled by London-based GlobalData.

Sales climbed from $800m in 2015 to $1.5bn in 2020 (CAGR 13.3%), GlobalData says, compared to 8.5% globally to $6.1bn. The US retail category is expected to increase at a CAGR of 10.8% by 2025 to $2.5bn, while the global market is forecast to grow 14.3% to $11.9bn, the research organisation adds.

"It's bizarre to me how quickly this industry has gone off on a life of its own and now it's just coming back to Earth," a Just Food market source argues, requesting anonymity.

"There is a generational pull here because you look at millennials and Gen Z. Having plant-based diets is trendy. There's a lot more demand for that than from the older folks but it's going to take a good 20 to 25 years for that demographic to age into the majority of the consumers and bring their consumption habits along with them.

"You're not going to be able to force-feed consumers these products, the market's going to have to grow at its own pace."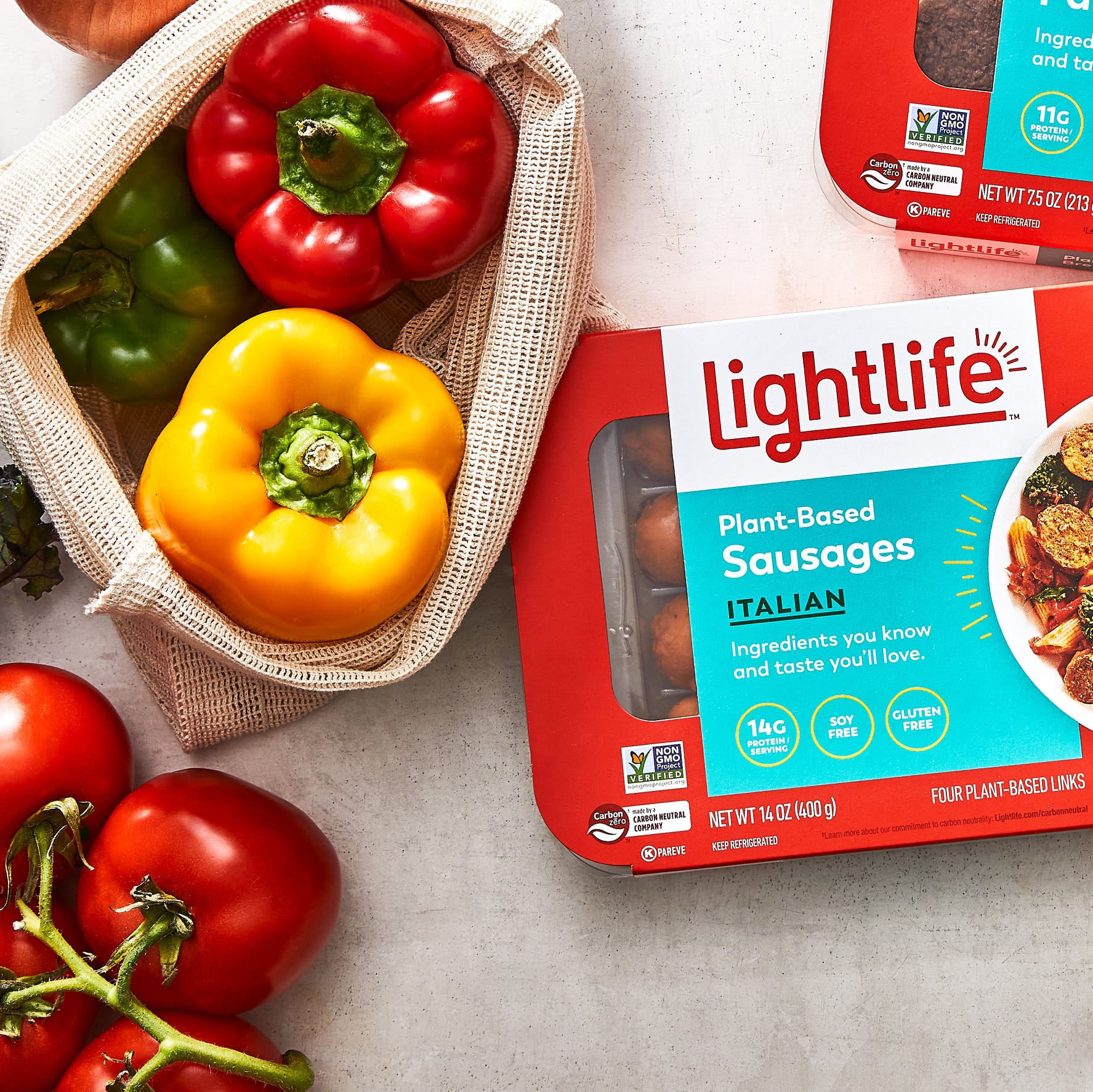 Credit: @LightlifeFoods / Facebook
Maple Leaf CEO Michael McCain sought to put his finger on the pulse in discussions with analysts after the publication of the company's third-quarter numbers in November, noting a "rapid deceleration" in plant-based meats over the preceding six months.

McCain pledged to go "right back to square one with the consumer", adding: "The fundamental question in hand is this category has decelerated across the board, it's decelerated in the fresh case, it's decelerated in the refrigerated case, it's decelerated in retail and foodservice and there is no aspect or there's no lens on that deceleration that kind of pinpoints an outcome or a strategic decision."

A spokesperson for Maple Leaf told Just Food: "We need to understand whether this is temporary or a sign of a more fundamental and lasting change in the market. That is what we will be trying to better understand. This may lead us to either affirm or alter our investment thesis for the plant protein segment."

Approached by Just Food, a spokesperson for Impossible offers the proposition the company is "growing faster than anyone in the category because our products consistently beat the animal in taste and nutrition", adding that "sales are continuing at a tremendous rate".

At Beyond Meat, a spokesperson adds: "Like many companies, we have faced pandemic-related challenges including supply chain issues and labour shortages. Despite these short-term disruptions, we are confident in the long-term trajectory of the plant-based food movement."
Modelling misgivings
It might be the trajectory of the US plant-based meat market is adjusting to a more reasonable level – in other words, some analysts got ahead of themselves in making arguably lofty predictions.

The unnamed analyst suggests some forecasts were based on the alternative-milk market and demand for almond- and soy-based drinks, modelled from a 10-15% share of the cow's milk category. A 15% share of the $300bn US meat market would equate to about $45bn for plant-based meat, the source says, arguing the categories are very different.

Milk, whether it's from a cow or a plant, is more widely consumed on a daily basis such as on breakfast cereal, or in coffee or tea, whereas it's unlikely people would consume meat-free burgers, for instance, with such regularity.

"With plant-based meats, are you going to eat them three times a day? Are you going to have it more than once a week? I mean, how many times do folks have burgers now?" the analyst says.

"Plant-based beverages having a 15% share of the cow's milk market; that's not volume share. That's value share. The beverages only had about a 7-8% volume share of the beverages market.

"If you're going to develop this estimate for the potential addressable market of plant-based meat alternatives, you probably don't want to use the value share at 15%, you want to use the volume share at 8%.

"And when you start doing that, you start cutting your total addressable market in half for plant-based meat. And, for the first year, year-and-a-half, investors weren't doing that. That's why every quarter that Beyond Meat reports earnings, the stock gets smoked because they're always disappointing in terms of revenue or the outlook, or the growth is very choppy."

"Low penetration"
In the meantime, the conventional meat market continues to grow. Tyson Foods, the largest meatpacker in the US, has cited OECD data anticipating 9.5 billion pounds of additional beef consumption worldwide by 2030, with 400 million pounds expected in the local market alone.

Tyson says US animal-protein consumption growth is projected to expand by 6.4 billion pounds during the next decade, led by chicken at 4.5 billion pounds.
Plant-based protein sales are not down
Nonetheless, Stephanie Lind, the founder of US consultancy Elohi Strategic Advisors is adamant the plant-based meat category is not slowing in the US. It's a viewpoint shared by manufacturers such as Nestlé and The Meatless Farm, the UK business that entered North America two years ago.

"Plant-based protein sales are not down," Lind wrote on LinkedIn in the wake of Maple Leaf's announcement. "Let me say that again. Plant-based sales as a category are not in decline."

She did, however, criticise meat companies such as Maple Leaf for entering the category "through development or acquisition in a space they don't understand and/or do not respect". And she pointed a finger at the heavyweights like Beyond Meat in reference to foodservice.

"It isn't that the consumer is buying less plant-based. Rather the bigger brands tend to go after big customers and launch PR stunts which doesn't create sustainable revenue. It only creates a shaky foundation."

Nestlé won't comment specifically on the US but, via a spokesperson, says "we remain positive about the potential of the plant-based category across all geographies". And further: "This category is still developing with relatively low penetration and a large potential consumer base."

At The Meatless Farm, Kavita Shah, the marketing director for the firm in North America, adds: "We are still seeing high demand for plant-based food from our perspective based on feedback at trade shows, sell-in meetings with retailers and interest and engagement from consumers on our marketing campaigns."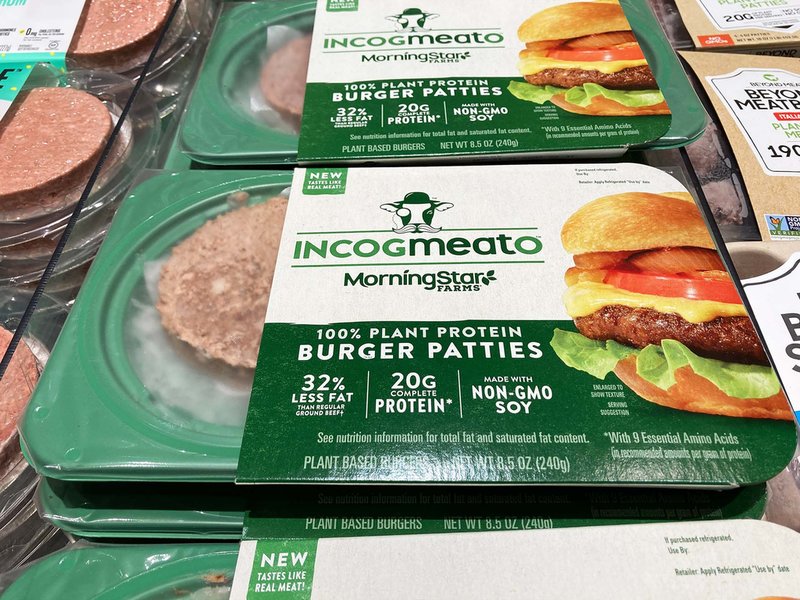 Credit: Michael Vi / Shutterstock
Kellogg chairman and CEO Steven Cahillane has been positive about the US giant's MorningStar Farms brand. On a call with analysts in November, he noted the comparisons between pre-pandemic sales and recent slowing category growth.

"When you look to consumer behaviour, when you look to the consumer research we have, there's still a lot of enthusiasm and excitement around plant-based. And so we think going into next year, you'll start to see healthier growth rates on a year-over-year basis because of those comps."

AllianceBernstein's Howard suggests greater economies of scale are needed to bring the price points down vis-à-vis regular meat, especially for peripheral brands, as retailers become more selective amid a mass of new entrants.

"It becomes a bit of a chicken-and-egg type of situation because you've got to have the product exactly right, you've got to be scaled to get the pricing in the right place and if you don't thread that needle correctly, then you end up in a situation like the one we're in now where it stalls," she says.

Just Food's market source weighs into the price debate, too, noting comments by Beyond Meat on its recent results call. The analyst suggests the company inferred it might be willing to sacrifice profits to lower prices.

"That spooked investors," the source claims, adding: "For that flexitarian consumer, until the price points of the meat alternatives come down and reach parity with regular animal meat, the plant-based category is going to struggle to get that consumer dollar because you're going to have folks looking for that lowest possible price in that meat case. And it's not plant-based alternatives right now."

Main image: New York, USA - A shopper chooses a package of Beyond Meat in a supermarket
Credit: rblfmr / Shutterstock