- ECONOMIC IMPACT -
Latest update: 18 November
After weeks of gradual decline, GDP estimates for many countries have levelled off.
Polls show that employment prospects have consistently improved since July.
The IMF has revised its 2020 global GDP forecast to -4.4% from an estimate of -4.9% made in June.
The IMF has downgraded India's growth forecast for fiscal year ending March 2021 to -10.3% in its October forecast.
Impact of Covid-19 on employment outlook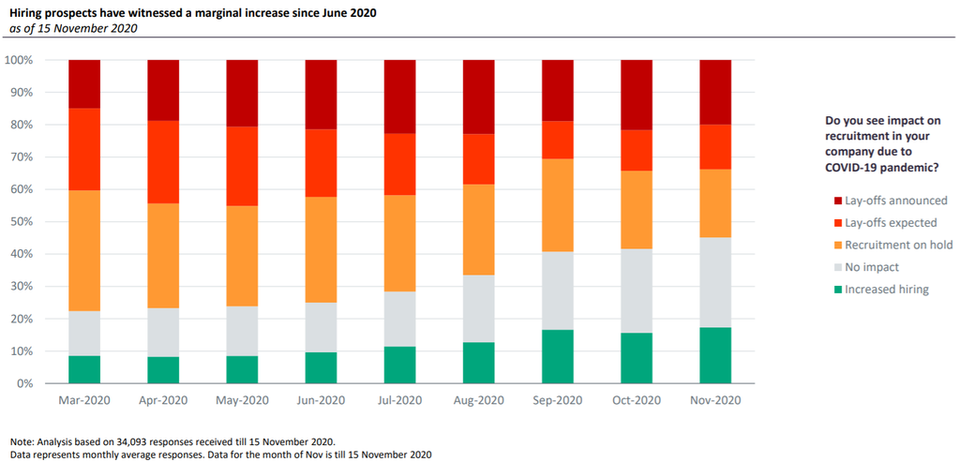 - SECTOR IMPACT: FOOD -
Latest update: 4 November
Coca-Cola Bottlers Japan recently offered voluntary redundancy to 900 of its employees.

PizzaExpress is set to axe 1,300 additional jobs in the UK, two months after the chain cut its workforce by 1,100 staff members.
Food will see a 3% value growth in 2020 compared with baseline forecasts. This is driven by long-life products including canned and frozen foods. In contrast, 'non-essentials' such as ice cream, as well as savoury & deli foods, and fish & seafood have seen a decline in 2020 compared with baseline predictions.
The restaurant channel will see the largest decline in value terms with
a predicted $654.4bn value loss in 2020 vs the baseline forecast, equivalent to 26.5%. This gap between the baseline and the slowdown
forecast will narrow slightly to -9.6% in 2023.