The winning ingredient – protein's momentum continues
The ingredient's use in packaged food continues to grow, driven by a broader range of categories. Andy Coyne reports.
Adding protein to food to appeal to health-conscious consumers may not be new but it continues to be a favoured strategy for product developers – and in a growing number of categories.
A casual stroll around any major supermarket will reveal protein added to a range of foods. "Protein demand, particularly dairy protein demand, continues to increase across applications and markets," Niki Kennedy, director of insights and content at Glanbia Nutritionals, the nutritional ingredients arm of Ireland's Glanbia, says.
"Protein, as a macro-nutrient, has avoided the cultural and scientific backlash that both carbohydrates and fat have had to endure … [and] has gained traction in fortification and building 'better-for-you' options.
"We continue to see high demand from active and healthy lifestyle brands like protein shakes and beverage mixes. However, demand in non-performance-focused products like better-for-you snacks, cereals, confections and nutrition bars is growing rapidly."
In a report on the rise of protein globally, another Ireland-based food ingredients supplier, Kerry Group, suggested protein carries a "healthy halo", delivering multiple health benefits beyond general wellness.
Kerry said it had found that between 2016 and 2020 food and beverage products positioned as being a high source of protein increased by more than 9%.
"Proteins are perceived not only as a critical macronutrient but also as a supporter of overall health, weight management, energy and even immune health. Manufacturers have an opportunity to develop protein products communicating these specific health benefits," the report read.
"The popularity of protein extends across both the mainstream and indulgent food and beverages. Consumers continue to desire added protein in their everyday foods and beverages consumption – but also in indulgent snacks and treats. There is a great opportunity to innovate with new categories of protein-fortified food and beverages."
"A more sophisticated market"
According to Kerry's research, the main reason consumers choose protein is for a healthy diet, followed by the broader concept of a healthy lifestyle. Increased energy levels and boosting immunity also feature in the top ten.
Interestingly, the traditional reason gym users or athletes take a protein supplement – for muscle recovery after workout – was down at number 11 on the list, revealing just how far protein has moved away from being seen as purely a sports-nutrition ingredient in consumers' eyes.
Kerry found this trend is widespread across the globe, albeit with slight regional variations. In Europe, weight management is seen as intrinsically linked with protein consumption, while in North America and Latin America increased energy is also a key factor. In Asia, boosting immunity and aiding healthy ageing are seen as key reasons for buying products with elevated levels of protein.
For obvious reasons, dairy companies have been quick to capitalise in product development terms. "It has become a more and more sophisticated protein market," Torben Dahl Nyholm, CFO of Danish dairy giant Arla Foods, tells Just Food. "We have seen significant growth and our ability to plug into this from our ingredients business has increased significantly."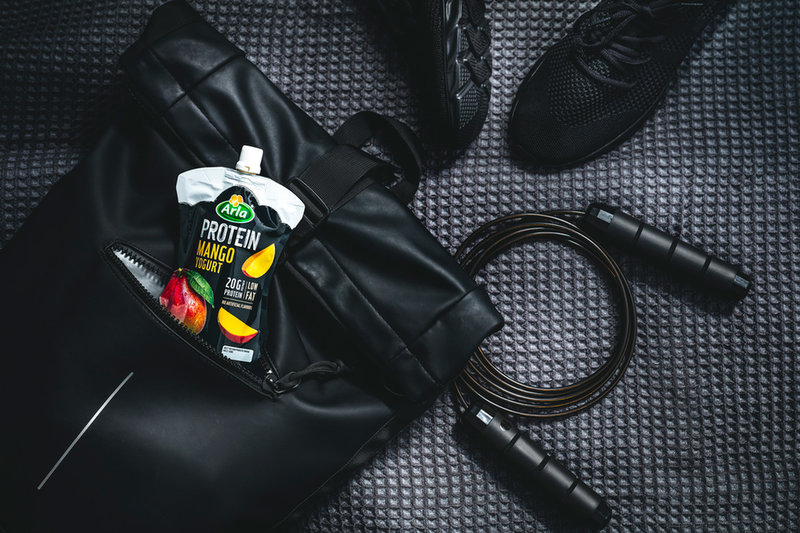 Central to Arla's offering is its Arla Protein brand, under which it markets products including shakes, yogurts and puddings across its key European markets.
"The Arla Protein brand has found a spot in the market where we are well positioned," Nyholm says. "These products are sold in convenience stores as well as supermarkets. We are looking at rolling out these products to more and more markets."
Lactalis, the world's largest dairy company by annual sales, is also active, including through its European chilled-dairy venture with Nestlé.
Paul Wiseman, a UK-based marketing manager at Lactalis Nestlé Chilled Dairy, says: "Protein has exploded enormously. There are quite different groups engaging with protein. We did a piece of research back in 2021 looking at different motivations for consumer patterns. Some people are looking for muscle growth and recovery but there is also a real trend for diet management."
The venture's higher-protein products include the Lindahls kvarg quark line, which is sold in countries such as the UK and the Netherlands. And the desire among some consumers to use protein-packed products to manage their diet more widely also prompted the Lactalis-Nestlé venture to add a line of puddings to the Lindahls range, emphasising lower sugar and calorie credentials.
Wiseman says: "Protein puddings is quite an exciting development. They deliver on high protein, low fat and low sugar. We've seen a good level of interest in these. This is an area where we will see more new development in the future."
He's right. Danone this week announced the launch of its international YoPro brand in Sweden – and included in that unveiling a line of puddings. It already sells that type of product in markets such as Spain.
Wiseman says the demand for the Lactalis-Nestlé venture's Lindahls brand has grown on the back of interest in sports nutrition but has accelerated because of a growing interest in healthy consumption. He doesn't believe that is entirely a reaction to the Covid pandemic.
"We have seen constant growth over the last five years. It's a trend that was happening anyway," Wiseman says. "Consumers have started to look for foods to provide different health benefits such as gut health, immunisation etc."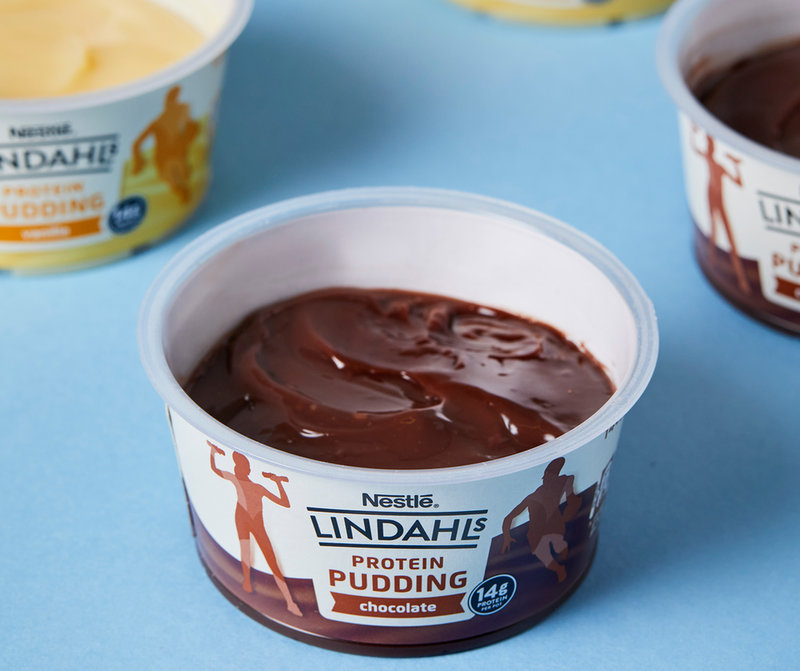 Wiseman also believes indulgent products that are nevertheless healthy are likely to become more popular as governments impose restrictions on products high in fat, sugar and salt, though this can't be at the expense of taste.
"In previous years, there has been a bit of a compromise. They [healthier, protein-rich products] give you what you need nutritionally but not much on taste. We deliver on both of those," he says.
Consumer sentiment – and the willingness to pay a higher price for products judged to provide health benefits – have also led to retailers opening up more space to protein-rich lines.
"It's an area the retailers see as an area of growth in what is a mature part of the market [chilled yogurts and deserts]. Protein products are growing at the fastest rate," Wiseman says.
"From a price perspective, there seems to be a willingness for people to feel that they are getting additional benefits and pay extra for that.
"We have seen price increases across the board but often in the protein market multi-buy promotions are prevalent. Format plays a role as well. We are seeing bigger pots in the market. We launched 500g pots last year, which are useful as a breakfast addition."
Beyond dairy
Consumer interest in protein is not only benefiting dairy companies. Perhaps with Wiseman's point about anticipating further restrictions on HFSS products in mind, confectionery firms have been active in moving their offerings towards high-protein products, sometimes by acquiring sports nutrition or better-for-you product firms.
Mars has been one of the most active in this process. In December, the company launched Snickers Hi Protein bars, products marketed as "performance nutrition" bars in Europe and the US. The product has the same chocolate, caramel and peanut ingredients as a regular Snickers bar but with the addition of 20g of protein.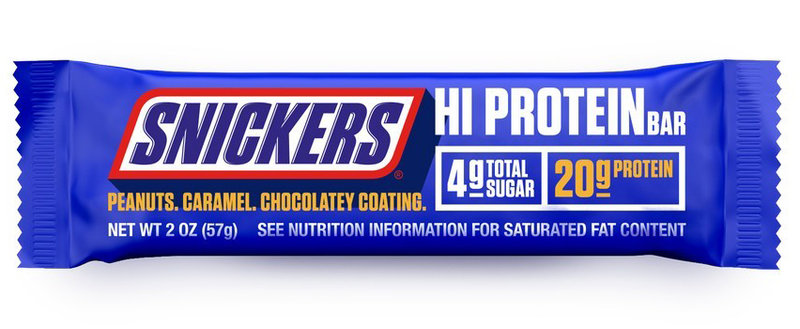 When Mars launched the product, Michelle Deignan, then senior brand director at Mars Wrigley (now notably working at Mondelez International), echoed the importance of getting the flavour profile right.
"Mars is consumer-obsessed and, after talking with many consumers through the product development process, it was clear that the performance nutrition category was missing one key ingredient – delicious-tasting products," she said.
Ferrero is also targeting the same market opportunity but in its case through acquisition.
Last year, the Italian confectionery heavyweight bought Irish protein-bar firm Fulfil Nutrition, in which US confectionery peer Hershey was already a minority shareholder.
Ferrero said the deal would see it "expand in this relevant better-for-you market segment, meeting the evolving needs and trends of consumers".
Mars, meanwhile, has gone beyond bars and moved into protein powders, once the preserve of specialist sports nutrition firms providing high-nutrient mixes for heavy gym-users.
In Europe, the company has launched powders using the flavours of confectionery brands including Snickers, Maltesers and Twix, proving product developers and marketeers do not see indulgence and sports nutrition as polar opposites.
Mars has also launched plant-based versions of its Snickers and Bounty protein powders in Europe, providing 10-11g of protein per serving from pea and brown rice protein.
Heading in the other direction has been UK sports nutrition brand Grenade, now owned by snacks giant Mondelez. Grenade, set up to provide fuel for gym users, is increasingly looking like a better-for-you confectionery firm.
With an eye on regulatory crackdowns on unhealthy snacking products, in October Mondelez launched an HFSS-compliant Grenade Protein Flapjack range in the UK. The products contain 11g of protein and less than 1.4g of sugar and are targeted at gym users and non-gym users alike.
At the time, Grenade head of product Rob Page said the company had "spotted a gap in the market", adding: "Knowing a thing or two about disrupting categories, this action-packed snack is perfect for consumers, helping them tackle whatever their morning commands – whether they need to battle the daily commute or get their workout done."
Interest in plant protein
The Product Launch Analytics database of Just Food parent GlobalData also underlines the NPD activity involving protein across a range of categories. In the last six months alone, food manufacturers in markets from Colombia to the UK and onto India have launched products from breakfast cereal to soup touting their protein content.
And innovation is also taking plant-based protein sources. In India in December, Kellogg launched a muesli with "100% plant protein", with the cereal said to "help in the growth of muscle mass and maintenance of bones", according to GlobalData's Product Launch Analytics.
"Offering muesli that also contains 100% plant protein with raisins, papaya, and cranberries along with three super seeds and seven baked grains like soy nuggets, moong lentils, pumpkin seeds, flax seeds is different from standard products in the category in India," GlobalData says.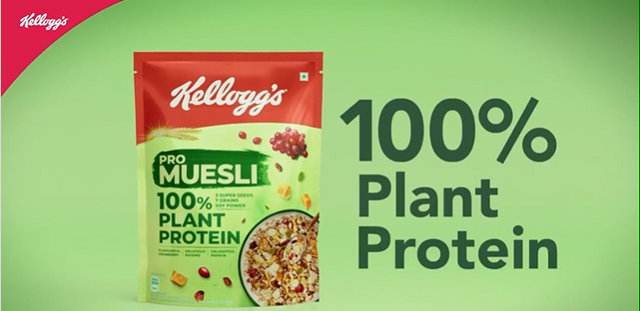 Credit: kelloggsindia Instagram
The different approaches to product design, across a greater variety of product categories and targeting a broad range of consumers, fits in with what Kennedy at protein supplier Glanbia Nutritionals is seeing across the market.
"We believe interest in new application areas, like protein snacking/confection, is driven by consumers who have expanded on occasions when they want a healthy indulgent snack. Typically, protein-fortified product use would be associated with exercise recovery or meal replacement. However, recent consumer data, conducted by Glanbia Nutritionals in 2022, indicates that a third occasion is emerging: relax and unwind," she says.
"We see this consumer need/occasion linked to the emergence and success of indulgent, dessert-inspired protein-fortified products. Consumers want to indulge, but they want to feel good about their nutrition choices, too."
Kennedy says dairy-based proteins are still the most sought-after protein ingredient source, particularly when it comes to fortified protein snacks and sports nutrition products.
Its data, from a 2022 study, shows whey protein tops preferred protein sources for protein snackers in the US and Europe and it is only outranked by soy in Asia.
Vegan protein is on the rise – non-soy sources include brown rice, pea, and wheat protein – but Kennedy suggests there is still work to be done if it is ever going to be a serious challenger to whey.
"We know that the biggest consumer hurdle with plant-based/vegan proteins can be taste and texture. It is also the most important attribute for consumers, particularly when it comes to protein-fortified nutrition bars and snacks," she says.
"Dairy-based proteins are still the most versatile when it comes to addressing taste and texture in protein bars, beverages and snacks but we recognise the consumer need for alternative protein sources."