The trends set to shape food shopping habits in 2023
Henry Mathieu and Ryan Ellington outline the key takeaways from a GlobalData webinar on what will influence buying behaviour this year.
Consumers are set to be more influenced by their personal health than looking for cost-effective options when buying food in 2023.
That was the message from GlobalData, Just Food's parent company, as it hosted a webinar in mid-February on the "top trends in food" and how brands manufacturers can "stay relevant in a cost-of-living crisis".
Price and the search for value will still be important due to tighter budgets and food inflation, according to GlobalData's research.
The importance of pack sizes, a greater frequency to buy groceries online and a growing interest in shopping for sustainability are among the other key trends set to shape consumer habits over the next 12 months.
Katie Page, content director for consumer, foodservice and packaging practices at GlobalData, argued businesses prepared to think creatively about how to help consumers who are having to adjust their purchasing behaviour will prove to be the most resilient.
The importance placed on health
Since the latter half of 2020, the "health and wellness mega-trend" has remained the most influential trend shaping food shopping, ahead of "easy and affordable" and "comfort and uncertainty", GlobalData argues.
Data compiled by the research and intelligence group showed "easy and affordable" has experienced a gradual decline in importance to consumers, dropping from being the top trend in 2018 to third in the first quarter of 2022.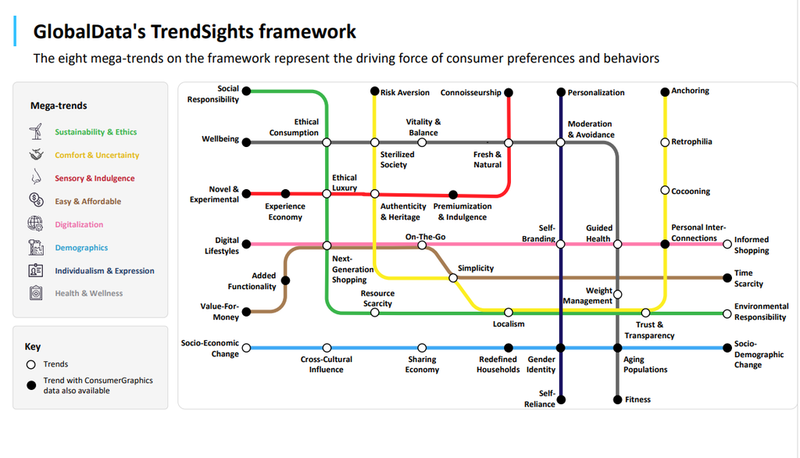 GlobalData uses framework of "mega-trends" to describe influences on consumer behaviour.
Page explained: "Personally, I was expecting to see a little bit of an uptick in 'easy and affordable' but that still hasn't happened and that's really important to the trends we look at. Whilst there is a lot of noise and emphasis around prices and the cost of living, there are other important drivers for consumers to look at when considering their purchasing behaviour."
She said health and wellness moved "from being the third most important influence of consumer purchasing decisions, right up to first" in the second half of 2020. "It's remained there, right up until the last quarter that we have data for. I think that's really, really significant," Page explained.
"That's inevitably been driven partly by the pandemic, as you might expect, but even in the face of the financial crisis that we're starting to be exposed to right now, it still retains that top spot against the mega-trend of 'easy and affordable', which as you'll see with the brown line, comes in second."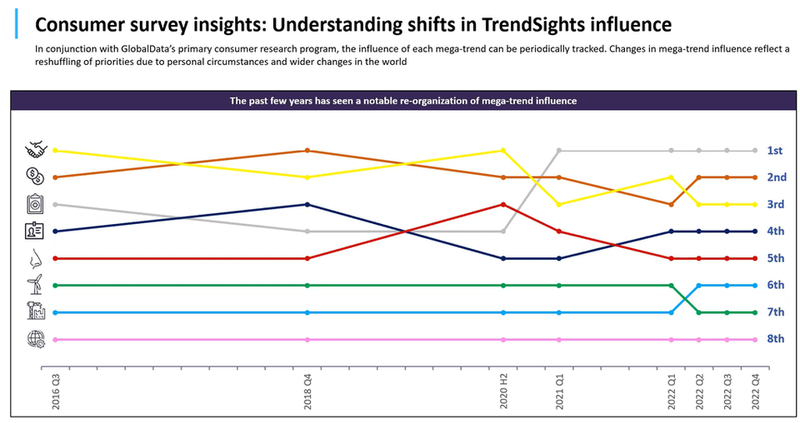 How the GlobalData "mega-trends" have changed in importance for consumers in recent years
Page reiterated the significance of the health and wellness trend, given it could be expected that cost would, in the current circumstances, be the absolute priority for many shoppers across markets.
"Consumers are specifically willing to prioritise ingredients that benefit their health, even during the cost-of-living crisis, which indicates a consistent concern for health post-pandemic," she asserted.
"The demand for these ingredients from consumers highlights a willingness to pay a higher price point, in return for health benefits."
GlobalData analysts say they have spotted a trend of consumers opting for proactive health choices. In other words, in the wake of the pandemic, consumers are buying foods to benefit their health more generally rather than for vanity purposes or superficial benefits.
"At that time [pre-pandemic], the trends were very much aligned around things like weight management. They might have been aligned around fitness, or they might have been aligned around very specific health needs," Page added.
"And I think the massive shifts that we've seen in the last few years have been much more to proactive health. So, this is much more about being healthy for yourself, just having a healthy body, being a healthy person so that you can fight against the risks of disease, for example. It's much less about superficial benefits, much less about just targeting one or two individual health needs."
Some 35% of global consumers are actively looking for products that impact their health when grocery shopping, according to a GlobalData Consumer Survey for the fourth quarter of 2022.
Value for money still key
At a time when people are conscious of their spending, it is inevitable price points and value for money matter.
Page said: "Consumers have tighter budgets, and so they're being even more 'choosy'. They are definitely scrutinising product labels much more closely in terms of the projects that they are buying into, and it's all about value for money.
"It's not necessarily a race to the cheapest. When consumers are looking at things in the round, it's about how you [brands] could help them to choose or make more beneficial purchasing choices which could really align with their own particular needs and values."
Due to tighter budgets and rising grocery prices, many consumers' shopping habits remain impacted by price. Those shoppers are trying to find the most cost-effective option, which often involves buying cheaper alternatives to their usual products and not remaining brand loyal, as well as switching to cheaper retailers.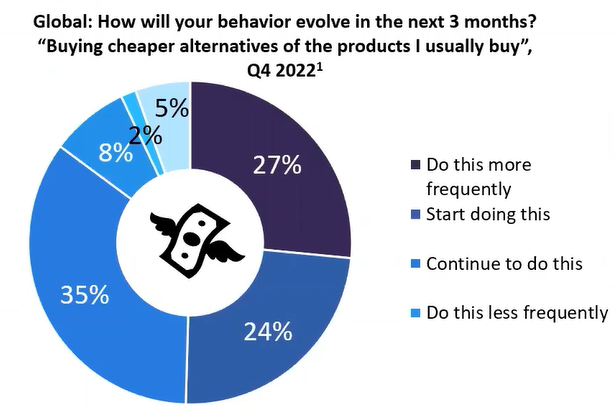 GlobalData Consumer survey data about attractive qualities in food products

Pack size
One of the key trends highlighted during the webinar was 'pack size matters' as consumers look for value, which can lead them to seek out smaller packs at lower price points.
GlobalData research showed 87% of global consumers surveyed are planning carefully and only buying what they need, while 66% admit to shopping more frequently but buying smaller amounts.
"There's something to be said about taking action when you're considering your products in terms of what is an accessible price point for consumers when they're buying into your category. Now that matters in terms of affordability because other survey data that we've seen from consumers indicate that they still want to buy into their favourite brands but they're admitting that they might have to buy less of their favourite brands or buy them less often," Page stressed.
However, she emphasised that brands and manufacturers must understand the importance of multipacks to some shoppers. Despite smaller pack sizes being perceived as being more affordable due to lower prices, it is sometimes more cost-effective for consumers to opt for larger packs. A GlobalData survey in the final three months of 2022 showed one in five preferred to buy items such as chocolates and confectionery, prepared meals, bakery, cereals and morning goods in larger pack sizes.
Shoppers' smarts on sustainability
Sustainability is becoming a more important issue for an increasing number of consumers. The webinar highlighted 'sustainably savvy shoppers' as being another important trend in 2023, with 73% of global consumers deeming a product being sustainable or environmentally-friendly to be essential or nice to have.
Attendees were also told that in a bid to be more "sustainably savvy", consumers are actively looking for ways their purchases can be more environmentally friendly and financially worthwhile overall.
"We're seeing a rise in shoppers using their smarts, not just in terms of prices but actually to make sure they are using sustainable, responsibly sourced products," Page asserted.
She said the food industry has seen a rising awareness among shoppers of sustainability issues, which is in line with a GlobalData survey that showed almost a third (30%) of global consumers actively look for product packaging that is either biodegradable, plastic-free, reusable or made from renewable resources.
More broadly, Page also believes the pandemic taught brands supply chains require a refresh.
She said: "One big learning point that we should all have taken from the pandemic was that our supply chains have had some inherent weaknesses. Within that, we couldn't move goods around the supply chain perhaps as agilely as we needed to."
"Thinking about tactics, maybe such as dual suppliers. So, having the same goods made in more than one factory, in more than one location to hit more shopping locations. That might be something that brands should be looking at."